Maharashtra Govt Formation | NCP, Congress leaders to hold final talks on alliance with Shiv Sena today
Today's meeting comes two days after NCP chief Sharad Pawar met Congress president Sonia Gandhi in the national capital.
Updated: Wed, 20 Nov 2019 10:09 AM IST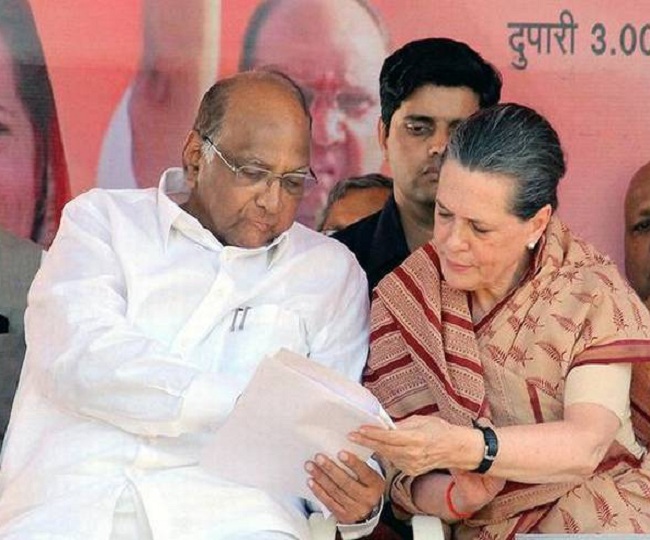 Mumbai | Jagran News Desk: Senior leaders of the Congress and NCP will meet on Wednesday to discuss the formation of government in Maharashtra with ideologically opposite Shiv Sena.
Mallikarjun Kharge, Ahmed Patel and Congress general secretary K C Venugopal besides some state leaders and Praful Patel, Sunil Tatkare, Ajit Pawar, Jayant Patil of the NCP are expected to discuss the final deliberations of the proposed Sena-Congress-NCP government in the state, which is currently under President's rule.
Today's meeting comes two days after NCP chief Sharad Pawar met Congress president Sonia Gandhi in the national capital. After the crucial meeting, Pawar said that there was discussion on a common minimum programme (CMP) during the talks.
Meanwhile, Uddhav Thackeray has convened a meeting of Sena MLAs at Matoshree on Friday, which will be key in view of the recent developments and today's meeting between NCP and Congress leaders.
Pawar's statement following his meeting with Sonia Gandhi had raised eyebrows in the political arena over the possibility of an alliance with the Sena. He had said that he had only discussed the political situation in Maharashtra with Congress president.
"We have not discussed about whether to go with any party or not," the former Maharashtra chief minister said, adding that any decision on joining hands with Sena will be taken only talks with the allies of both the parties -- Congress and NCP.
Later, Shiv Sena's Sanjay Raut met Pawar at the latter's residence and exuded confidence that a new government, led by his party, will soon come to power in Maharashtra.
Times of India, in its report, quoted a Congress leader saying that a new government of Sena, NCP and Congress may be installed in Maharashtra by November end or early December.
Earlier, it was reported in media that the three parties had majorly agreed upon a common minimum programme under which the Sena had insisted on a full-term CM post along with 16 ministerial berths, 14 for NCP and 12 for Congress.
The BJP and the Sena, which fought the October 21 polls in alliance, secured a comfortable majority by winning 105 and 56 seats, respectively, in the 288-member assembly. The Congress and the NCP won 44 and 54 seats, respectively.
However, the power tussle between the two bickering allies over the Sena's demand of 50:50 power sharing led to a delay in government formation. After the BJP declined to stake claim to form government, Governor Bhagat Singh Koshyari approached Sena to express its willingness for the same.
Sena claimed that the NCP and Congress have agreed "in-principle" to back its government without the BJP in Maharashtra but failed to get letters of support from the political rivals before the deadline set by the Governor who rejected its plea for three more days to do so.
President's rule was imposed in the state on Tuesday after Koshyari sent a report to the Centre, stating that formation of a stable government was impossible in the current situation.
Posted By: Abhinav Gupta