Publish Date: Sat, 23 Nov 2019 06:11 PM IST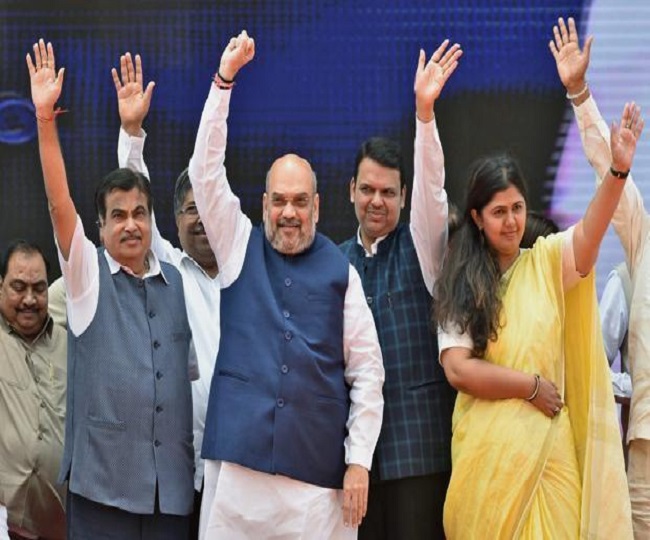 Mumbai | Jagran News Desk: In a major twist of events, BJP leader Devendra Fadnavis and NCP's Ajit Pawar on Saturday took oath as Chief Minister and Deputy CM of the state respectively to bring an end to the month long impasse in the state.
However, as the two leaders took oath, the NCP, Shiv Sena and Congress launched an all out attack against the BJP calling the move 'murder of democracy' in Maharashtra. The BJP, meanwhile, launched a counter-attack and said that that those "trading ideology for power can't invoke Shivaji" adding that the Shiv Sena is motivated by 'selfishness'.
Here's a look at who said what as Devendra Fadnavis took oath as Chief Minister of Maharashtra:
* Congratulations to Devendra Fadnavis Ji and Ajit Pawar Ji on taking oath as the CM and Deputy CM of Maharashtra respectively. I am confident they will work diligently for the bright future of Maharashtra: PM Modi
* Hearty congratulations to Shri Devendra Fadnavis ji on taking oath as Chief Minister of Maharashtra and Shri Ajit Pawar as Deputy Chief Minister of the state. I am confident that this government will be continuously committed to the development and welfare of Maharashtra and will set new standards of progress in the state: Union Home Minister and BJP President Amit Shah
* People are saying that it's murder of democracy. Meaning that when the Shiv Sena is motivated by selfishness, breaking its 30-year-old friendship and joining the NCP and Congress, which are fiercely opposed to their ideology, then it is not a murder of democracy: Union Minister Ravi Shankar Prasad
* Ajit Pawar's decision is against the party line and is indiscipline. No NCP leader or worker is in favour of an NCP-BJP government. All the MLAs who are going must know that there is an anti-defection law and the possibility of them losing their assembly membership is high: NCP chief Sharad Pawar
* Ajit Pawar has been blackmailed. We know who has done it, who are behind it, how it was done. We shall expose everything over the next few days in the 'Saamana'. They should watch out: Shiv Sena leader Sanjay Raut
* Today was a black spot in the history of Maharashtra. Everything was done in a hushed manner and early morning. Something is wrong somewhere. Nothing can be more shameful than this: Congress' Ahmed Patel
* This is surgical strike on Maharashtra and people will avenge it. BJP's game must be exposed. Earlier EVM khel was going on and now this is new khel. From here onwards, I don't think elections are even needed. Everyone knows what Chhatrapati Shivaji Maharaj did when betrayed and attacked from the back: Shiv Sena chief Uddhav Thackeray
* Surreal what I read about Maharashtra. Thought it was fake news. Candidly and personally speaking, our tripartite negotiations should not have gone on for more than three days...took too long. Window given was grabbed by fast movers. Pawarji tussi grt ho! Amazing if true, still not sure: Congress leader Abhishek Manu Singhvi
Posted By: Aalok Sensharma