Updated: Fri, 08 Nov 2019 05:48 PM IST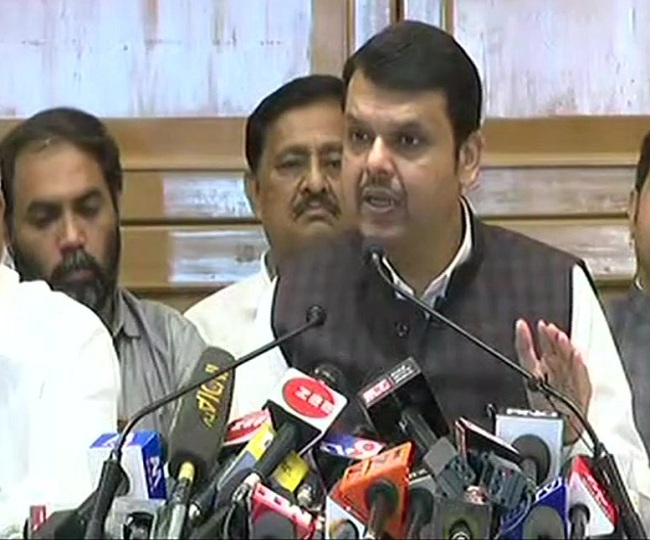 Mumbai | Jagran News Desk: Amid the ongoing tussle with the Shiv Sena over power sharing in Maharashtra, Devendra Fadnavis on Friday resigned as the chief minister. Fadnavis handed over the resignation to Governor Bhagat Singh Koshyari.
Fadnavis will remain the acting CM of Maharashtra till a new government is formed, or any other solution has been reached.
Addressing the media after tendering resignation, Fadnavis launched a scathing attack on Shiv Sena, saying that there was no agreement over Sena's demand of rotational post of chief minister. "There were never any talks of rotational CM in my presence and Shiv Sena has betrayed the mandate by making such demands," said Fadnavis.
"There were discussions with Shiv Sena over the 2.5 years CM demand but the talks had broken down and there were no agreements over the issue," added Fadnavis.
Also Read: Maharashtra Impasse LIVE | Devendra Fadnavis to remain acting CM till formation of new govt
He went on to clear there was no agreement over sharing the CM post and even party chief Amit Shah and Union Minister Nitin Gadkari agreed to it. "I again want to make it clear that it was never decided that for 2.5 years each the CM post will be shared. There was never a decision on this issue. Even Amit Shah ji and Nitin Gadkari ji said this was never decided," he said.
Sena leader Sanjay Raut was quick to refute Fadnavis' claim, saying that the talks on government formation were not stonewalled by his party. He further claimed that Sena could form a government in the state if it wanted to.
Raut said that Fadnavis' "tone against Sena was inappropriate and insisted that there was agreement by the BJP on his party's demand of 50:50 sharing of CM post and portfolios.
Fadnavis further criticised Thackeray for "going back on his words and shocking the people with his 2.5 years' CM demand." "Uddhav Thackeray did not respond to my calls. Shiv Sena stopped making contact with the BJP and instead kept talking to the NCP and Congress," he said.
He said that he called Thackeray several times over phone, but the Sena chief did not respond to his calls and instead continued talks with the Congress and NCP. He further
"Balasaheb Thackeray is respected by all of us, infact we even never said anything against Uddhav ji Thackeray, but in past 5 years and especially last 10 days the kind of statements which were made against our top leadership including Modi ji, were not tolerable," said Fadnavis.
"I have a very close relationship with Uddhav ji Thackeray and it will continue, I called him up many times but he has not responded yet," he added.
The development came after senior Shiv Sena leader Sanjay Raut said that Fadnavis should resign as the CM as the term of the existing assembly is ending on November 9.
"The BJP shouldn't prolong the caretaker provision and act from behind the curtains. We won't mind if the BJP, as the single largest party, stakes claim and forms the government," the Rajya Sabha MP said.
The state is likely to come under President's rule if the two bickering allies fail to form government today.
Both the BJP and Shiv Sena have refused to budge from their stand on the contentious issue of power sharing. While Sena insists that 50:50 sharing of CM post and portfolios was discussed in the pre-poll seat-sharing talks, the BJP has clarified that Fadnavis will continue as the CM for the next five years.
Sena's attempts to form a non-BJP government in the state met a stonewall after NCP chief Sharad Pawar said that his party has been chosen by the people to sit in the opposition. He also said that the BJP-Sena combine has got people's mandate and should form government at the earliest.
The Assembly poll results gave the alliance a combined seat strength of 161, way past the 145 majority mark
in the 288-member House. In the polls, the BJP won 105 seats, Shiv Sena-56, NCP-54 and the Congress won 44 seats.
Posted By: Abhinav Gupta