Updated: Mon, 25 Nov 2019 08:03 AM IST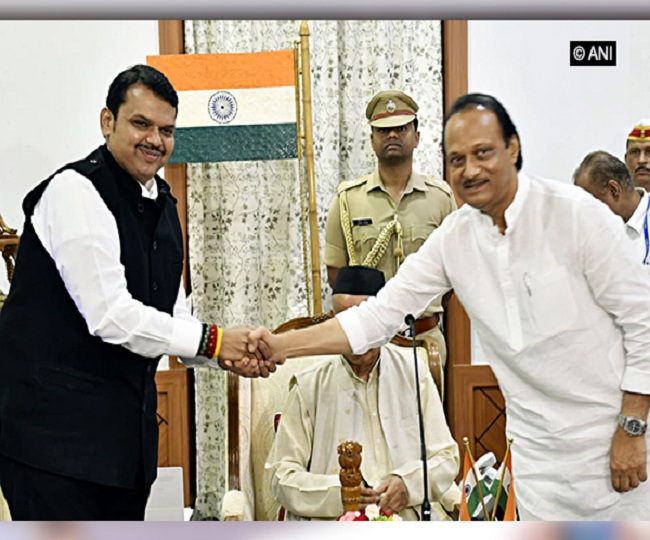 Mumbai | Jagran News Desk: NCP leader and newly-appointed Deputy CM Ajit Pawar met Chief Minister Devendra Fadnavis late on Sunday night in Mumbai, hours after his tweets indicated that NCP chief Sharad Pawar was kept in the loop of his plan to support the BJP to form government in Maharashtra.
However, the NCP chief denied Ajit Pawar's claim, calling his remarks "false and misleading in order to create confusion."
"There is no question of forming an alliance with @BJP4Maharashtra. NCP has unanimously decided to ally with @ShivSena & @INCMaharashtra to form the government. Shri Ajit Pawar's statement is false and misleading in order to create confusion and false perception among the people," tweeted Sharad Pawar.
In a series of tweets after thanking BJP leaders for their congratulatory messages, Ajit Pawar also said the "BJP-NCP alliance" will provide a stable government in Maharashtra for the next five years.
Maharashtra Coup | Produce guv order, letter of support to Fadnavis by 10.30 am today: SC
"I am in the NCP and shall always be in the NCP and @PawarSpeaks Saheb is our leader. Our BJP-NCP alliance shall provide a stable Government in Maharashtra for the next five years which will work sincerely for the welfare of the State and its people," the 60-year-old leader tweeted.
"There is absolutely no need to worry, all is well. However a little patience is required. Thank you very much for all your support," he tweeted.
A late night tweet from the CMO Maharashtra said the CM and the Deputy CM discussed various measures for rain-hit farmers.
"CM @Dev_Fadnavis and DCM @AjitPawarSpeaks today met and discussed on various measures for additional support & assistance to unseasonal rain affected farmers. Tomorrow it will be further discussed with the Chief Secretary & Finance Secretary".
The Bharatiya Janata Party, however, said that it was a "routine meeting" to discuss "floor management and Supreme Court judgment."
Maharashtra Coup | 'No question': Sharad Pawar hits back at Ajit Pawar, says 'he's trying to create confusion
On Sunday, the Supreme Court asked the Centre to place before it on Monday the letters of Maharashtra Governor recommending revocation of President's rule and inviting Devendra Fadnavis to form government.
The bench declined fervent request of Solicitor General Tushar Mehta seeking two days time to place Governor Bhagat Singh Koshyari's communication on record and asked him to produce letters by Monday at 10.30 am when the matter will be taken again.
In the special hearing on a holiday, the apex court issued notices to the Centre and Maharashtra government on the petition filed by the Shiv Sena-NCP-Congress combine against the governor's decision to swear in Fadnavis as the chief minister.
A bench of Justices N V Ramana, Ashok Bhushan and Sanjiv Khanna also issued notice to Fadnavis and Deputy Chief Minister Ajit Pawar.
In a dramatic turn of events in Maharashtra, President's Rule was lifted on Saturday morning, following which Devendra Fadnavis and Ajit Pawar were sworn in as chief minister and deputy chief minister, respectively, by the governor.
The development came hours after the new alliance of Shiv Sena, the NCP and the Congress arrived at a consensus that Sena chief Uddhav Thackeray will be their chief ministerial candidate.
Posted By: Abhinav Gupta