Maharashtra Assembly Elections 2019 | 'They lack guts': PM Modi dares opposition to bring triple talaq, Article 370 back
Updated: Sun, 13 Oct 2019 02:56 PM IST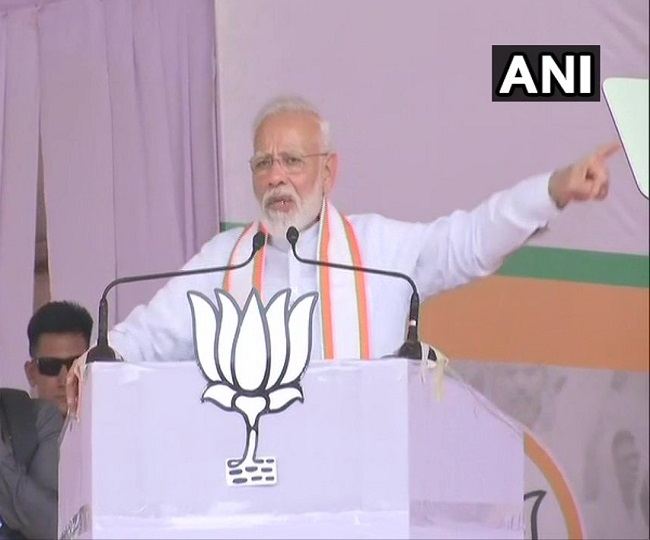 Jalgaon | Jagran News Desk: Prime Minister Narendra Modi on Sunday addressed a rally in Maharashtra's Jalgaon and attacked the opposition over its stand on abrogation of Article from Jammu and Kashmir. The Prime Minister also challenged them to bring back Article 370 and Triple talaq.
"Can these leaders, who're trying to fool the people with their crocodile tears, bring back Article 370 in Kashmir? Will the people of India allow them to? Will the people of India accept it?" said PM Modi in his address at Jalgaon in Maharashtra.
Also Read | Maharashtra Assembly Elections 2019: From Aditya Thackeray to Ashok Chavan, a look at major dynast candidates
He further attacked the Congress and NCP and said that they speak 'Pakistan's language'.
"From the statement of the NCP and Congress leaders, it looks like they stand with the neighbouring country over Jammu and Kashmir," said PM Modi.
Speaking about the abrogation of Article 370, PM Modi said that the government has ensured the normalcy returns to the Valley soon.
"Jammu and Kashmir and Ladakh isn't just a piece of land for us, but is the crown of India. Looking at the security needs, we took the necessary steps. We have also tried our best to ensure normalcy in the area, amidst all the negative powers in and around the area," said PM Modi.
"We ensure the rights of the backward community in Jammu and Kashmir. Both Jammu and Kashmir and Ladakh are an integral part of India and not just a piece of land. There are our pride," he added.
Also Read | 'People asking you to run govt or cook meals?': Sharad Pawar's dig at Shiv Sena's subsidised meal promise
He further attacked the Congress-NCP alliance and said that they won't be able to fulfill the dreams on Maharashtra.
"Tired allies can be a support for each other, but cannot be a means to fulfill the dreams of Maharashtra and the aspirations of the youth here," he said.
The Prime Minister also spoke about the Devendra Fadnavis government and said that Maharashtra has witnessed growth in every sector in the last five years and the BJP has provided a stable, clean and caring government.
"In the last five years, every area, every community and every department has seen growth. There has been no corruption in the last five years. Devendra Fadnavis Ji and his team has taken Maharashtra on the road of progress and belief in the last five years," PM Modi said.
"I had promised you that if given a chance, I would give you a stable, clean, caring and empowered Government that will take everyone on the road to progress. We have proved all these features during the last five years of CM Devendra Fadnavis' governance," he added.
With the elections in Maharashtra, which will be held on October 21, just days away, all the parties have geared up their preparations. The Prime Minister also addressed another rally in Sakoli where he said that people's trust has given the strength to the government to take big decisions.
"It is your trust that is continuously inspiring us and giving us the strength to take strong and big decisions. It is because of your trust that we are able to take strong steps, steps that people were hesitant and scared to take earlier," said PM Modi.
Posted By: Aalok Sensharma