By Abhinav Gupta
Updated: Tue, 29 Oct 2019 01:24 PM IST
Minute Read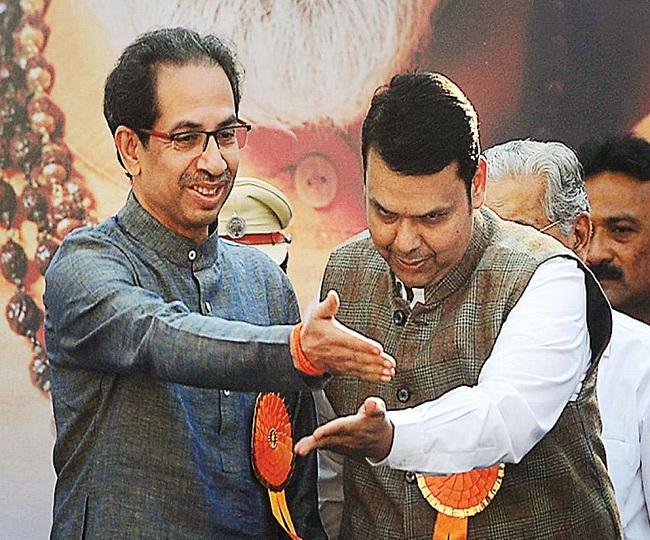 Mumbai | Jagran News Desk: Amid the ongoing tussle between the ruling alliance partners BJP and Shiv Sena over power sharing in Maharashtra, Chief Minister Devendra Fadnavis on Tuesday refuted Shiv Sena's demand of 50:50 rotational chief ministership.
Fadnavis, talking a group of reporters, said that Shiv Sena had proposed equal sharing of the chief minister post during seat-sharing talks but the BJP had not agreed to it.
"Sena was not promised CM post for 2.5 years when alliance formalised before Lok sabha polls. I will be CM for another 5 years," said Fadnavis.
"I assure that this will be a BJP led government. BJP will be leading the stable and efficient government of Mahayuti (alliance) for 5 years," ANI quoted Fadnavis as saying.
The BJP and the Sena, which won 105 and 56 seats, respectively, in the just concluded state Assembly polls, are locked in a bitter battle over sharing of power.
Meanwhile, making a big claim, BJP MP Sanjay Kakade claimed that around 45 newly elected Shiv Sena MLAs in Maharashtra are keen on government formation by joining hands with the BJP.
As the BJP's tally went down in the October 21 state Assembly elections, compared to its 2014 performance, the Sena has been raising a pitch for "equal sharing" of power.
Sena chief Uddhav Thackeray last week reminded the BJP of the 50:50 formula "agreed upon" between himself, BJP president Amit Shah and Fadnavis ahead of the 2019 Lok Sabha polls.
On Saturday, the Sena demanded a written assurance from the BJP for implementing "equal formula for sharing of power" before holding talks on staking the claim to form the next alliance government in the state.
In the recent polls to 288-member Assembly, the BJP won 105 seats, a loss of 17 seats compared to its 2014 tally. The Sena's tally also came down to 56 seats from 63 in 2014. A resurgent NCP won 54 and the Congress bagged 44 seats.