Publish Date: Sun, 29 Sep 2019 08:27 AM IST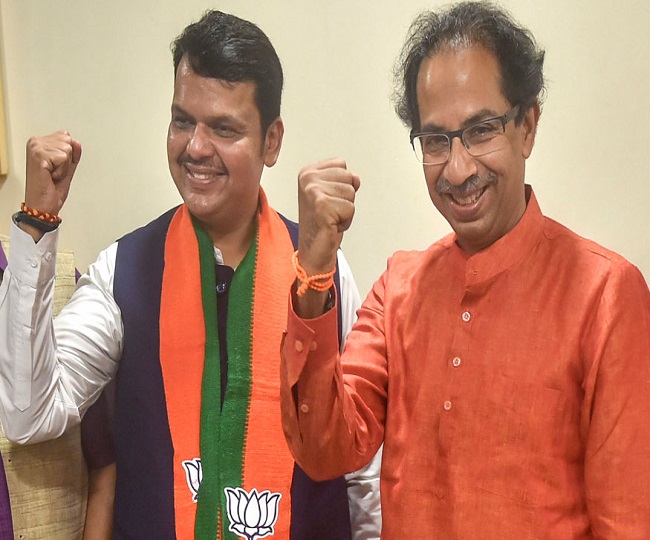 Mumbai | Jagran News Desk: After weeks of negotiations over the seat-sharing, the BJP and its ally Shiv Sena are likely to announce their pact for the Maharashtra Assembly Elections on Sunday.
The announcement is likely to be made at a joint press conference of Sena chief Uddhav Thackeray and Chief Minister Devendra Fadnavis in Mumbai.
According to the reports, the Shiv Sena has accepted the BJP's offer to contest on 126 seats while the latter will contest on 144 seats. The remaining 18 seats will be given other alliance partners. The reports further said that the Shiv Sena will also get the post of the Deputy Chief Minister.
Also Read | Assembly polls in Maharashtra, Haryana on October 21; results on October 24
The agreement was reportedly sealed after BJP president Amit Shah chaired a meeting of the party's core group from Maharashtra to give final shape to its poll strategy and zero down on candidates for the state assembly elections.
Meanwhile, Shiv Sena chief Uddhav Thackeray on Saturday said that his party and the BJP will contest the upcoming Assembly Polls in Maharashtra together and will soon make an announcement about the seat-sharing pact.
"We will contest together and going to announce it soon. We have already decided on the alliance. It is just that we are working on number of seats," Thackeray said.
Thackeray was addressing party workers and ticket aspirants at Rang Sharda Auditorium in Bandra here.
"If the alliance materialises, Shiv Sena is not the one to backstab. We oppose openly," he said. Stating that he wants the Sena to be power in Maharashtra, he said, "I had promised Balasaheb that I will make a Shiv sainik the chief minister of Maharashtra. I have vowed to fulfil this promise."
"I want power in Maharashtra so I have called aspirants from all 288 seats. I want to strengthen the party in all the constituencies. If alliance with BJP happens, Shiv Sena will work to ensure BJP's victory in the seats they contest. BJP's support should always be there for Sena candidates where they contest," he said.
Posted By: Aalok Sensharma