Updated: Mon, 03 May 2021 07:40 AM IST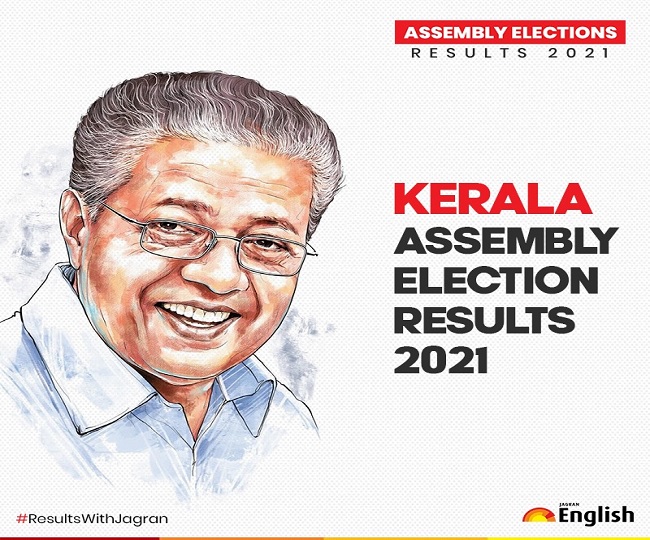 New Delhi | Jagran News Desk: In a stunning win, Pinarayi Vijayan-led Left Democratic Front (LDF) scripted history on Sunday by winning 99 seats of the 140 constituencies to retain power in the state for another term. While the BJP-NDA came a cropper, the UDF won 40 seats and was leading in one.
The results dealt a huge blow to the opposition UDF, which was hoping to sail to power, and it could garner only 41 seats while the BJP had to forgo even the lone seat -- Nemom -- it captured in the 2016 elections.
List of Winners Kerala Assembly Elections 2021:
Kerala Assembly Election Result 2021
Constituency
Winning Candidate
Winning Party
Adoor
Chittayam Gopakumar
CPI
Alappuzha
P.P Chitharanjan
CPM
Alathur
K.D.Prasenan
CPM
Aluva
Anwar Sadath
Congress
Ambalapuzha
H.Salam
CPM
Angamaly
Roji M John
Congress
Aranmula
Veena George
CPM
Aroor
Daleema
CPM
Aruvikkara
Adv. G. Steephen
CPM
Attingal
O S Ambika
CPM
Azhikode
K V Sumesh
CPM
Balusseri
Adv. K.M. Sachindev
CPM
Beypore
Adv. P. A Mohamed Riyas
CPM
Chadayamangalam
J.Chinchurani
CPI
Chalakkudy
Saneeshkumar Joseph
Congress
Changanassery
Adv. Job Maichil
KC(M)
Chathannur
G.S. Jayalal
CPI
Chavara
Dr.Sujith Vijayanpillai
Independent
Chelakkara
K Radhakrishnan
CPM
Chengannur
Saji Cherian
CPM
Cherthala
P Prasad
CPI
Chirayinkeezhu
V. Sasi
CPI
Chittur
K. Krishnankutty
JD(S)
Devikulam
Adv. A. Raja
CPM
Dharmadam
Pinarayi Vijayan
CPM
Elathur
A .K Saseendran
NCP
Eranad
P.K. Basheer
IUML
Eranakulam
T. J. Vinod
Congress
Eravipuram
M. Noushad
CPM
Ettumanoor
V N Vasavan
CPM
Guruvayoor
N.K.Akbar
CPM
Haripad
Ramesh Chennithala
Congress
Idukki
Roshy Augustine
KC(M)
Irikkur
Adv. Sajeev Joseph
Congress
Irinjalakkuda
R Bindu
CPM
Kaduthuruthy
Adv. Mons Joseph
KC
Kaipamangalam
E T Taison Master
CPI
Kalamassery
P. Rajeeve
CPM
Kalliasseri
M Vijin
CPM
Kalpetta
Adv.T Siddiqu
Congress
Kanhangad
E Chandrashekaran
CPI
Kanjirappally
Dr.N.Jayaraj
KC(M)
Kannur
Ramachandran Kadannappalli
Congress (S)
Karunagappally
C. R Mahesh
Congress
Kasaragod
N A Nellikkunnu
IUML
Kattakkada
Adv I B Satheesh
CPM
Kayamkulam
Adv. U. Prathibha
CPM
Kazhakkoottam
Kadakampally Surendran
CPM
Kochi
K.J. Maxy
CPM
Kodungallur
Adv. V. R. Sunilkumar
CPI
Koduvally
Dr. M.K Muneer
IUML
Kollam
M Mukesh
CPM
Kondotty
T V Ibrahim
IUML
Kongad
Santhakumari K
CPM
Konni
Adv. K.U Jenish Kumar
CPM
Kothamangalam
Antony John
CPM
Kottakkal
Prof. Abid Hussain Thangal
IUML
Kottarakkara
K N Balagopal
CPM
Kottayam
Thiruvanchoor Radhakrishnan
Congress
Kovalam
Adv. M. Vincent
Congress
Kozhikode North
Thottathil Ravindran
CPM
Kozhikode South
Ahammad Devarkovil
INL
Kundara
P.C.Vishnunadh
Congress
Kunnamangalam
Adv. P. T. A Rahim
Independent
Kunnamkulam
A.C.Moideen
CPM
Kunnathunad
Adv. P.V.Sreenijin
CPM
Kunnathur
Kovoor Kunjumon
Independent
Kuthuparamba
K.P. Mohanan
LJD
Kuttanad
Thomas K Thomas
NCP
Kuttiadi
K P Kunhammed Kutti Master
CPM
Malampuzha
A. Prabhakaran
CPM
Malappuram
P. Ubaidulla
IUML
Manalur
Murali
CPM
Mananthavady
O.R.Kelu
CPM
Manjeri
Adv. U.A. Latheef
IUML
Manjeshwar
A K M Ashraf
IUML
Mankada
Manjalamkuzhi Ali
IUML
Mannarkad
Advocate. N. Samsudheen
IUML
Mattannur
K K Shailaja Teacher
CPM
Mavelikara
M S Arun Kumar
CPM
Muvattupuzha
Dr. Mathew Kuzhalnadan
Congress
Nadapuram
E. K. Vijayan
CPI
Nattika
C C Mukundhan
CPI
Nedumangad
Adv. G. R. Anil
CPI
Nemom
V.Sivankutty
CPM
Nenmara
K. Babu
CPM
Neyyattinkara
K. Ansalan
CPM
Nilambur
P.V. Anvar
Independent
Ollur
K Rajan
CPI
Ottapalam
Adv. K. Premkumar
CPM
Pala
Mani C Kappen
Independent
Palakkad
Shafi Parambil
Congress
Parassala
C.K.Hareendran
CPM
Paravur
V.D. Satheesan
Congress
Pathanapuram
K.B. Ganesh Kumar
KC(B)
Pattambi
Muhammed Muhassin
CPI
Payyannur
T I Madhusoodanan
CPM
Peerumade
Vazhoor Soman
CPI
Perambra
T.P. Ramakrishnan
CPM
Peravoor
Adv. Sunny Joseph
Congress
Perinthalmanna
Najeeb Kanthapuram
IUML
Perumbavoor
Adv Eldose P Kunnapillil
Congress
Piravom
Anoop Jacob
KC(J)
Ponnani
P Nandakumar
CPM
Poonjar
Adv. Sebastian Kulathunkal
KC(M)
Punalur
P S Supal
CPI
Puthukkad
K.K. Ramachandran
CPM
Puthuppally
Oommen Chandy
Congress
Quilandy
Kanathil Jameela
CPM
Ranni
Adv. Pramod Narayan
KC(M)
Shornur
P. Mammikutty
CPM
Sulthanbathery
I.C Balakrishnan
Congress
Taliparamba
M V Govindan Master
CPM
Tanur
V.Abdurahiman
NSC
Tarur
P.P.Sumod
CPM
Thalassery
Adv. A. N. Shamseer
CPM
Thavanur
Dr.K.T.Jaleel
Independent
Thiruvalla
Adv. Mathew T Thomas
JD(S)
Thiruvambady
Linto Joseph
CPM
Thiruvananthapuram
Adv.Antony Raju
JKC
Thodupuzha
P J Joseph
KC
Thrikkakara
Adv.P.T.Thomas
Congress
Thripunithura
K. Babu
Congress
Thrissur
P Balachandran
CPI
Thrithala
M. B Rajesh
CPM
Tirur
Kurukkoli Moideen
IUML
Tirurangadi
K P A Majeed
IUML
Trikaripur
M Rajagopalan
CPM
Udma
C H Kunhambu
CPM
Udumbanchola
M. M. Mani
CPM
Vadakara
K.K.Rema
Revolutionary Marxist Party Of India I
Vaikom
C.K Asha
CPI
Vallikkunnu
Abdul Hameed Master
IUML
Vamanapuram
Adv. D. K. Murali
CPM
Varkala
Adv. V Joy
CPM
Vattiyoorkavu
Adv.V.K.Prasanth
CPM
Vengara
P.K Kunjhalikutty
IUML
Vypen
K.N. Unnikrishnan
CPM
Wadakkanchery
Xavier Chittilappilly
CPM
Wandoor
A P Anilkumar
Congress
Posted By: Talibuddin Khan