Publish Date: Mon, 23 Dec 2019 08:26 PM IST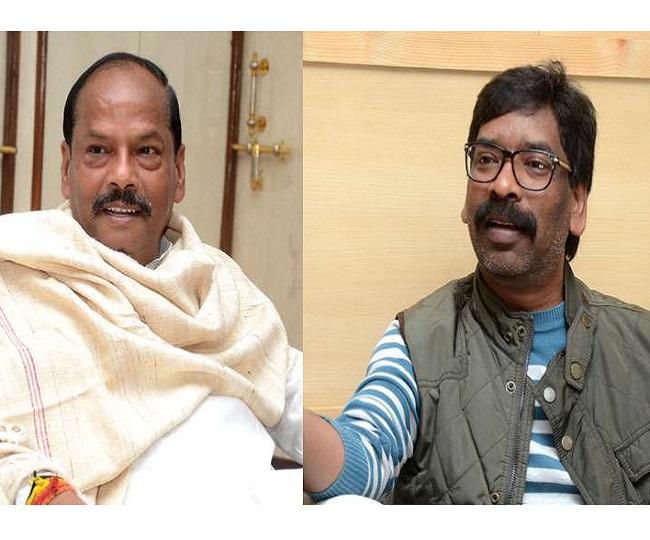 Ranchi | Jagran News Desk: The results for the assembly elections in Jharkhand was declared on Monday and the alliance of JMM-Congress-RJD will form the next government in Jharkhand and Hemant Soren, the son of former CM and JMM founder Shibu Soren, will become the next Chief Minister of the state.
The results falls in line with exit polls -- which were broadcats on December 200 -- which had predicted the alliance of JMM, Congress and the RJD will get an edge over Raghubar Das-led BJP government in the state.
In 2014, the BJP had a clear majority in the House with 37 seats, while its ally AJSU managed to win five Assembly seats. The tenure of the current Assembly ends on January 5, 2020. This is the fourth Assembly election in Jharkhand since the state was carved out of Bihar in 2000. Polling on 81 Assembly seats in Jharkhand was held in five phases from November 30 to December 20.
Here is the full list of winners in Jharkhand Assembly Elections:
| | | | | |
| --- | --- | --- | --- | --- |
| Constituency | Leading Candidate | Leading Party | Trailing Candidate | Trailing Party |
| Baghmara | DULU MAHATO | Bharatiya Janata Party | JALESHWAR MAHATO | Indian National Congress |
| Bagodar | VINOD KUMAR SINGH | Communist Party of India (Marxist-Leninist) (Liberation) | NAGENDRA MAHTO | Bharatiya Janata Party |
| Bermo | Rajendra Pd. Singh | Indian National Congress | Yogeshwar Mahto | Bharatiya Janata Party |
| Bokaro | Biranchi Narayan | Jharkhand Mukti Morcha | Surya Narayan Hansada | Bharatiya Janata Party |
| Chaibasa | DEEPAK BIRUA | Jharkhand Mukti Morcha | J. B. TUBID | Bharatiya Janata Party |
| Chakradharpur | SUKHRAM ORAON | Jharkhand Mukti Morcha | LAXMAN GILUWA | Bharatiya Janata Party |
| Chandankyari | AMAR KUMAR BAURI | Bharatiya Janata Party | UMA KANT RAJAK | AJSU Party |
| Chattarpur | PUSHPA DEVI | Bharatiya Janata Party | VIJAY KUMAR | Rashtriya Janata Dal |
| Deoghar | NARAYAN DAS | Bharatiya Janata Party | SURESH PASWAN | Rashtriya Janata Dal |
| Dhanbad | RAJ SINHA | Bharatiya Janata Party | MANNAN MALLICK | Indian National Congress |
| Dumka | HEMANT SOREN | Jharkhand Mukti Morcha | LOIS MARANDI | Bharatiya Janata Party |
| Dumri | JAGARNATH MAHTO | Jharkhand Mukti Morcha | YASHODA DEVI | AJSU Party |
| Garhwa | MITHILESH KUMAR THAKUR | Jharkhand Mukti Morcha | SATYENDRA NATH TIWARI | Bharatiya Janata Party |
| Godda | Amit Kumar Mandal | Bharatiya Janata Party | Sanjay Prasad Yadav | Rashtriya Janata Dal |
| Gomia | Lambodar Mahto | AJSU Party | Babita Devi | Jharkhand Mukti Morcha |
| Jagannathpur | SONA RAM SINKU | Indian National Congress | MANGAL SINGH BOBONGA | Jharkhand Vikas Morcha (Prajatantrik) |
| Jamtara | IRFAN ANSARI | Indian National Congress | BIRENDRA MANDAL | Bharatiya Janata Party |
| Jamua | KEDAR HAZRA | Bharatiya Janata Party | MANJU KUMARI | Indian National Congress |
| Jharia | PURNIMA NIRAJ SINGH | Indian National Congress | RAGINI SINGH | Bharatiya Janata Party |
| Khijri | Rajesh Kachhap | Indian National Congress | Ram Kumar Pahan | Bharatiya Janata Party |
| Khunti | NILKANTH SINGH MUNDA | Bharatiya Janata Party | SUSHIL PAHAN | Jharkhand Mukti Morcha |
| Kolebira | NAMAN BIXAL KONGARI | Indian National Congress | SUJAN JOJO | Bharatiya Janata Party |
| Littipara | Dinesh William Marandi | Jharkhand Mukti Morcha | Daniel Kisku | Bharatiya Janata Party |
| Maheshpur | STEPHEN MARANDI | Jharkhand Mukti Morcha | MISTRY SOREN | Bharatiya Janata Party |
| Majhganon | NIRAL PURTY | Jharkhand Mukti Morcha | BHUPENDRA PINGUA | Bharatiya Janata Party |
| Manoharpur | JOBA MAJHI | Jharkhand Mukti Morcha | GURUCHARAN NAYAK | Bharatiya Janata Party |
| Nirsa | APARNA SENGUPTA | Bharatiya Janata Party | ARUP CHATTERJEE | Marxist Co-Ordination |
| Pakur | ALAMGIR ALAM | Indian National Congress | VENI PRASAD GUPTA | Bharatiya Janata Party |
| Panki | KUSHWAHA SHASHI BHUSHAN MEHTA | Bharatiya Janata Party | DEVENDRA KUMAR SINGH | Indian National Congress |
| Ranchi | Chandreshwar Prasad Singh | Bharatiya Janata Party | Mahua Maji | Jharkhand Mukti Morcha |
| Shikaripara | NALIN SOREN | Jharkhand Mukti Morcha | PARITOSH SOREN | Bharatiya Janata Party |
| Silli | SUDESH KUMAR MAHTO | AJSU Party | Seema Devi | Jharkhand Mukti Morcha |
| Simdega | BHUSHAN BARA | Indian National Congress | SHRADHANAND BESRA | Bharatiya Janata Party |
| Sindri | INDRAJIT MAHATO | Bharatiya Janata Party | ANAND MAHATO | Marxist Co-Ordination |
| Sisai | JIGA SUSARAN HORO | Jharkhand Mukti Morcha | DINESH ORAON | Bharatiya Janata Party |
| Tamar | VIKAS KUMAR MUNDA | Jharkhand Mukti Morcha | RAM DURLAV SINGH MUNDA | AJSU Party |
| Torpa | KOCHE MUNDA | Bharatiya Janata Party | SUDEEP GURIA | Jharkhand Mukti Morcha |
| Tundi | MATHURA PRASAD MAHATO | Jharkhand Mukti Morcha | VIKRAM PANDEY | Bharatiya Janata Party |
Posted By: Aalok Sensharma