J-K DDC Poll Results 2020 LIVE: PAGD ahead on 113 seats, BJP leads on 69; Congress' poll debacle continues
LIVE Jammu and Kashmir DDC Election Results 2020: The PAGD was ahead in 73 seats and the BJP in 50 as votes for elections to District Development Councils in Jammu and Kashmir were counted on Tuesday.
Updated: Tue, 22 Dec 2020 08:09 PM IST
New Delhi | Jagran News Desk: The People's Alliance for Gupkar Declaration (PAGD), an amalgam of seven political parties, is leading on 113 seats while the BJP is a distant second with leads on 69 seats. The Congress' dismal performance continues in Jammu and Kashmir too, with the party leading on just 23 seats, as the counting of votes for elections to District Development Councils in Jammu and Kashmir was underway.
The trends in most seats in the maiden DDC elections are in accordance with expectations – the BJP strengthening its position in Jammu division while the PAGD, which includes regional heavyweights National Conference and People's Democratic Party, is ahead in the Valley. The BJP has made gains in Bandipora's Gurez area with leads in two seats. PDP leader Waheed Para, under arrest for his alleged links with militants, was leading in his Pulwama constituency by a huge margin.
Here are the LIVE Updates from Jammu and Kashmir DDC Election Results 2020:
8:09 pm: Latest trends of the DDC Election results - Jammu Division
BJP-28, Congress- 5, NC-12, JKAP- 2 Independent - 4 Panthers Party- 1
8:00 pm: Gupkar Alliance is leading in 113 seats, BJP 69, Congress 23
6:00 pm: Former Jammu and Kashmir chief minister Omar Abdullah said the results and emerging trends of the District Development Council polls are an "important milestone" for the People''s Alliance on Gupkar Declaration (PAGD) as they endorse the "out view" that revoking the special status of J-K and downgrading it into a Union Territory was not accepted by the people
5:30 pm: The Congress was trailing in number three position with leads in 21 seats in the trends available for 193 of the 280 seats for which voting was held over eight phases, officials said quoting the State Election Commission.
4:40 pm: The People's Alliance for Gupkar Declaration (PAGD), an amalgam of seven political parties, was ahead in 73 seats and the BJP in 50 as votes for elections to District Development Councils in Jammu and Kashmir were counted on Tuesday, officials said.
4:00 pm: Jammu and Kashmir: Rehan Parvez of PDP wins from Eidgah Srinagar in the Urban Local Body elections. "This was expected. People have shown their support. I'll be working for the development in the area," she told ANI.
3:30 pm: PDP takes seven seats from Pulwama district, Independents have won four, National Conference 2 and the BJP wins one seat.
3:05 pm: Out of 14 DDC seats in Srinagar, Independents have won 7 seats, Apni Party emerged victorious at 3 seats, & one seat each by BJP, PDP, National Conference, Jammu & Kashmir People's Movement: Srinagar District Election Officer Dr Shahid Choudhary
2:50 pm: Restrictive and prohibitory measures have been put in place. No victory processions will be allowed by political parties and independent candidates without permission: Jammu Deputy Commissioner Sushma Chauhan.
2:40 pm: National Conference candidate Kaiser Mir & Independent Shabir Aad Reshi win DDC Elections from Khimber & Hawan constituencies in Srinagar, respectively
2:30 pm: BJP has opened its account in Kashmir valley, with the victory of Azaz Hussain. We are leading on several other seats in the Valley. It shows people of Kashmir valley want development: BJP leader Shahnawaz Hussain
2:15 pm: We fought against PAGD candidate and BJP emerged victorious at this seat (Balhama seat in Srinagar) today. I congratulate people of Jammu and Kashmir & the security forces: Azaz Hussain, BJP candidate from Balhama, Srinagar
2:00 pm: Among the 2,178 candidates in the fray, BJP has the highest, 183 candidates in the contest by any single party. The NC, PDP, PC, CPIM and JKPM combine together known as the People's Alliance for Gupkar Declaration (PAGD) fielded over 220 candidates across districts.
1:45 pm: Bharatiya Janata Party (BJP) opens account in Srinagar- Aijaz Hussain wins Balhama seat.
1:20 pm: Here Are the latest trends:
| | | |
| --- | --- | --- |
| PARTY | LEAD | WON |
| PAGD | 65 | 03 |
| BJP | 46 | - |
| INC | 19 | 01 |
| JKAP | 06 | 01 |
| OTH | 32 | 07 |
| Overall Seats | | 280 |
1:00 pm: The results will be out today and I am confident of Bhartiya Janata Party's performance. People want to see new leadership take charge in J&K that will help resolve issues in their constituencies: Anurag Thakur, BJP's in-charge for DDC polls
12:55 pm: Even though people were threatened, they came out in huge numbers to cast their vote. This is the victory of democracy. PM Modi's dream that at grassroots level- panchayat, BDC & DDC elections should be held in J&K has been fulfilled: Anurag Thakur, BJP's incharge for DDC polls
12:45 pm: In Reasi district's Thuroo constituency, three-time former MLA and JKAP candidate Ajaz Ahmed Khan is trailing NC's, Mohammad Ashraf. Ajaz's brother Mumtaz Ahmed Khan, a former MLA and JKAP candidate is leading in Mahore constituency. In Chasana constituency, Gula Bano of Congress is ahead of BJP's Sajda Bano.
12:30 pm: In South Kashmir's Anantnag district National Conference, Congress and independents are leading at two places each while PDP at one. In Kulgam district, NC is leading at 5, CPIM at 4, and independent 2. PDP and Apni party at leading at one place each
12:10 pm: DDC Election results: Out of 140 constituencies in Jammu division, BJP is leading at 24 seats, Congress at 4, National Conference at 7, Apni Party at 2, Independents at 3, & Panthers Party at one constituency, according to J&K State Election Authority
11:45 am: Mahmuda Nisar has won the first seat from Kaprine of Shopian Assembly constituency from NC of People's Alliance for Group Declaration after Congress candidate's first win from Jammu division. Apart from this, PAGD is leading in 17 seats in Kashmir.
11:35 am: Initial Trends Show BJP leading on Majority Seats in Jammu
11:25 am: According to initial trends from the results in Reasi district, Congress and NC were leading at one place each.
11:10 am: Mehmooda Nisar of National Conference Wins from Kapran, Shopian
11:00 am: Counting of votes for Drugmulla territorial constituency has been stopped. Returning officer Muzaffar Ahmad Hurrah informed that there were directions from Election Commission of India that votes for this constituency should not be counted till further communication as one candidate who is in fray belongs to Muzaffarabad Pakistan.
10:15 am: Early trends show BJP winning on 9 Seats, while PAGD leading on 11 seats
10:00 am: Counting of votes underway at several counting centres across 20 districts of the Union Territory.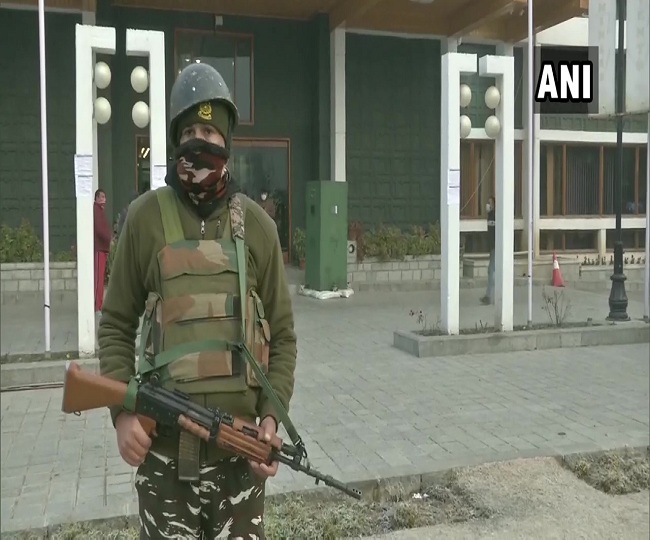 9:00 Jammu and Kashmir: Counting of votes for 280 constituencies of District Development Council (DDC) underway at Sher-I Kashmir International Conference Centre in Srinagar. Visuals of heavy security deployment outside the counting centre.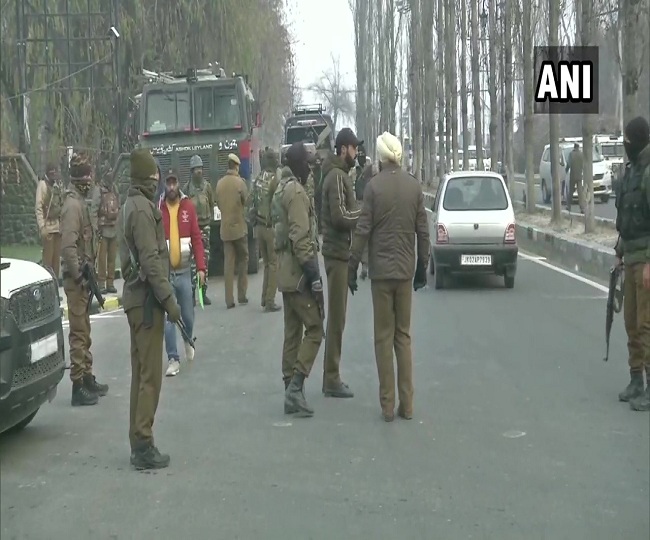 8:45 am: Jammu and Kashmir: Counting of votes for 280 constituencies of District Development Council (DDC) to begin shortly; visuals from outside the counting centre in Doda district.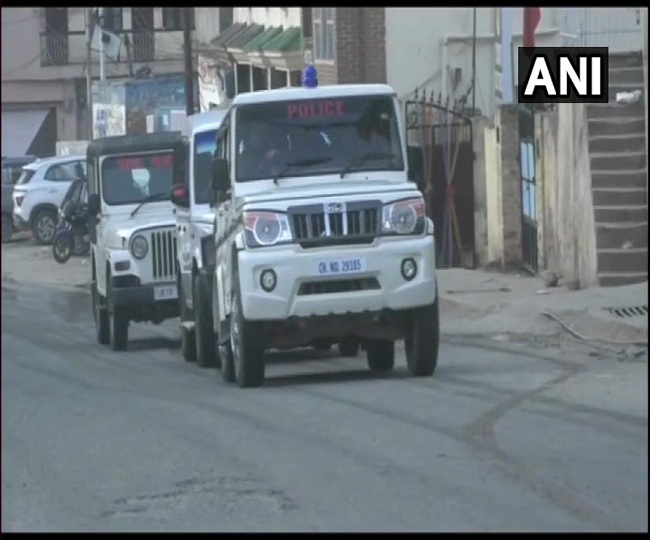 8:25 am: All necessary arrangements have been made for counting of votes, which will begin at 9 am in all 20 districts of the union territory.
8:15 am: The Congress was initially a part of the PAGD but distanced itself from the alliance as the BJP targeted the opposition party for being in league with the 'Gupkar Gang'. Although Congress went alone in the last seven phases, it is widely believed that its understanding with the PAGD remains intact.
8:00 am: Seven Kashmir-centric mainstream political parties, including the National Conference and the Peoples Democratic Party, contested the polls in an alliance under the banner of the Peoples Alliance for Gupkar Declaration (PAGD) formed for the restoration of Article 370.
7:45 am: The elections to this third tier of the Panchayati Raj system were held for the first time in Jammu and Kashmir and were the first mass polls after the abrogation of provisions of Article 370 in August 2019.
Posted By: Talib Khan