Haryana Assembly Elections 2019: 61.95 per cent voter turnout recorded till 6.00 pm | Highlights
Updated: Mon, 21 Oct 2019 07:50 PM IST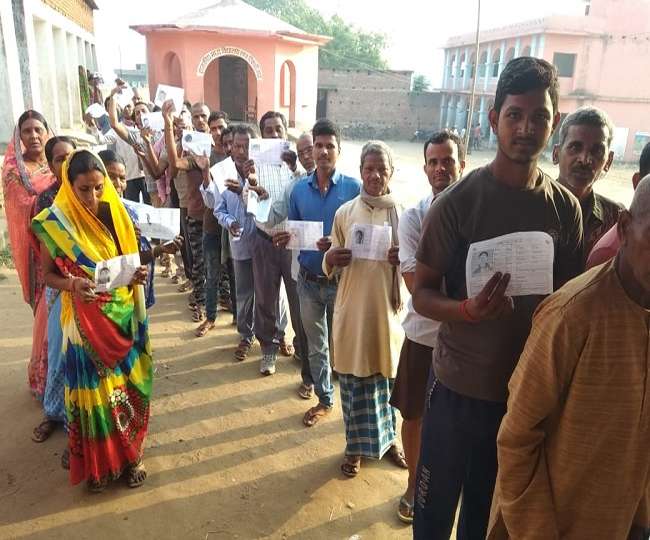 Chandigarh | Jagran News Desk: Haryana recorded a voting percentage of 61.95 per cent in assembly polls till 6 pm, according to the voter turnout app. However, the polling percentage would go up once all the votes are taken into account.
The maximum turnout was recorded in Yamunanagar where it reached 8.11 per cent while the lowest was in Faridabad where the turnout was just 46.05 per cent.
The state had recorded 76. 54 per cent voting in the 2014 assembly polls. The voting percentage was 71.84 per cent in the 2014 Lok Sabha election and 70.35 per cent in this year's Lok Sabha election.
In 2014, the BJP had won 47 seats becoming the single largest party in the state. The INLD was at the second position with 19 seats while the Congress was at the third position with 15 seats in its bag. The voter turnout in the state set a new record with 76.54 per cent.
Here are the highlights:
19:45 pm: Assembly Elections 2019 | BJP set for thumping victories in Maharashtra, Haryana, shows poll of exit polls
19:00 pm: Election Commission: 65% voter turnout recorded till 6 pm in Haryana. Voting is still going on, so the turnout is likely to rise.
18:17 pm: Voting ends in Haryana.
18:03 pm: 61.95 per cent voter turnout has been recorded till 6.00 pm.
17:58 pm: In the 2014 Assembly polls, the INLD got 19 seats.
17:00 pm: BJP national working president JP Nadda to hold a meeting with party's General Secretaries tomorrow at BJP HQ over Maharashtra and Haryana Assembly Polls. Discussions regarding party functions on the birth anniversary of Sardar Patel, on 31st Oct, will also be taken up.
16:57 pm: The Jannayak Janata Party (JJP) has accused BJP supporters of capturing a polling booth in Uchana constituency. JJP's candidate Dushyant Chautala claimed that he was attacked and pushed aside, reports IANS.
16:00 pm: Voter Turnout for Haryana Legislative Assembly reaches 50.59%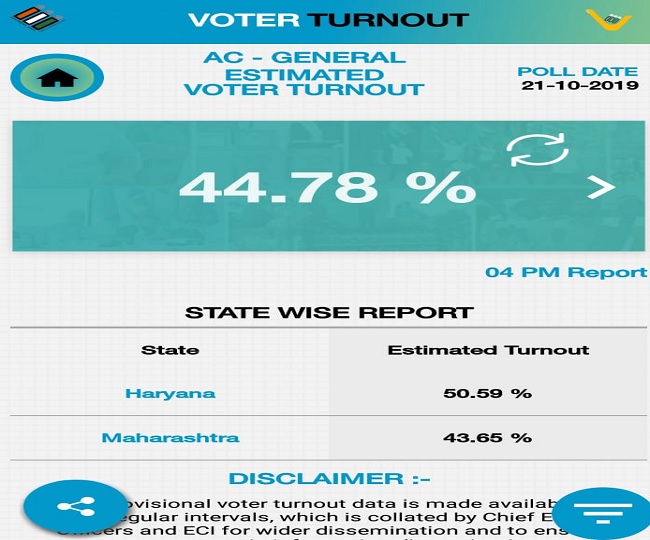 15:35 pm: "Minor technical snags were reported in EVMs at 15 places in the state and teams were rushed to rectify the faults," IANS quoted Chief Electoral Officer Anurag Agarwal as saying.
15:15 pm: 45.15 per cent voter turnout has been recorded till 3.00 pm.
15:05 pm: "BJP will be out of government after today evening. INLD will play a major role in the new government. Without us, the government can't be formed in the state," ANI quoted INLD leader Abhay Singh Chautala as saying.
14:29 pm: Hoodas, Chautalas and Phogats cast their votes | See Pics
14:03 pm: 36.96 voter turnout recorded till 2.00 pm.
13:50 pm: "BJP is going to form government in both the states, Haryana and Maharashtra. We are confident that people will continue to support Prime Minister Narendra Modi, his philosophy and his policies," ANI quoted Union Minister and BJP leader Dharmendra Pradhan as saying.
13:37 pm: "In Haryana, we are confident of a record-breaking victory. BJP will form the government in Haryana with an outright majority," said Union Minister Nitin Gadkari.
13:28 pm: The BJP has set a target to bag at least 75 seats in the elections in which 1,169 candidates of various political outfits are in the fray.
13:18 pm: Haryana Chief Electoral Officer, Anurag Agarwal on the viral video of BJP candidate Bakshish Singh in which he allegedly said 'every vote on EVM is for BJP': A show-cause notice was issued to the candidate, he replied saying, 'video was edited'. The matter is being investigated.
13:02 pm: 24.58 per cent voter turnout recorded till 1 pm.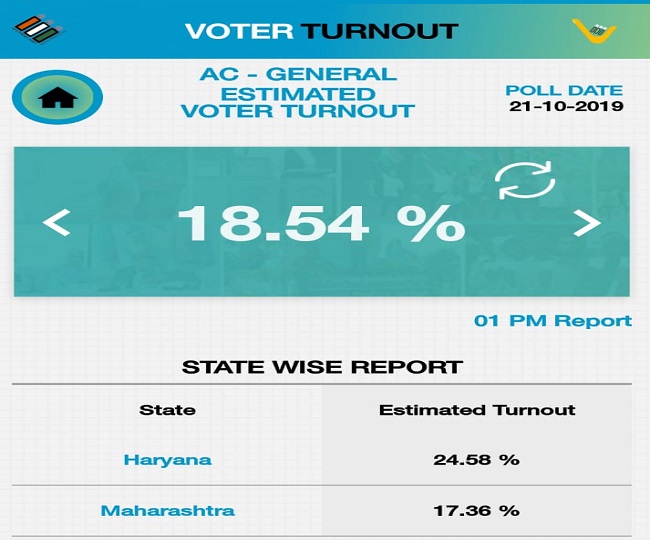 12:43 pm: In the 2014 elections, BJP had won 47 seats and formed the government on its own strength while the Congress managed just 15 seats. The INLD finished second with 19 seats.
12:26 pm: 23.27 per cent voter turnout recorded till 12 pm.
12:11 pm: Former Indian Hockey captain and BJP candidate from Pehowa, Sandeep Singh (in orange turban), casts his vote at a polling booth in Kurukshetra.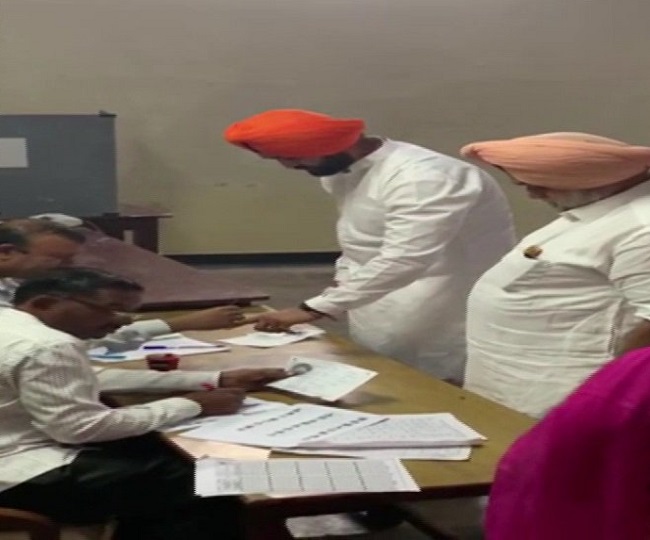 12:00 pm: Senior Congress leader and former Haryana CM Bhupinder Singh Hooda casts his vote at a polling booth in Rohtak.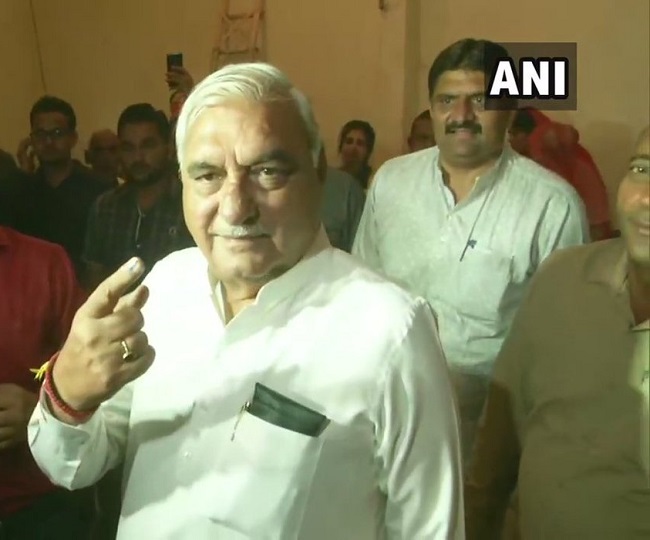 11:53 am: Counting of votes in Haryana will take place on October 24.
11:30 am So far 20.43 per cent turnout has been recorded in Haryana.
11:21 am: Facebook today activated its election notification feature for India, requesting people to go out and vote for their candidates in the Maharashtra and Haryana Assembly polls and post that they have voted.
11:09 am: A scuffle and stone pelting between supporters of the Congress and the BJP was reported from Nuh town around 8.45 am today while voting was in full swing for Haryana Assembly elections, reported news agency IANS.
10:51 am: Voting is underway peacefully across the state. Opposition parties including Congress have already lost and have left the battleground, their tall claims have no value, says Haryana CM Manohar Lal Khattar after casting his vote.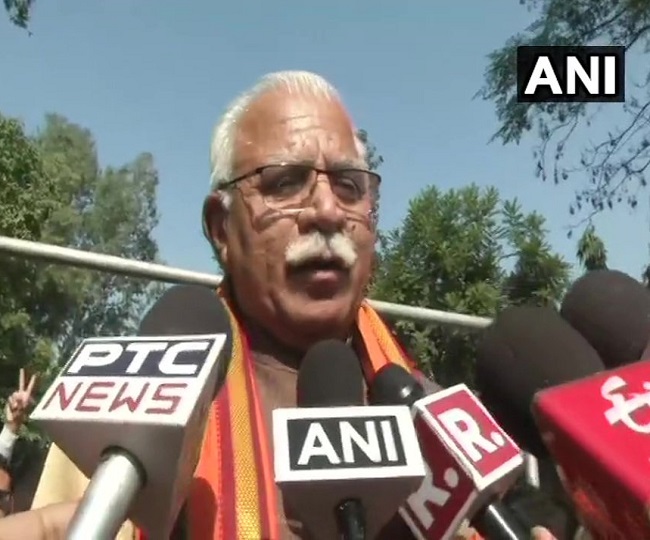 10:42 am: Haryana Assembly Elections 2019 | Dushyant Chautala drives tractor to poll booth, CM Khattar rides cycle
10:23 am: Voter turnout is 8.82 per cent till 10 am in Haryana.
10:16 am:
#WATCH Karnal: Haryana Chief Minister Manohar Lal Khattar rides a cycle to the polling booth. #HaryanaAssemblyPolls pic.twitter.com/NMUqTvfYJF

— ANI (@ANI) October 21, 2019
10:05 am: Voter turnout is 8.73 per cent till 9 am in Haryana.
9:54 am: CM Khattar is again trying his luck from the Karnal seat that he won in 2014 with a margin of over 60,000 votes from his nearest rival. The Congress has pitted Trilochan Singh, former Chairperson of the Haryana Minority Commission, against Khattar.
9:41 am: Haryana Chief Minister Manohar Lal Khattar early on Monday travelled by Shatabdi Express from Chandigarh to his hometown Karnal in Haryana to cast his vote.
"First vote then refreshment. I am going to cast my vote. I humbly request all citizens of the state that you too must exercise the franchise by visiting your polling station. Your one vote is crucial to form a strong government," Khattar said in a Tweet.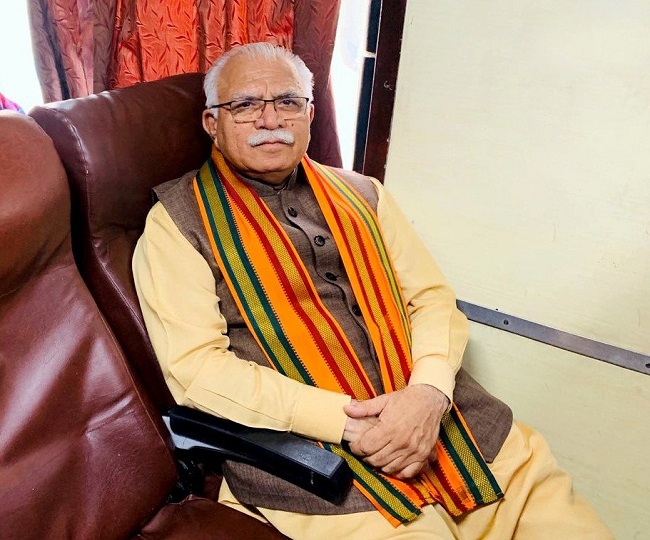 9:40 am: Till now, the estimated turnout recorded in Haryana is 7.86 per cent.
9:30 am: Haryana Assembly Elections 2019: Yogeshwar Dutt, Sonali Phogat, Kumari Selja among early voters
9:23 am: Jannayak Janata Party (JJP) leader Dushyant Chautala & his family arrive on a tractor, to cast their votes at a polling booth in Sirsa.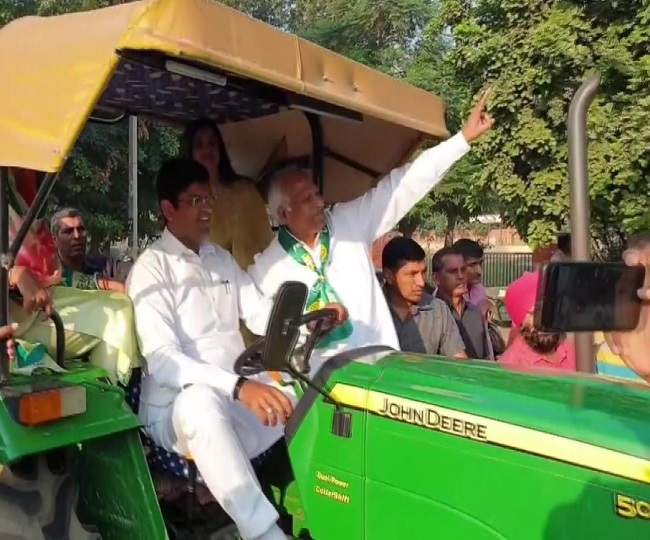 9:16 am: As many as 19,578 polling stations have been set, including 13,837 in rural areas, Chief Electoral Officer, Haryana, Anurag Agarwal said.
9:02 am: Wrestlers Babita Phogat, Geeta Phogat and their family cast their vote at a polling booth in Balali village in Charkhi Dadri constituency. Babita Phogat is contesting on BJP ticket from here against Congress candidate Nirpender Singh Sangwan and JJP candidate Satpal Sangwan.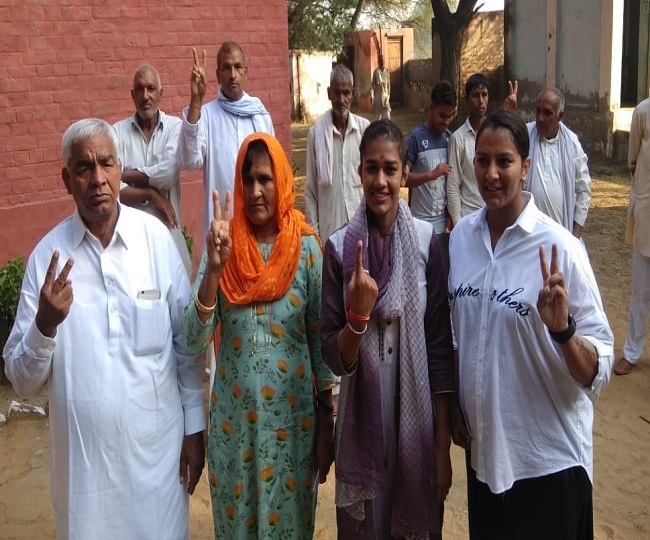 9:00 am: So far, 2.99 per cent voting has been recorded in Sonipat, 2.81 per cent in Bhiwani, 2.33 per cent in Palwal, 1.46 per cent in Jind.
9:00 am: In Haryana, the main contest is between the BJP and Congress.
8:51 am: As many as 27,611 voter-verifiable paper audit trail (VVPAT) machines will be used for the assembly elections.
8:40 am: Sonipat: Yogeshwar Dutt, Olympic Medallist & BJP candidate from Baroda casts his vote. He is contesting against Congress candidate Krishan Hooda.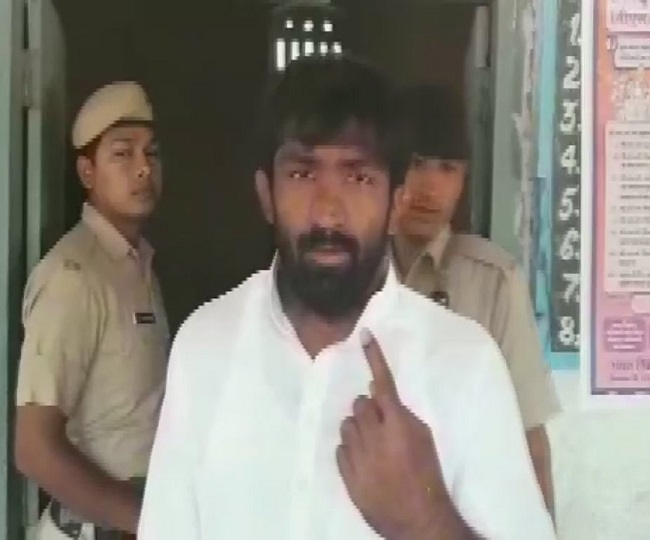 8:25 am: "Casteism, familism and corruption are the biggest inhibitors for the development of Haryana. Your one vote for development and nationalism will keep Haryana on the path of progress. All the brothers and sisters from Haryana vote before having food and participate in the development process of the state," said Union Home Minister Amit Shah in a Tweet.
8:11 am: Haryana: TikTok star Sonali Phogat who is contesting on a BJP ticket from Adampur constituency, after casting her vote. She is up against senior Congress leader Kuldeep Bishnoi.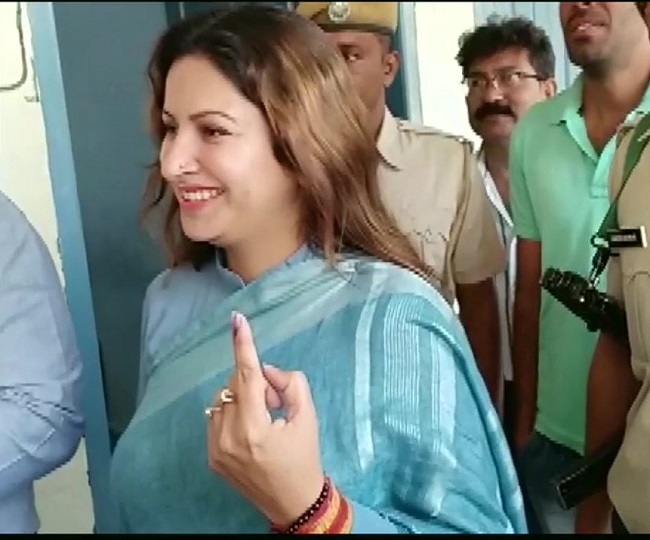 8:04 am: Hisar: Haryana Pradesh Congress Committee President Kumari Selja casts her vote at polling booth number 103 in Yashoda Public School.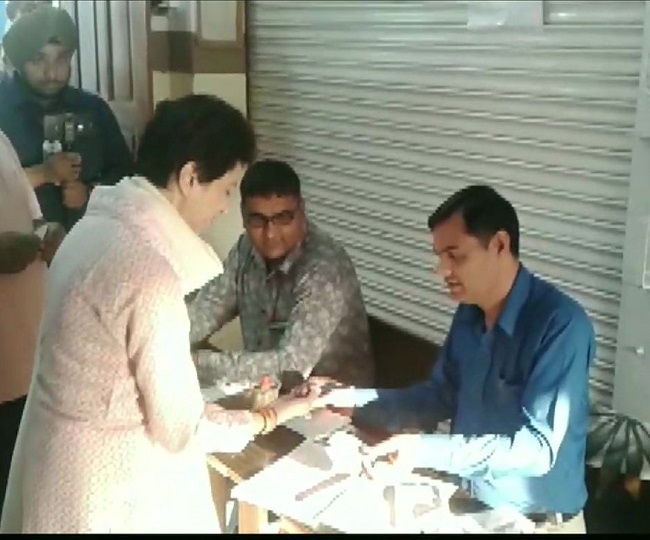 7:56 am: Gurugram: Voting is on hold after an EVM machine at booth number 286 in Badshahpur stops working.
7:40 am: Voting underway at polling booth 128-129 in Balali village in Charkhi Dadri constituency. Wrestler Babita Phogat is contesting on a BJP ticket from here against Congress candidate Nirpender Singh Sangwan and Jannayak Janta Party (JJP) candidate Satpal Sangwan.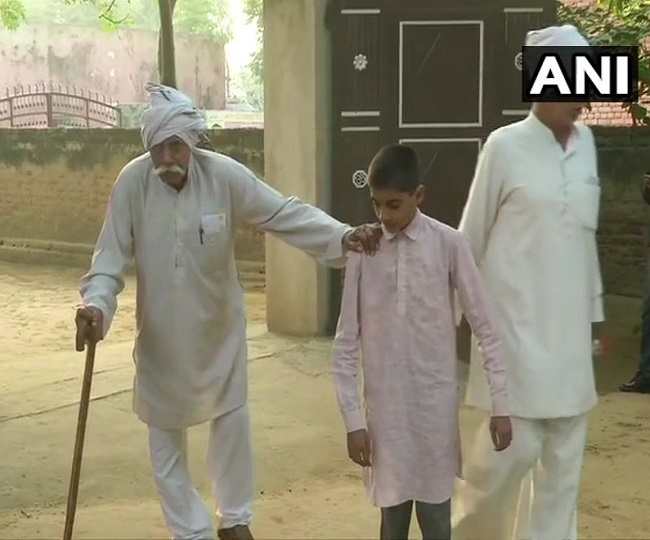 7:33 am: "Jannayak Janata Party (JJP) and Indian National Lok Dal (INLD) are not factors, the contest is between Congress & BJP. Congress will get the majority," ANI quoted Bhupinder Singh Hooda as saying.
7:30 am: Key constituencies to see high-voltage triangular contests in Haryana
7:25 am: Elections are taking place for Haryana and Maharashtra assemblies. There are also by-polls taking place in various parts of India. I urge voters in these states and seats to turnout in record numbers and enrich the festival of democracy. I hope youngsters vote in large numbers, tweets PM Modi
7:01 am: BJP is in power on its own in Haryana with a comfortable majority and is eyeing to win at least three-fourth seats in the state.
6:55 am: "She has a clean image and her speeches are passionate, people are influenced by it and are giving her their blessings. She will win election by a big margin," news ageny ANI quoted Mahavir Singh Phogat as saying.
6:51 am: From Bhupinder Singh Hooda to Tej Bahadur Yadav, a look at key candidates in Haryana
6:46 am: Haryana Assembly Elections: Authorities set up eight 'Pink Booths' across Gurugram district for women voters
6:44 am: Upraised by 'Modi Wave' in 2014 to prominent CM face in 2019, Manohar Lal Khattar, a safe bet for BJP
6:41 am: Haryana Assembly Elections 2019: Litmus test for Congress, BJP eyes another term as state votes today
6:38 am: In the 2014 elections of the Haryana Legislative Assembly, the BJP had managed to bag 47 seats out of 90 seats.
6:35 am: The total number of voters in Haryana is around 1,82,98,714, out of which 98,33,323 are males and 84,65,152 are females.
6:30 am: Election on 90 constituency seats of the Haryana Legislative Assembly will be held today.
Posted By: Aalok Sensharma