Haryana Assembly election 2019: From Bhupinder Singh Hooda to Tej Bahadur Yadav, a look at key candidates in upcoming polls
Key candidates of the 2019 Haryana state assembly include ML Khatter, Babita Phogat, Yogeshwar Dutt, Bhupinder Hooda, Randeep Singh Surjewala, Abhay Singh Chautala, Anil Vij, among others.
Publish Date: Mon, 14 Oct 2019 03:44 PM IST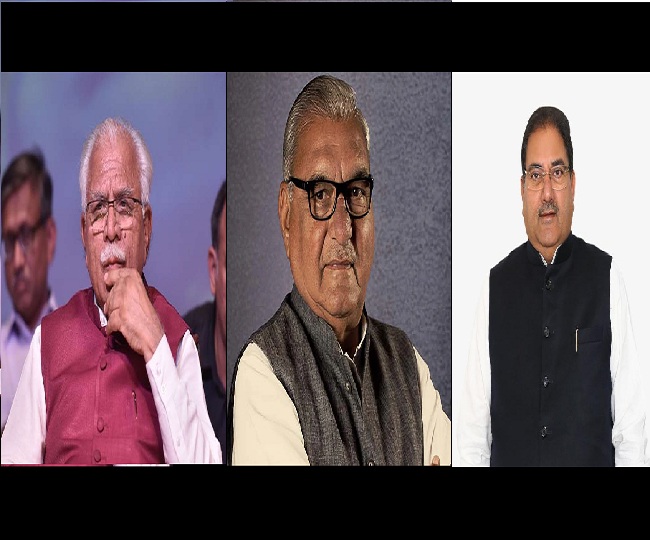 New Delhi | Jagran News Desk: With just days left for the Haryana Assembly polls, the political parties are eyeing to get an edge over their rivals. The major contestant in the state is between Bhartiya Janata Party (BJP) and Indian National Congress (INC), with INLD having pockets of influence.
The ruling BJP is seeking a second consecutive term in the office. They are riding high on confidence after a thumping win (10/10 seats) in the recently concluded 2019 Lok Sabha elections.
INC, on the other hand, is currently going through an identity crisis and are busy counting the failures of the government. The party faces an uphill task to generate votes in their favour, especially after losing all seats in the Lok Sabha elections.
Here is a look at key candidates for the upcoming state assembly polls in Haryana:
Manohar Lal Khattar
He is the ruling Chief Minister (10th) for BJP in Haryana. Khatter represents the Karnal constituency in the state legislative assembly and seeks another term in the office. He had earlier defeated Jai Prakash Gupta Karnal by a margin of 63,773 votes gaining 82,375 votes.
Babita Phogat
Babita is an Indian wrestler who won gold in 2014 and the 2018 Commonwealth Games. She joined the BJP party in August 2019 and declared as a candidate in the Haryana Assembly election from Dadri. In a bid to woo youth voters, the BJP has fielded her to win the seat for the very first time that is currently held by Rajdeep Phogat of INLD.
Yogeshwar Dutt
Dutt is an Indian freestyle wrestler who won gold at the 2014 Commonwealth games and received Padma Shri by the Government of India in 2013. The ruling BJP party has fielded the sportsperson from the Baroda constituency where it is yet to win since the formation of the state. Baroda is currently in the reigns of INC's Shri Krishan from the last two elections.
Tej Bahadur Yadav
Tej Bahadur is a former Indian soldier who faced an axe after reporting on the quality of food served to the army jawans. He had earlier filed for nomination against PM Modi from Varanasi constituency in Lok Sabha elections from BSP ticket, but his candidature was cancelled by the Election Commission. In the Haryana state assembly polls, he has been fielded by the Jannayak Janata Party (JJP) from Karnal and will be up against CM Khatter of BJP and INC's Tarlochan Singh.
Bhupinder Singh Hooda
Bhupinder Singh Hooda is an INC politician and former Chief Minister of Haryana (2005-2014). Hooda will up against Satish Nandal who has changed his side from INLD to BJP to contest from the Rohtak constituency. In the last assembly elections, he had defeated INLD's Nandal from Garhi Sampla-Kiloi constituency by a difference of 47,185 votes bagging 80693 votes.
He will be up against BB Batra of INC in the upcoming election. The latter had lost the previous election to Manish Grover of BJP from Rohtak constituency, but the INC has kept its faith in him.
Abhay Singh Chautala
Son of former Chief Minister Om Prakash Chautala, Abhay holds the Ellenabad constituency in Haryana. The Ellenabad constituency is held by him after he defeated Pawan Beniwal of BJP by a margin of 11,539 votes bagging 69,162 votes. He will contest from INLD for the second time.
Randeep Singh Surjewala
Randeep Singh is an MLA in Haryana state legislator and former minister. He has defeated INLD's Om Prakash Chautala in 1996 and 2005 from Narwana constituency. He also defeated Kailash Bhagat of INLD twice in 2014 and 2009 to win the Kaithal constituency.
Anil Vij
Anil Vij is an Indian politician from BJP and serves as cabinet minister in the Government of Haryana with independent charge on Health services, science and technology, sports and youth affairs. He will fight from Ambala Cantonment constituency in the upcoming polls. In the previous election, he defeated Ch. Nirmal Singh twice to win the previous two elections from the constituency.
Captain Abhimanyu
Captain Abhimanyu or Abhimanyu Singh Sidhu is a cabinet minister in the Government of Haryana state led by the BJP. He will contest from Narnaund constituency in Hisar district of Haryana for the second time that is currently held by him. He had won the previous election from Narnaund constituency by a margin of 53770 votes against INLD's Raj Singh Mor.
The 90-member legislative assembly will go to poll on October 21 and the fate of the contestants will be announced on October 24.
Posted By: James Kuanal