Patparganj Election Results 2020: Manish Sisodia wins after daylong see-saw battle
Patparganj Election Results 2020 LIVE: In 2015, Sisodia had defeated his former colleague Vinod Kumar Binny by a margin of over 28,000 votes.
Updated: Tue, 11 Feb 2020 03:24 PM IST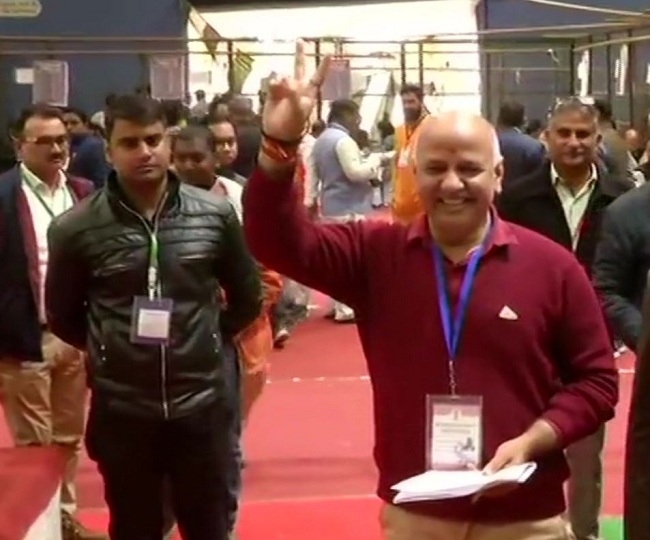 New Delhi | Jagran News Desk: After a daylong drama of leading and trailing, Delhi Deputy Chief Minister Manish Sisodia finally registered victory from the Patparganj constituency as his party looked set for a massive victory in the Delhi Assembly elections.
Sisodia was involved in a neck-to-neck contest with the BJP candidate Ravinder Singh Negi before winning by a narrow margin to retain the seat. Sisodia, who was the Deputy Chief Minister and led the government's education reforms agenda, Negi by a margin of over 3,500 votes.
"I am happy to become the MLA from Patparganj assembly constituency again. BJP tried to do politics of hate but people of Delhi chose a government that works for the people," said Sisodia after the victory.
Patparganj is one of the key constituencies in Delhi where VIP candidates are in fray. Here, Sisodia is challenged by BJP's Ravi Negi and Congress' Laxman Rawat. This year, the voter turnout in the Patparganj constituency was 61.28 per cent.
Click Here For Complete Coverage on Delhi Assembly Election Results 2020
In 2015, Sisodia had defeated his former colleague Vinod Kumar Binny by a margin of over 28,000 votes. Former AAP MLA Binny, who was fighting on a BJP ticket, finished second with 46,716 votes while Congress was reduced to a poor third with its candidate Anil Kumar totalling a mere 16,260.
As votes for the February 8 elections were counted, the AAP was leading in 61 of 70 seats and the BJP in nine, leaving the Congress virtually decimated in a city it had ruled for three consecutive terms under Sheila Dikshit, according to Election Commission figures.
The elections in the national capital took place in the midst of massive protests in the city and elsewhere over the new citizenship law, the National Register of Citizens and the National Population Register.
The BJP faced charges of carrying out a "divisive" campaign to polarise the voters by consistently highlighting the over 50-day demonstration by a group of women in Shaheen Bagh area.
Though BJP's campaign focused on national security issues, the AAP mainly focused on its achievements in the fields of education, healthcare and infrastructure.
The AAP had registered a sensational victory in 2015 by winning 67 seats in a hurricane march that almost wiped out the BJP and the Congress.
Posted By: Abhinav Gupta