Delhi Elections 2020: Politicians make beeline to congratulate Kejriwal as AAP set for big win | Who said what
As per the official trends by the Election Commission (EC), the AAP is likely to win 58 seats in Delhi while the BJP will win around 12 seats.
Updated: Tue, 11 Feb 2020 04:25 PM IST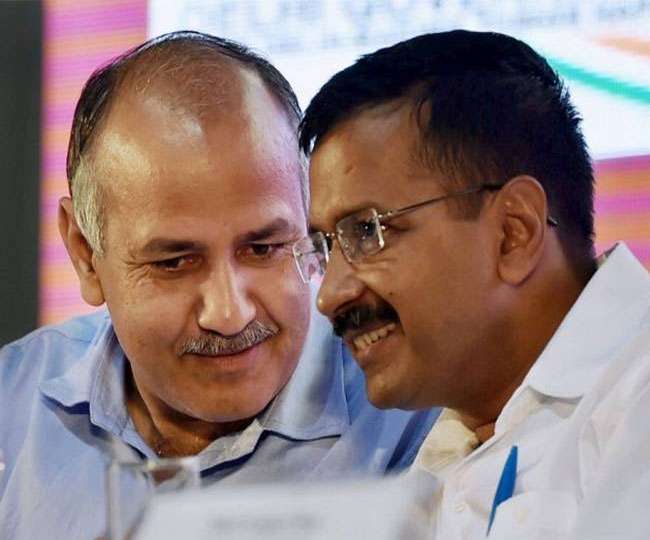 New Delhi | Jagran News Desk: The results for the Assembly Elections in Delhi were out on Tuesday and as predicted by the exit polls, the Aam Aadmi Party (AAP), led by Arvind Kejriwal, retained power in the national capital for the third time in a row. As per the official trends by the Election Commission (EC), the AAP is likely to win 58 seats in Delhi while the BJP will win around 12 seats.
As the AAP swept the assembly polls in the national capital, politicians across the country reacted to the development and congratulated AAP for its success. So here's a look at who said what as AAP swept assembly polls in Delhi:
* Gautam Gambhi (BJP): We accept Delhi Election Results and congratulate Arvind Kejriwal and the people of Delhi. We tried our best but, probably, we could not convince the people of the state. I hope Delhi develops under the chief ministership of Arvind Kejriwal
* Congress: People's mandate is against us, we accept it; we have resolved to strengthen and rebuild party
* Alka Lamba (Congress): I accept the result, but don't giv up. Hindu-Muslim votes were completely polarised. The Congress Party will now have to prepare for a new fight with new faces and a long struggle for the people of Delhi. If you fight today, you will also win tomorrow
* JP Nadda (BJP): BJP accepts mandate given by people of Delhi, will play role of constructive opposition
* Mamata Banerjee (West Bengal CM): I have congratulated Arvind Kejriwal. People have rejected BJP. Only development will work, CAA, NRC and NPR will be rejected
* Prashant Kishor: Thank you Delhi for standing up to protect the soul of India!
* Parvesh Verma (BJP): I accept the result. We will work hard and give a better performance in the next elections. If this election would have been on Education and Development, then Education Minister (Manish Sisodia) would not have been trailing
* P Chidambaram (Congress): AAP won, bluff and bluster lost. The people of Delhi, who are from all parts of India, have defeated the polarising, divisive and dangerous agenda of the BJP. I salute the people of Delhi who have set an example to other states that will hold their elections in 2021 and 2022
* MK Stalin (DMK): I congratulate Arvind Kejriwal and Aam Aadmi Party for forming government yet again in Delhi,on a massive mandate. This is clear vindication that development trumps communal politics. Federal rights and regional aspirations must be strengthened in the interest of our country
* Sadhu Singh Dharamsot (Congress leader and Punjab Cabinet minister): We were zero earlier also and this time too we are zero. So it's not our defeat. It is the defeat of the BJP
* Pinarayi Vijayan (Kerala CM): Congratulations to Arvind Kejriwal and Aam Aadmi Party on a resounding victory in Delhi elections. Let this victory be a harbinger for pro-people and inclusive politics in our country.
* Sanjay Singh (AAP): The two crore families of Delhi have now said that their son Arvind Kejriwal is not a terrorist but a staunch nationalist. I salute the people of Delhi for giving AAP such a massive mandate
* Amanatullah Khan (AAP): People of Delhi have given a current (shock) to BJP and Amit Shah. This is a victory of work and defeat of hatred. Not me, the people have broken the record of lead margin
* Kamal Nath (Madhya Pradesh CM and Congress leader): We are aware of this. But what happened to the BJP which was making tall claims? Being at the Centre, Modiji is close to Delhi's electorate which would have elected the BJP, if satisfied with his work
* Akhilesh Yadav (Samajwadi Party): The results of Delhi elections will send a message all over the country that farmers, poor and youth will vote for development and prosperity. People have voted against the hatred politics of BJP. The BJP is failing in its attempt to communalise politics
* Sharad Pawar (NCP): The Delhi poll results indicate 'winds of change' blowing in the country. The results are not surprising to me. The Delhi Assembly poll contest was only between the Aam Aadmi Party and the BJP, hence one might claim that the saffron party's vote share is soaring
* Uddhav Thackeray (Maharashtra CM and Shiv Sena chief): I congratulate Arvind Kejriwal and the people of Delhi for AAP's victory in Delhi Polls 2020. People have shown that the country will be run by 'Jan Ki Baat', not 'Mann Ki Baat'. BJP called Kejriwal a terrorist but couldn't defeat him
* Aaditya Thackeray (Shiv Sena): Leaving aside electoral issues, one must work and fulfill promises. We must steer clear of the level of politics which was there (in Delhi Election). I congratulate Delhi for giving a decisive mandate fearlessly. I congratulate Arvind Kejriwal
* Tejashwi Yadav (RJD): I congratulate Arvind Kejriwal. The mandate given by the people of Delhi has shown that they will vote on work and development
Posted By: Aalok Sensharma