Delhi Election Results 2020: Delhi has given birth to 'politics of work', says Arvind Kejriwal as AAP wins big | As it happened
According to the official EC trends, the AAP will likely win around 59 seats while the BJP will win around 11 seats.
Updated: Tue, 11 Feb 2020 07:09 PM IST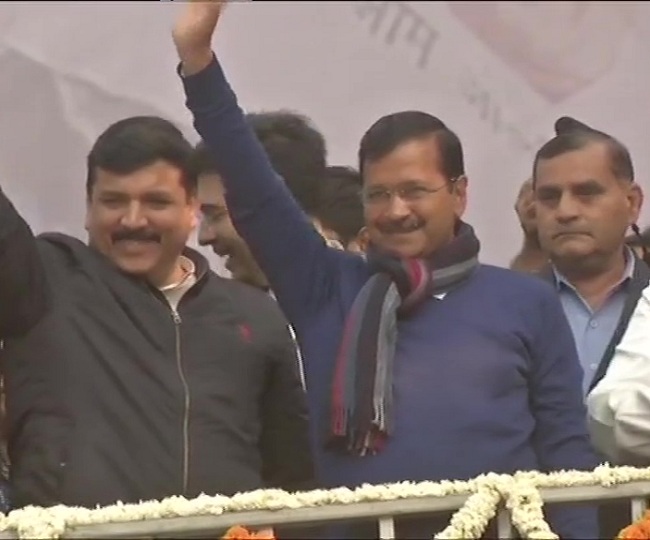 New Delhi | Jagran News Desk: The Aam Aadmi Party, led by Arvind Kejriwal, is set retain power in Delhi as the official Election Commission trends suggest that the party is leading on 62 seats while the BJP is ahead on eight seats. The Congress continued with its dismal performance in the national capital and once again drew a blank.
The three-way high-voltage contest between the Aam Aadmi Party, the BJP and the Congress has reached its summit with the votes of the February 8 polls being counted. While the exit polls have predicted a clear majority for Arvind Kejriwal-led AAP, the BJP is confident of winning more than 45 seats in 70-membered assembly and form the government.
In the 2015 assembly polls in the national capital, the AAP had registered a thumping victory, bagging 67 of the 70 seats and the BJP winning the remaining three seats. The Congress had failed to open its account.
The campaigning for the Delhi Assembly elections, which initially started off focusing on development and people-friendly policies, later turned aggressive in wake of the ongoing protests against the Citizenship Act and the recent case of violence in the Jamia University campus.
Delhi Assembly Election Results 2020 Live Updates:
15:48 pm: Lord Hanuman has blessed us, may god give us more strength to serve people of Delhi: Arvind Kejriwal
15:44 pm: Not just Delhi, Bharat Mata has also won today: Kejriwal
15:40 pm: Delhi has given birth to a new kind of politics today. It's called the 'politics of work': Kejriwal
15:39 pm: Want to thank the people of Delhi for giving another mandate to their "son". It's a victory for Delhi: Arvind Kejriwal
15:08 pm: From Gandhi Nagar, BJP's Anil Bajpai wins with a margin of about 6,000 votes
14:51 pm: "I am happy to become the MLA from Patparganj assembly constituency again. BJP tried to do politics of hate but people of Delhi chose a government that works for the people," says Manish Sisodia as he wins from Patparganj.
14:37 pm: "AAP won, bluff and bluster lost. The people of Delhi, who are from all parts of India, have defeated the polarising, divisive and dangerous agenda of the BJP. I salute the people of Delhi who have set an example to other states that will hold their elections in 2021 and 2022," said Congress' P Chidambaram in a tweet.
14:19 pm: Manish Sisodia takes lead of 656 votes BJP's Ravindra Singh Negi in Patparganj: EC Trends
14:16 pm: Arvind Kejriwal celebrates with wife Sunita as AAP takes big lead.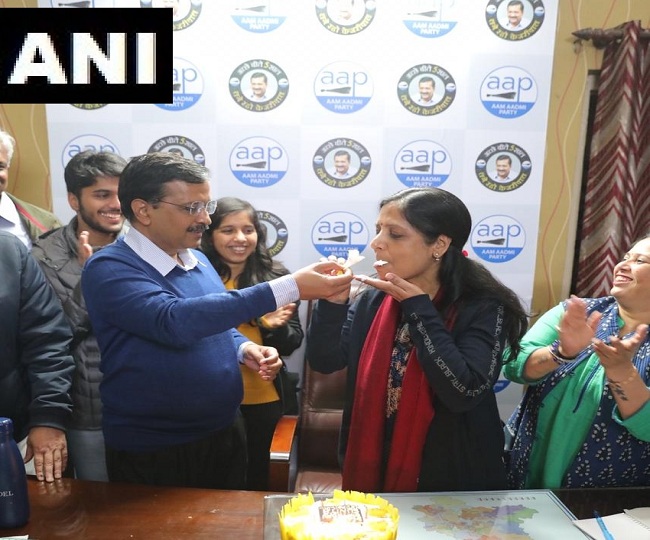 13:58 pm: I accept the result. We will work hard and give a better performance in the next elections. If this election would have been on education and development, then Manish Sisodia would not have been trailing: BJP's Parvesh Verma
13:51 pm: "We are aware of this. But what happened to the BJP which was making tall claims? Being at the Centre, Modiji is close to Delhi's electorate which would have elected the BJP, if satisfied with his work," says Congress leader and Madhya Pradesh CM Kamal Nath
13:50 pm: 'We couldn't convince people': Gautam Gambhir congratulates Kejriwal as AAP looks set to retain Delhi
13:34 pm: People's mandate is against us, we accept it; we have resolved to strengthen and rebuild party: Congress
13:20 pm: Lt Governor Anil Baijal dissolves Delhi legislative assembly.
13:09 pm: We accept Delhi election results and congratulate Arvind Kejriwal and the people of Delhi. We tried our best but, probably, we could not convince the people of the state. I hope Delhi develops under the chief ministership of Arvind Kejriwal
13:04 pm: Delhi Chief Minister Arvind Kejriwal and Political Strategist Prashant Kishor at AAP party office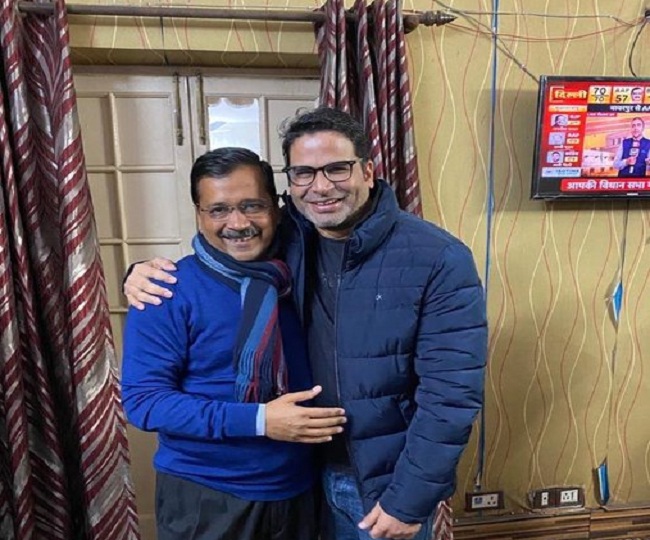 12:44 pm: I have congratulated Arvind Kejriwal. People have rejected BJP. Only development will work, CAA, NRC and NPR will be rejected: Mamata Banerjee
12:38 pm: Arvind Kejriwal and other AAP leaders at party office.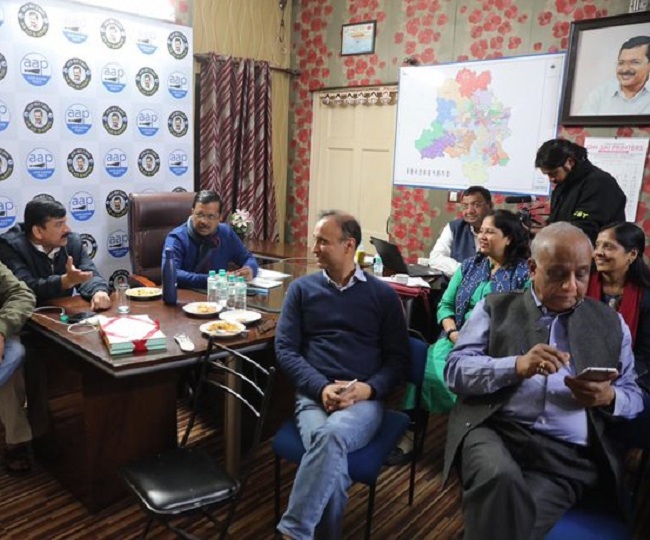 12:34 pm: Subhash Chopra, Delhi Congress Chief: I take responsibility for the party's performance, we will analyse the factors behind this. Reason for the drop in our vote percentage is politics of polarization by both BJP and AAP.
12:19 pm: AAP's Raghav Chaddha leading from Rajinder Nagar constituency by over 15,000 votes against BJP's Sardar RP Singh.
11:52 am: Aam Aadmi Party's Manish Sisodia trailing behind BJP's Ravi Negi by 1576 votes, in Patparganj assembly constituency, after fifth round of counting.
11:51 am: Aam Aadmi Party's Rajesh Rishi leading against Bharatiya Janata Party's Ashish Sood from Janakpuri, after 7 rounds of counting
11:44 am: Official Trends: AAP - 57, BJP - 13
11:43 am: Neck-and-neck battle for Patparganj seat as deputy CM Manish Sisodia trails BJP's Ravinder Singh Negi
11:15 am: Patparganj Election Results 2020 LIVE: Manish Sisodia trailing behind BJP's Ravi Negi by 1427 votes
11:12 am: Delhi Election Results 2020 Highlights: AAP ahead on 54 seats, BJP on 16 seats, suggest official trends
11:06 am: AAP's Somnath Bharti (7,274) assumes comfortable lead over BJP's Shailendra Singh (5,097).
11:01 am: Aam Aadmi Party workers in Amritsar celebrate as trends indicate lead for the party.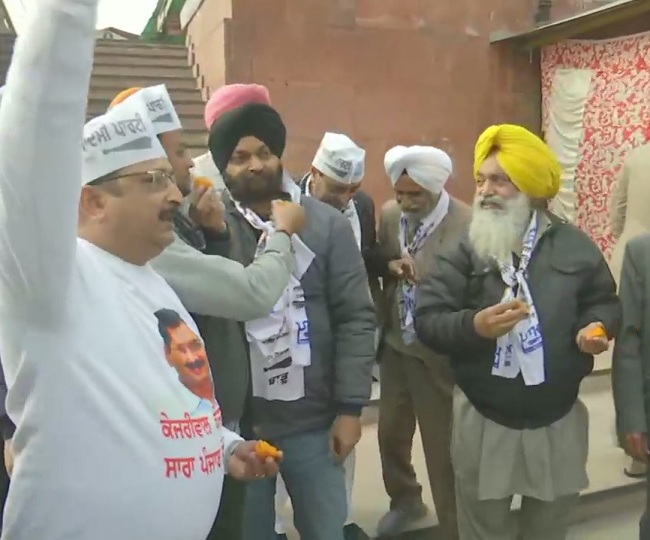 10:50 am: Official EC trends: AAP ahead on 52 seats, BJP on 18 seats
10:49 am: AAP's Raghav Chadha leading by 8,456 votes from Rajinder Nagar.
10:48 am: AAP's Shoaib Iqbal leading by over 9,500 votes on Matia Mahal seat, BJP's Ravinder Gupta second.
10:46 am: "Trends indicate that there is a gap between AAP-BJP, but there is still some time. We are hopeful. Whatever the outcome, being the state chief I am responsible," Manoj Tiwari said while speaking to media.
10:44 an: Everyone knew that Aam Aadmi Party will return to power for the third time. Congress's defeat will not send a good message. The victory of AAP against the Bharatiya Janata Party & its communal agenda is significant: Congress' Adhir Ranjan Chowdhury
10:36 am: "Now, all talk is over. Now, we have to wait for the blessings of the people. I am confident it will be a good day for BJP. We are coming to power in Delhi today. Don't be surprised if we win 55 seats," says Delhi BJP chief Manoj Tiwari
10:35 am: Official EC trends: Aam Aadmi Party leading on 45 seats and Bharatiya Janata Party leading on 19 seats
10:29 am: Amanatullah Khan is slowly gaining ground from Okhla constituency and is currently leading by 214 votes. Shaheen Bagh comes under the Okhla constituency and is also adjacent to Kalkaji.
10:25 am: Official EC trends: Aam Aadmi Party leading on 39 seats and Bharatiya Janata Party leading on 19 seats.
10:13 am: Assembly speaker and AAP leader Ram Niwas Goel leading from Shahdara by 81 votes
10:10 am: BJP's Kapil Mishra leading from Model Town by a margin of 98 votes; Aam Aadmi Party's Manish Sisodia leading from Patparganj by a margin of 112 votes.
10:06 am: Official Trends: AAP - 32, BJP - 16, Vote Percentage: AAP - 52%, BJP - 41%
10:00 am: BJP's Braham Singh leading by 214 votes from Okhla constituency over AAP's Amanatullah Khan.
09:57 am: Arvind Kejriwal leading by a margin of 2026 votes from New Delhi constituency; Bharatiya Janata Party leader Vijender Gupta trailing by 1172 votes from Rohini
09:53 am: Official trends: AAP - 22, BJP - 14 (Vote Share - AAP: 50%, BJP - 44%)
09:47 am: Official trends: AAP - 18, BJP - 11
09:41 am: BJP and AAP's vote share is almost equal. AAP - 47.7%, BJP - 46.5%
09:41 am: AAP's Atishi, Amanatullah Khan and Manish Sisodia are trailing as per the latest trends.
09:40 am: The trends are now showing BJP leading in Okhla and Kalkaji.
09:35 am: Manish Sisodia trailing from Patparganj.
09:31 am: BJP ahead in Shaheen Bagh and Okhla. Amanatullah Khan trailing from Okhla.
9:25 am: AAP ahead on 53 seats, BJP on 17 seats; Congress yet to open its account
09:20 am: Aam Aadmi Party's Raghuvinder Shokeen leading from Nangloi Jat constituency, after first round of counting of votes.
09:13 am: BJP's Tajinder Singh Bagga is now leading from Hari Nagar
09:05 am: Delhi deputy CM and senior AAP leader Manish Sisodia is ahead in Patparganj
09:00 am: In Malviya Nagar, AAP's Somnath Bharti is ahead of former councilor Shailendra Singh Moti of the BJP and Congress candidate Neetu Verma, a former DUSU president
08:45 am: 70/70 - AAP: 54, BJP: 15, Congress: 1
08:37 am: 70/70 - AAP: 52, BJP: 17, Congress - 1; Aam Aadmi Party has confortably crossed the majority mark of 36.
08:30 am: 63/70 - AAP: 47, BJP: 12
08:29 am: We are assured that BJP government will be formed in Delhi with a majority, senior party leader Vijay Goel tells ANI
08:28 am: 59/70 - AAP: 40, BJP: 18, Congress: 1
08:26 am: BJP's Tajinder Bagga trailing from Hari Nagar.
08:24 am: BJP leader Kapil Mishra is leading on the Model Town seat.
08:20 am: 53/70 - AAP: 30, BJP: 22, Congress: 1
08:20 am: The postal ballots will be counted till around 8.30am. After that, votes cast through electronic voting machines will be counted
08:16 am: Congress opens its account, Harun Yusuf leading from Ballimaran.
08:14 am: Trends for 30 seats show that AAP is leading on 20 seats and BJP on 10 seats, Congress draws a blank.
08:12 am: Matiamahal - AAP's Shoaib Iqbal ahead
08:10 am: 9/70: AAP - 6, BJP - 3
08:08 am: 5/70: AAP - 3, BJP - 2
08:07 am: AAP ahead from Burari, BJP ahead from Vishwas Nagar, suggest initial trends.
08:06 am: Arvind Kejriwal ahead from New Delhi constituency, suggest initial trends.
08:05 am: Neel Khatri of BJP ahead from Narela constituency, show initial trends.
08:04 am: Initial Trends: AAP's Amanatullah Khan leading from Okhla constituency.
08:00 am: Counting of votes for 70 assembly seats in Delhi begins. Postal ballots will be counted first and then the EVM polls.
07:43 am: Delhi Deputy Chief Minister Manish Sisodia: We are confident of a win today because we have worked for people in the last 5 years.
07:29 am: BJP's Vijay Goel offers prayers at Hanuman Temple in Connaught Place.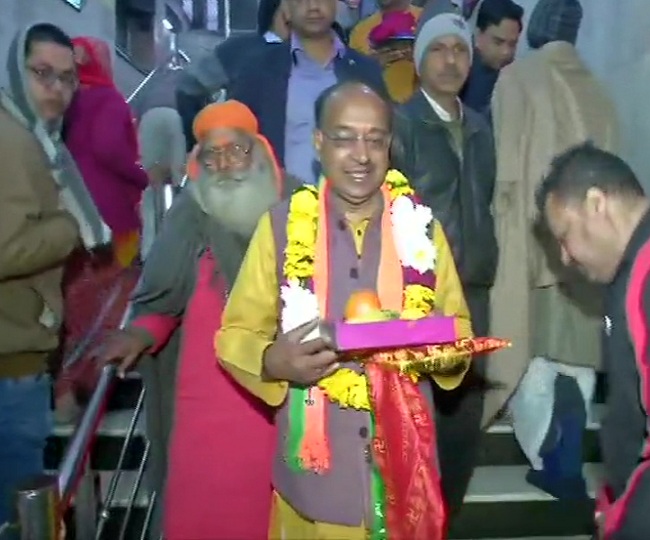 07:23 am: I am not nervous. I am confident that it will be a good day for BJP. We are coming to power in Delhi today. Don't be surprised if we win 55 seats: Manoj Tiwari, BJP.
07:22 am: From every assembly constituency, five VVPATs will be randomly selected and counted.
07:04 am: Traffic movement will remain closed on Road number 224 Dwarka from sector 7/9 crossing towards sector 9/10 crossing due to counting.
06:48 am: Traffic restrictions have been imposed by Delhi Police near the 21 counting centres in Delhi.
06:35 am: Exit polls have predicted a massive victory for the AAP, but the BJP is confident of winning over 45 seats.
06:33 am: The postal ballots will be counted first, followed by the EVM polls and the initial trends are expected to trickle shortly after 8 am.
06:30 am: The final voter turnout in the Delhi polls was 62.59 per cent. In the 2015 Assembly polls, Delhi had recorded a voter turnout of 67.47 per cent.
Posted By: Abhinav Gupta