Bypolls 2019 Results: BJP wins majority of seats in UP, Congress fairs better in Punjab and Gujarat | As it happened
Stay tuned for all the latest updates of bypoll results in Uttar Pradesh, Gujarat, Punjab, Bihar, Assam, Kerala, among others.
Updated: Thu, 24 Oct 2019 06:08 PM IST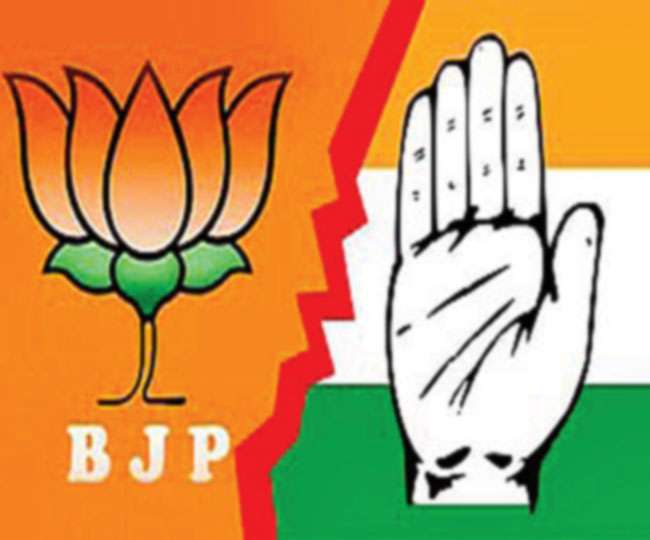 New Delhi | Jagran News Desk: Counting of votes for the by-polls across 53 constituencies including two Lok Sabha seats across 17 states and a Union Territory are underway and the ECI were released on Thursday. BJP won big in Uttar Pradesh and Himachal, but failed to perform to their best in Gujarat and Punjab as Congress showed some recovery after the recent battering it received in the Lok Sabha elections.
Among the states ruled by the BJP and its allies, counting was held for the maximum 11 seats in UP, followed by six in Gujarat, five in Bihar, four in Assam and two each in Himachal Pradesh and Tamil Nadu.
The other states where by-polls were held are Punjab (4 seats), Kerala (5 seats), Sikkim (3 seats), Rajasthan (2 seats) and one seat each in Arunachal Pradesh, Madhya Pradesh, Odisha, Chhattisgarh, Puducherry, Meghalaya and Telangana. Counting of votes was also held in Satara (Maharashtra) and Samastipur (Bihar) Lok Sabha seats, which were held by the NCP and the LJP respectively.
Here are the highlights:
5:03 pm: BJP wins eight seats in UP assembly bypolls, SP manages to win two. Post results, UP Chief Minister Yogi Adityanath said, "On 8 out of the 11 seats (UP by-polls), BJP & its allies have registered victory. I congratulate all the candidates who have won today. PM Modi's 'mantra' of 'Sabka saath sabka vikas' has become the 'mantra' of the politics in India."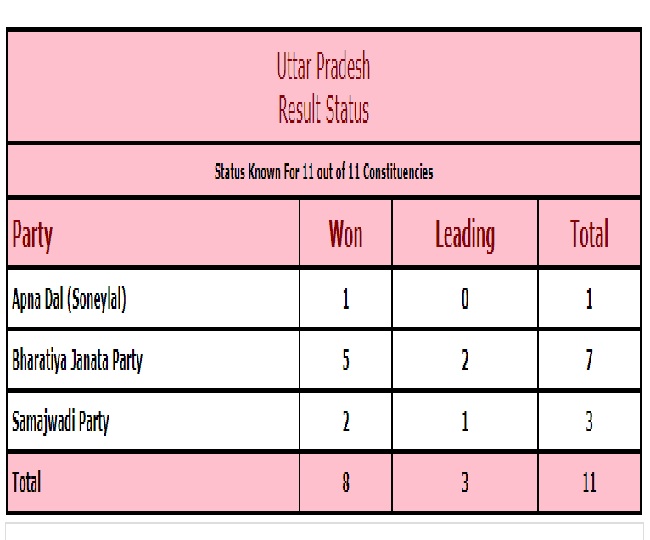 4:55 pm: Rashtriya Loktantrik Party (RLP) won Khinwsar seat in Rajasthan as Narayan Beniwal defeated Harendra Mirdha by a margin of over 4600 votes while Ritu Choudhary of Congress defeated BJP candidate Sushila Sigra by over 33,500 votes to win Mandawa constituency.
4.43 pm: Yong Tsghering Lepcha of BJP won Gangtok seat by 1634 seats over Rinzing Ongmu Bhutia of SDF in Sikkim. Overall, BJP won two of three seats in Sikkim.
4.39 pm: Prince Raj of Lok Jan Shakti Party (LJP) defeated Ashok Kumar of Congress by 102,000 to win Samastipur Lok Sabha seat.
4.25 pm: Results declared in three constituencies in Uttar Pradesh. While the BJP won two seats, the Samajwadi Party also managed a seat.
BJP's Kirat Singh beat Inder Sain of Samajwadi Party by over 10900 votes in Gangoh while Suresh Vahndra Tiwari defeated his nearest rival Major Ashish Chaturvedi by a margin of over 35,000 votes in Lucknow Cantt. Meanwhile, in Zaidpur, BJP's Ambrish trailed by SP's Gaurav Kumar by over 4000 votes.
4.11 pm: In Tamil Nadu, AIADMK wins Vikravandi assembly constituency, a bastian of opposition DMK party. Muthamilselvan won by a margin of over 44,000 votes. The party is also leading by over 31800 votes in Nanguneri's seat.
3:58 pm: RJD in Bihar wrested Simri Bakhtiyarpur assembly constituency from JDU as Zafar Alam defeated Arun Kumar by a comprehensive margin of 15,508 votes.
3:47 pm: Congress won 2 seats while the ruling BJP managed to win just 1 seat after counting of first three seats were completed in Gujarat. Jashu Patel of Congress defeated BJP's Dhavalsinh Zala in Arvalli by over 700 votes.
In Tharad, BJP's Jivraj Patel lost by over 6400 votes to Gulabsinh Rajput of Congress while BJP's Ajmali Thakor defeated Babuji Thakor of Congress by 29,000 votes in Kheralu. Congress were leading in the remaining three seats.
3:32 pm: Results announced for Mukerian and Dakha in Punjab. Indu Bala of Congress defeated BJP nominee Jangi Lal Mahajan by 3440 votes in Mukerin while SAD's Manpreet Singh Ayali defeated Sandeep Singh Sandhu of INC by 14,672 votes. However, Congress ended up winning three out of four seats in the state.
3:15 pm: Congress wins Phagwara and Jalalabad seats in Punjab. Raminder Awla defeated SAD nominee Raj Singh Dibipura by 16,633 votes in Jalalabad while Balwinder Singh Dhaliwal defeated BJP nominee Rajesh Bagha by a margin of 26,116 votes in Phagwara.
2:57 pm: Result were also declared for by-election in Bijepur seat of Odisha. Rita Sahu of Biju Jananta Dal (BJD) won the seat against BJP's Sanat Gartia by 97,990 votes.
2:46 pm: Result declared for by-election to Chitrakot seat of Chhattisgarh. Rajman Venjam defeated lachuram Kashyap of BJP by 17,900 votes.
Also Read: BJP wins both seats in Himachal, faces tough task against Congress in Punjab and Gujarat
2:13 pm: Raminder Singh Alwa wins over his nearest rival Raj Singh of SAD by a margin of 16134 seats in Jalalabad assembly constituency in Punjab.
2:05 pm: Qamrul Hoda of AIMIM wins Kishanganj assembly constituency by a margin of 10,211 votes over his nearest rival Sweety Singh of INC.
1:55 pm: BJP continues to lead over Congress in three seats of Assam. Bijoy Malakar was 16834 votes ahead over his nearest rival Keshab Prasad in Ratabari, Karti Kurmi trail by Royal Soreng by a huge margin of 35321 votes in Rangpara while Nabanita Handique was 7786 over Sushil Kumar Suri.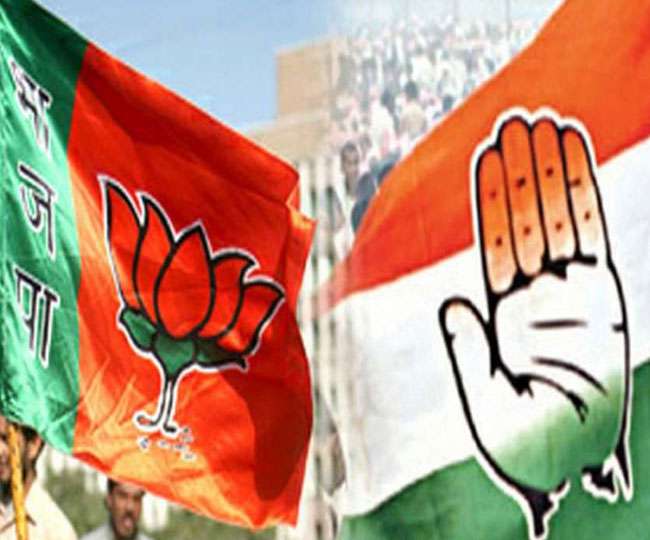 1:40 pm: In Bihar, RJD is leading in three seats over rivals JD(U) as Zafar Alam is leading over Arun Kumar by 8868 votes in Simri Bakhtiarpur, Rabiya Khatun by 597 votes Lakshmikant Mandal in Nathnagar constituency while JDU Laldhari Yadav is trailing by 19058 votes against Ramdeo Yadav in Belhar.
1:36 pm: Kantilal Bhuria of Congress lead over Bhanu Bhuriya by 17165 votes in Jhabua seat in Madhya Pradesh.
1:25 pm: IUML candidate MC Kamaruddin wins by 7,923 votes in Manjeshwar. He defeated Raveesh Thanthri Kuntar by a margin of 9,999 votes.
1:15 pm: AIADMK candidate Muthamizhselvan is leading by 39, 269 votes in Vikrawandi by-election.
12:58 pm: Result declared for By-election Konni, Kerala where Advocate K U Jenish Kumar of CPI(M) won the seat with a margin of 9953 votes. Meanwhile, counting is underway for other four by-elections held at Manjeshwar, Eranakulam, Aroor and Vattiyoorkavu
12:44 pm: Grace Mary Kharpuri, an independent candidate leads by over 5,000 votes in Shella Assembly constituency, Meghalaya.
12:32 pm: AIADMK candidate Muthamizhselvan leads by 29,584 votes in Tamil Nadu's Vikravandi. AIMIM candidate Qamrul Hoda ahead in Kishanganj, Bihar.
12:24 pm: Arunachal Pradesh assembly by-poll | Independent candidate from Khonsa West constituency, Chakat Aboh wins.
12:16 pm: Congress is leading both the assembly constituencies in Rajasthan. Congress candidate Rita Chaudhary is leading with a margin of 7,745 votes in Mandawa against BJP's Sushila Sigra while Harendra Mirdha is leading with a margin of 144 votes in Khinwsar constituency.
12:09 pm: Prem Singh Tamang of Sikkim Krantikari Morcha defeated Moses Rai of Sikkim Democratic Front (SDF) by 8953 votes to win Poklok Kamrag seat in Sikkim.
11:59 am: Congress candidate Rajman Benzam leads by 7,336 votes against BJP's Lachhuram Kashyap in Chitrakot assembly seat of Chattisgarh.
11:51 am: BJP continues to lead in three seats, AIUDF in one in Assam.
11:41: Bharatiya Janata Party wins on Martam-Rumtek (BL) assembly seat in Sikkim as Sonam TSH Venchungupta defeated Nuk Tshering Bhutia by 6150 votes. CM PS Golay of SKM leads by 8,727 votes over his nearest rival Moses Rai of SDF in Poklok Kamrang Assembly constituency.
11:28 am: CPI(M) and INC are leading in two seats each in Kerala, IUML in one.
11:19 am: BJP's Vishal Nehria defeated rival Vijay Inder Karan of Congress party by 15286 votes to win Dharamsala constituency.
11:14 am: In Madhya Pradesh's Jhabua, Kantilal Bhuria of Congress is leading over BJP's Bhanu Bhuria by 4597 votes.
11:07 am: Independent candidate Chakat Aboh is leading by 4,363 votes over another independent nominee Azet Homtok in early trends.
11:00 am: BJP is leading in six seats, Samajwadi Party ahead in two in Uttar Pradesh. In Gujarat, BJP and Congress are leading in three each assembly constituencies.
10:56 am: RJD and JD(U) are leading in two and one seat in Bihar respectively.
10:46 am: Congress-DMK candidate from Kamaraj Nagar constituency, John Kumar said,"I thank people for giving a big mandate and making me win. My first priority will be to provide basic necessities to people. I also congratulate my opponents who worked hard but couldn't win," as quoted by ANI. He defeated rival Bouvanesvarane of All India N.R. Congress by a margin of 4170 votes.
10:31 am: As per official trends from Election Commission, BJP is leading in five seats in Uttar Pradesh. SP and BSP are ahead in two seats each while Congress is leading in one seat.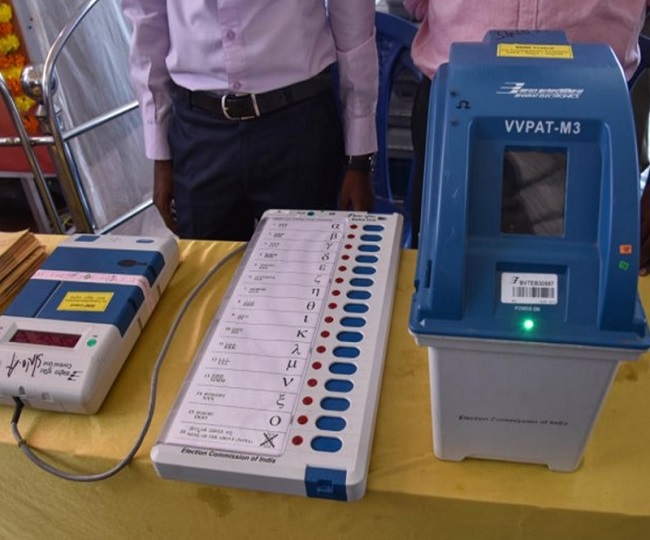 10:18 am: In Gujarat, Congress is leading in three seats while the ruling BJP is ahead in two seats.
10:10 am: Congress is leading three seats in Punjab, SAD ahead in one. As per initial trends, Congress nominee Balwinder Singer Dhaliwal is leading over his rival BJP nominee Rajesh Bagha by a margin of 1852 votes in Phagwara.
In Mukerin, BJP's Jangi Lal is trailing by 212 votes against Indu Bala of Congress. SAD candidate Manpreet Singh Ayali is 759 points ahead by 759 votes against Sandeep Sandhu of Congress. From Jalalbad, SAD candidate Raj Singh Dibipura is trailing to Congress candidate Raminder Alwa by 5936 votes.
9:59 am: BJP is leading both Dharamshala, Pachhad seats of Himachal Pradesh.
9:52 am: Congress ahead in 2 seats in Punjab, SAD and BJP are leading in 1 each
9:46 am: LJP is leading from Samastipur in Bihar, reported India Today
9:38 am: Early trends show NCP leading in Satara Lok Sabha seat in Maharashtra.
9:34 am: Vishal Nehriya of the BJP is leading with 1,187 votes against his nearest rival Vijay Inder Karan of the Congress in Dharamshala.
9:29 am: Tazeen Fatima of Samajwadi Party from Rampur assembly constituency is leading with 6364 votes after second round of counting.
9:21 am: Congress is leading 2 seats in Kerala, Indian Union Muslim League in one
9:16 am: Puducherry Assembly By-Elections | Counting of votes is underway. As per official trends from Election Commission, Indian National Congress leading in Kamraj Nagar constituency.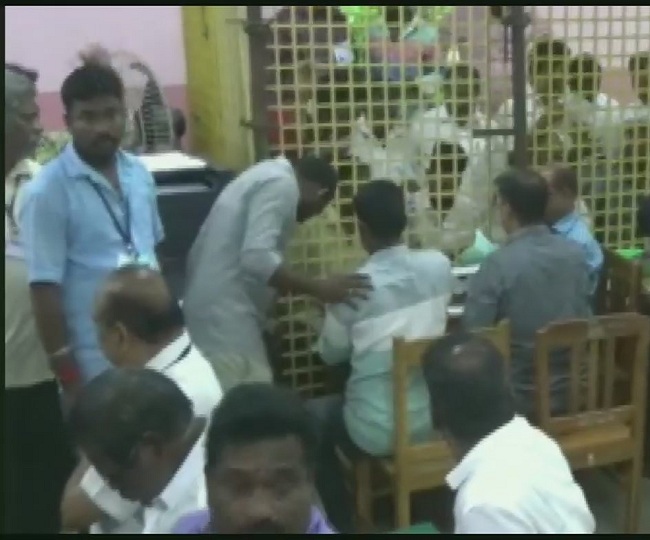 9:13 am: INC, BJP and Indian Union Muslim League are leading 1 each seat in Kerala.
9:09 am: By-polls in five assembly seats in Bihar is being described as the semi-finals ahead of the 2020 assembly election. The main contest is between RJD and JDU in Nathnagar constituency.
9:04 am: Meanwhile, BJP-Shiv Sena is leading in 26 out of 39 seats in Maharashtra.
8:51 am: SP and BSP are leading in 3 seats combined out of 11 seats in Uttar Pradesh.
8:40 am: BJP is confident of sweeping victory in UP by-polls. "We are going to win all 11 seats," IANS quoted Deputy Chief Minister Keshav Maurya as saying. The BJP is contesting 10 seats in the state, having left one (Pratapgarh) for its ally Apna Dal.
8.32 am: In Assam, early trends show BJP leading on 3 seats, AIUDF in 1, reported India Today.
8:16 am: Both BJP and the ruling Congress in Chhattisgarh are eying victory in the lone Naxal-affected seat of Chitrakot, reserved for Scheduled Tribe (ST) candidates.
8:09 am: In Punjab, the main contest is between the Congress and SAD-BJP. Besides, AAP and BSP, Lok Insaaf Party have also fielded their candidates. The fate of 33 candidates will be decided today.
8:06 am: There will be a total of 22 rounds of counting in Nanguneri and Vikravandi constituencies. At first, postal votes will be counted.
8.00 am: Counting of votes that were held on October 21 begins.
7:57 am: The results of byelections in Kerela's Vattiyoorkavu, Konni, Aroor, Ernakulam and Manjeswaram will be declared by 2pm on Thursday. The first leads of the counting will be available by 9am.
7:51 am: Poll of Exit Polls | BJP-led NDA set for thumping victories in Maharashtra and Haryana | Highlights
7:41 am: Bypolls in six seats across Gujarat is viewed as a battle of prestige for CM Vijay Rupani who bagged all 26 seats in the recently concluded Lok Sabha elections. Four of these six constituencies are currently held by the ruling BJP.
7:34 am: Will Congress be able to make a comeback in UP and Gujarat?
7.19 am: Bypolls 2019 Results | Litmus test for parties as votes for 51 assembly, 2 LS seats to be counted today
7.16 am: Haryana Assembly Elections 2019 Results LIVE: BJP eyes retaining power, counting to begin at 8 am
7.14 am: Maharashtra Assembly Elections | Will BJP retain power or Congress turn tide? Counting of votes today
7.11 am: Assembly Elections 2019 Results Live Updates | Counting begins at 8, stakes high for BJP, Congress
7.09 am: Counting of votes by the Election Commission set to begin at 8 am.
Posted By: James Kuanal