By-polls 2019: Highest 90% voter turnout recorded in Arunachal, lowest 45% in UP
Updated: Mon, 21 Oct 2019 10:00 PM IST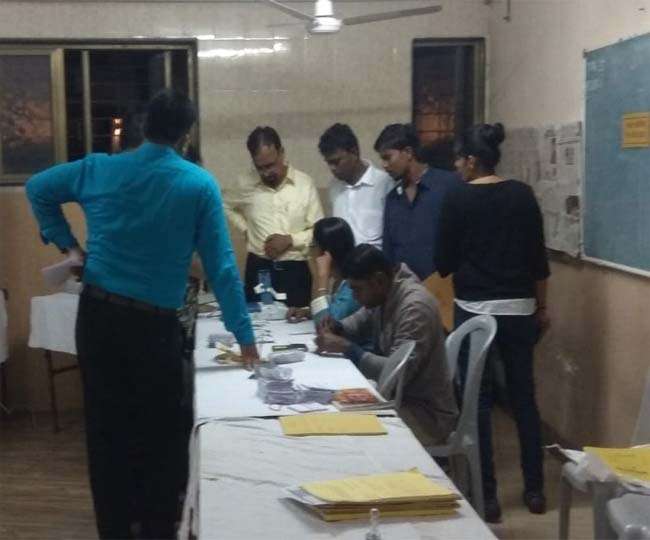 New Delhi | Jagran News Desk: Polling for 51 assembly constituencies and 2 Lok Sabha constituencies across 17 states and one UT concluded at 6 pm in 18 states. Arunachal Pradesh's lone constituency Khonsa recorded the highest turnout with 92.94 per cent while Uttar Pradesh recorded the lowest turnout with 45.04 per cent. Among Lok Sabha constituencies Maharashtra's Satara registered 60.75 voter turnout and Samastipur in Bihar recorded 44.64 per cent vote in today's by-poll.
UP
In, Uttar Pradesh the by-poll took place peacefully across eleven constituencies. As per a report, no incidents of booth capturing, impersonation and bogus voting were reported till 5 pm. The state witnessed a turnout of 45.04 per cent with the highest turnout in Gangoh (62.5 per cent) and lowest at Lucknow Cantt (29.55 per cent)
Meanwhile, in Tamil Nadu's bypoll, Congress MP H Vasanthakumar was detained for allegedly staying at a polling station in the Nangueri Assembly constituency while the bypoll was underway. A case has been registered against him for violating the code of conduct allegedly staying at the poll booth and conducting a press meet at Reddiyarpatti. The state witnessed a total voter turnout of 68.87 across its Vikravandi, Nanguneri constituency.
Kerala
In Kerala, 64.99 per cent voter came out to cast votes. Despite getting hit by downpours, Ernakulum registered 57.3 per cent votes, while Vattiyoorkavu witnessed a voter turnout of 60.81 per cent. A total of five constituencies conducted the by-poll in the state.
Himachal Pradesh
Himachal Pradesh witnessed a decent enough voter till 6 pm. Dharamsala recorded 64.63 per cent voter turnout while Pacchad saw 71.64 voter turnout.
Odisha
In Odisha's Bijapur, the politically sensitive constituency of Bijepur saw a voter turnout of 78.96 per cent. The main contest was between BJD candidate Rita Sahu and BJP's Sanat Gartia, which was earlier a Congress bastion.
Telangana
In Telangana, voting took place for Huzurnagar seat where voting stood at 82.23 per cent. The by-election was necessitated after sitting MLA and TPCC committee president resigned from Vidhan Sabha to join the lower house of the parliament.
Bihar
Bihar witnessed 49.5 per cent voter turnout across five constituencies of Kishanganj, Simri, Bakhtiarpur, Daraunda and Nathnagar. The main fight was between RJD and JDU in Nathnagar constituency, where RJD fielded Rabiya Khatoon while JDU fielded Lakshmikant Mandal, a former colleague of CM Nitish Kumar.
Rajasthan
By-polls were conducted in Mandawa, Khinwsar constituencies in the north-eastern state of Rajasthan. The voter turnout was recorded across two constituencies was 64.99 per cent.
Punjab
In Punjab, by-polls were conducted in four assembly seats- Phagwara, Mukerian, Dakha, Jalalabad. The morning began on a slow note, but it rose as the day progressed. The total voter turnout was 60.59 per cent.
Chhattisgarh
Chhattisgarh witnessed 74.39 per cent of the votes in its lone constituency 'Chitarakoot'. Six candidates were in fray for the seat reserved for ST candidates. The main contest was between BJP's Lacchuram Kashyap and Rajamn Benzam of Congress.
Sikkim
Bypolls took place across three constituencies: Poklok, Martam, Gangtok in Sikkim. Former India Football skipper Bhaichung Bhutia contested as Hamro Sikkim Party candidate. The state saw a total voter turnout of 69.55 per cent.
In Madhya Pradesh's Jhabua, the main contest was between senior Congress leader Kantilal Bhuria and BJP's Bhanu Bhuria. Jhabua witnessed voter turnout of 56.62 per cent.
Voting also took place across six constituencies in Gujarat where the BJP is under pressure to secure the pole position given that four of the six constituencies. It had bagged all the 26 seats in Gujarat in the Lok Sabha elections held earlier this year. Gujarat saw a voter turnout of 50.35 per cent.
Besides this, Assam witnessed voting in four assembly constituencies while voting took place in the lone constituency of Meghalaya's Shella. The states witnessed a voter turnout of 74.14 per cent and 79.83 per cent respectively.
Posted By: James Kuanal