Updated: Fri, 01 Oct 2021 08:14 PM IST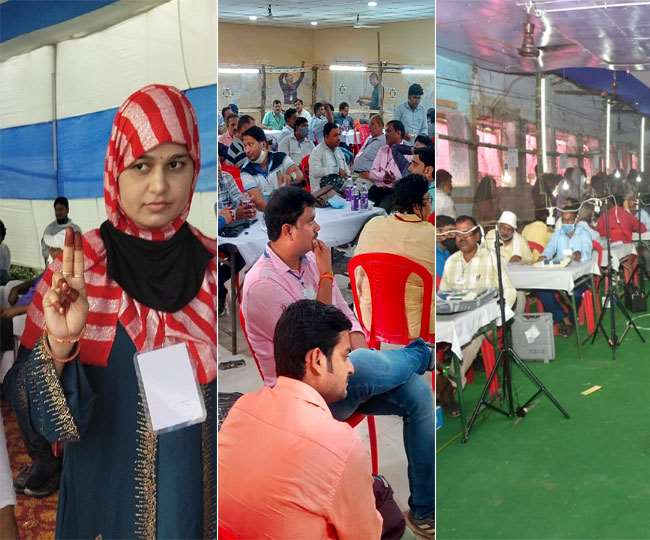 Patna | Jagran News Desk: The counting of votes for the second phase of Bihar Panchayat Elections 2021 to decide the fate of more than 71,400 candidates for over 21,000 posts in 48 blocks of 34 districts ended today. As per the State Election Commission, the process was overall peaceful, however, sporadic violence was witnessed in some parts of the state including Muzaffarpur and Samastipur. The police resorted to lathi-charge to disperse the violent crowd from the centre.
As per the State Election Commission (SEC), 55.02 per cent voter turnout was recorded in the second phase of the Bihar Panchayat elections. It also said that the voter turnout among women voters was 60.02 per cent while it was 46.02 per cent among male voters. Meanwhile, the first phase of polling for Bihar Panchayat elections was held for 4,647 posts in 12 blocks in 10 districts on September 24.
Here are the Highlights from Bihar Panchayat Election Results 2021:
19:00 hours: Rohtas Mukhiya Election Results:
Shahpur: Nagendra Paswan
Daranagar: Kaushalya Devi
Bhadara: Sabir Ansari
Ulhi Banahi: Tetri Devi
Tilokhar: Savita Devi
Jayantipur: Uma Chandravanshi
18:30 hours: Siwan Sadar Block - Mukhiya Results
- Siyadi: Subhash Kumar Prajapati
- Saraven: Alamgir Ansari
- Pithori: Mankeshwar Manjhi
- Makriyar: Prabhunath Singh
- Dhanauti: Tilki Devi
- Chanaur: Sanjay Singh
- Baghda: Dilip Yadav
17:45 hours:
Patna Panchayat Election Results 2021:
In Jalpura, Guddu Kumar defeated Sunil Kumar by 838 votes.
In Mahabalipur, Nikesh Kumar defeated Vinod Kumar by 771 votes.
Reyashat Hussain defeated Meena Devi by 963 votes in Sarsi-Pipardaha.
In Bherhariya-Siyarampur, Dukhni Devi defeated Bhim Paswan by 1265 votes.
In Akbarpur-Ranipur, Teeja Devi defeated Urmila Devi by 209 votes.
In Khanpura-Taranpur, Dashrath Ram defeated Naresh Prasad by 95 votes.
In Ballypankad-Amarpura, Deepu Singh defeated Randhir Kumar by a margin of 458 votes.
In Madhavan-Makhmilpur, Asha Devi defeated Devalgan Mochi by a margin of 531 votes.
Kanchan Mala defeated Shaila Devi by 140 votes in Mudika Panchayat.
Meena Devi defeated Anita Devi by 170 votes in Ajda Sikriya Panchayat.
16:10 hours: Minor clashes broke out between supporters of two rival groups in Muzaffarpur during the counting of votes, reported Dainik Jagran.
15:30 hours: Shweta Vishwas becomes head of Zilla Parishad in Patna.
15:00 hours: Shahid Akhtar wins the post of Zilla Parishad from Hasanganj.
14:50 hours: Mala Sinha wins from Rupaulia Panchayat of Fenhara block area in East Champaran.
14:18 hours: Rekha Devi becomes panchayat head in Jamui.
14:07 hours: Nitish Kumar wins from Nawada's Kaakol block.
14:00 hours: Anil Paswan wins from Begusarai Zilla Parishad.
13:56 hours: Aishwarya Raj wins from Raghnathpur Uttar Panchayat of Araria.
13:51 hours: Savita Devi wins from Chainpur Panchayat of Kahra block of Saharsa.
13:47 hours: Sundar Mala Devi defeats Pankaj Thakur in Hajipur Sadar block of Vaishali.
13:37 hours: Suresh Kumar Gupta wins from Barkagaon South Panchayat of Muzaffarpur.
13:23 hours: Brajmohan Sahni wins from Bada Parswani Panchayat in East Champaran.
13:07 hours: In Muzaffarpur, Safina has emerged victorious from Barkagaon North Panchayat of Madwan block.
12:30 hours: Neelam Devi takes lead in Rajpur West for Zilla Parishad post.
12:15 hours: In Patna's Jalpura Panchayat, Guddu Singh has won.
12:10 hours: Mukesh Jha has won from Saharsa.
12:00 hours: Hiralal Sharma has won from Darwan Panchayat of Kaukol block of Nawada.
11:30 hours: Ranjeet Ram has won from Sonora Panchayat of Aurangabad district.
11:25 hours: Neeraj Kumar has won from Vasilpur Panchayat of Arwal Sadar block.
11:20 hours: Dhirendra Kumar has won from Saharsa Zilla Parishad Area number 17.
11:00 hours: In Nawada, Rajiv Kumar is leading from Kaukol West.
10:45 hours: In Jamui's Kolhana Panchayat block, Satyam Kumar has defeated Malti Devi. Meanwhile, Lilavati Upadhyay has won against Deepika Devi in Barupur Panchayat block of Buxar.
10:35 hours: In Samukhiya Panchayat of Banka block, Vimal Soren and Rambha Devi have won, as per Dainik Jagran.
10:30 hours: According to Dainik Jagran, Hina Kausar has won the post of head in Adha Panchayat in Jamui's Aliganj. Meanwhile, Brajmohan Singh has won in Mahuaon Panchayat of Aurangabad's Navanjar.
10:14 hours: Despite the festival of Jitiya, women voters' participation was very good, said the election commission in a statement, as reported by Hindustan Times.
10:00 hours: As per the election commission, voter turnout among male voters was 46.02 per cent while that among female voters was 60.02 per cent.
9:45 hours: The election commission said that a 55.02 per cent voter turnout was recorded in the second phase of the polling.
9:40 hours: In the second phase polling, more than 71,400 candidates are contesting for over 21,000 posts.
9:30 hours: The second phase polling for Bihar panchayat elections were held on Wednesday in 48 blocks of 34 districts.
9:20 hours: The first results are expected to be out after 11 am.
9:10 hours: The counting of votes for the second phase of panchayat elections in Bihar is currently underway.
Posted By: Aalok Sensharma