Updated: Wed, 11 Nov 2020 12:46 AM IST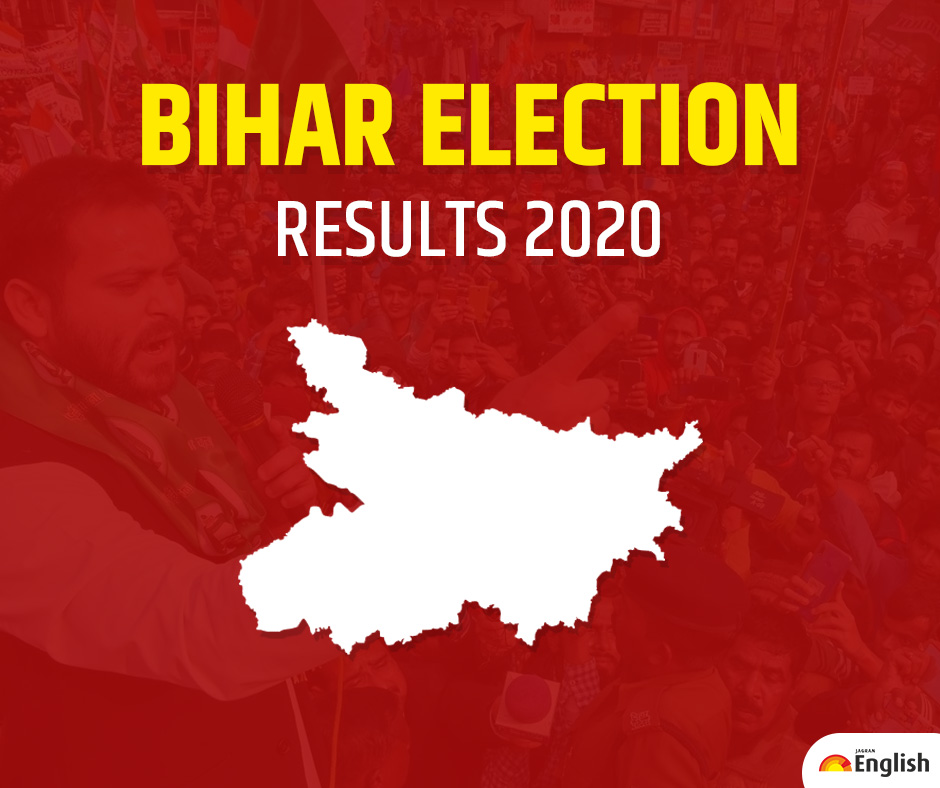 New Delhi | Jagran Politics Desk: The BJP-JD(U) combine has overthrown the exit polls predictions and has crossed the half-way mark of 122, looking in a comfortable position to retain Bihar, as per the latest trends. Meanwhile, for the first time in the electoral history of the state, the BJP seems to be emerging as the single largest party.
On the other hand, the Election Commission has said that the counting of votes will take longer than usual and continue till late in the night because of 63 per cent increase in the number of EVMs, amid the COCID-19 protocols put in place.
Here are the key highlights from Bihar Assembly Election Results 2020:
With the ruling NDA set to retain power in Bihar, Prime Minister Narendra Modi on Tuesday asserted that every section of the society has expressed its faith in the alliance's mantra of "with all, development for all, trust of all" and assured people that it will work with full dedication for balanced development of everybody and every region.
RJD and Congress delegation arrive at the Election Commission office to raise the issue of Chief Minister Nitish Kumar allegedly influencing counting of votes.
The see-saw batlle continues betwen the two rival alliances - JD(U)-BJP and RJD-Congress - with both hovering around the majority mark of 122.
As per the latest EC trends, the RJD has overtaken the BJP as the single largest party, with the former leading on 74 seats and the latter on 72. Meanwhile, the Grand Alliance has narrowed the NDA's lead gap and is now leading on 112 seats.
Several "muscle men" from various parties, including jailed Anant Singh, who contested the Bihar Assembly elections, as well as their wives and sons fielded in their place, are leading in their respective constituencies in Tuesday's vote count.
EC says the pace of counting is the same as always. However, the results might be slightly delayed due to increase in EVMs. It said that the counting might finish late night due to the COVID-19 protocols in place.
Counting underway in 23 seats where vote difference is less than 500.
Tej Pratap and Tejashwi maintain lead in Hasanpur and Rahghopur respectively; Jitan Ram Manjhi still trailing in Imamganj.
The LJP could play kingmaker if neither of the major alliances - NDA and Mahagathbandan - conquers the majority mark of 122.
Three-time MLA Nitin Nabin leading from Bankipur seat. Congress candidate Luv Singh, who is the son of Shatrughan Sinha and newly Plurals Party chief Pushpam Priya are trailing behind.
The NDA is currently leading on 122 seats, which is just enough to form the government. However, the Grand Alliance is giving it a close fight and is ahead on 112 seats.
BJP state minister Nand Kishor Yadav is trailing. Congress candidate Pravin Singh is leading the BJP minister with around 1700 votes.
Trends change upside down as BJP-JD(U) is now ahead on 119 seats while the Mahagathbandhan is leading on 114 seats.
The LJP is leading in 3 seats. The BSP and AIMIM are leading on 1 seat each. Jitan Ram Manjhi couldn't make the lead on any seat.
Maskoor Usmani from Congress is trailing from Jale seat while Pappu Yadav is trailing from Madhepura. JD(U)'s Jai Kumar Singh is trailing from Dinara.
Leading Candidates: Madhepura - Nikhil Mandal; Bankipur - Luv Sinha; Raghopur - Tejashwi Yadav; Mokama - Anant Singh; Hasanpur - Tej Pratap Yadav
Early trends show Tejashwi Yadav ahead in Raghopur, Nikhil Mandal ahead in Madhepura.
Early Trends show Mahagathbandhan ahead on 76 seats and NDA leading on 42 seats. These are postal ballot vote trends.
Republic TV-Jan ki Baat predicted that Mahagathbandhan will win 116-138 seats while NDA will win 91-119 seats. It said LJP will win 5-8 seats and others are expected to garner 3-6 seats.
India Today-Axis My India exit poll predicted that the Mahagathbandhan will win in Bihar with the alliance partners securing 139-161 seats. It said NDA is expected to get 61-91 seats and LJP three to five seats.
Posted By: Abhinav Gupta