Updated: Wed, 11 Nov 2020 01:35 AM IST
New Delhi | Jagran Politics Desk: The ruling NDA in Bihar was ahead of its rivals in more than half of the state's 243 assembly seats, with the BJP appearing set to outperform its senior alliance partner JD(U) headed by Chief Minister Nitish Kumar, according to trends available so far.
The Election Commission said that the counting of votes will take longer than usual and continue till late in the night because of 63 per cent increase in the number of EVMs. As trends from all 243 seats became available, the NDA constituents were ahead in 125, with BJP candidates leading the table in 72 seats and the JD(U) in only 47.
Here are the highlights on Bihar Assembly Election Results 2020:
01:15 am: Apart from two seats in Madhya Pradesh, all results of by-elections have been declared: Deputy Election Commissioner Ashish Kundra
01:12 am: Hopefully, we have the final tally in an hour: Deputy Election Commissioner Chandrabhushan Kumar
01:10 am: Results in 223 seats have been declared, 20 constituencies are left. VVPAT of 5 booths that are to be taken up for counting, those exercises are going. We hope these will be completed soon, says Deputy Election Commissioner Chandrabhushan Kumar
00:44 am: I am proud LJP did not bend down for power, our vote share increased and this will benefit us in future: Chirag Paswan
00:41 am: People have reposed their trust in PM Modi; this is his victory: LJP president Chirag Paswan
00:34 am: The Election Commission will hold a press conference at 1 am.
00:23 am: People from every section have relied on NDA's mantra of 'Sabka Saath, Sabka Vikas, Sabka Vishwas'. I would like to assure the citizen of Bihar of development in every region: PM Modi
00:16 am: Bihar taught the world the first lesson of democracy and today again it has told the world how democracy is strengthened. I assure every citizen of Bihar that NDA govt will work with full dedication for balanced development of every person: PM Modi
00:13 am: "People's blessings to NDA's good governance even after 15 years of rule shows what are Bihar's dreams and expectations," says PM Modi.
00:12 am: Prime Minister Narendra Modi hailed NDA's victory in Bihar, saying that people of the state have made it clear that development is their only aspiration and priority. "Youth of Bihar have made it clear that new decade will be of Bihar and for self-reliant Bihar," he said.
22:43 pm: Election Commission has assured us that they will try to address all our grievances. We trust the EC but not district administration: RJD leader Manoj Jha
22:42 pm: About an hour ago, there was a post by a party on social media claiming that their party has won 119 seats. It is to clearly state that all results are on our portal, total results declared as of now are of 146 seats, that is the factual situation: Election Commissioner
22:16 pm: Election Commission has never worked under anybody's pressure. All officials and machinery are working sincerely for declaration of Bihar Election Results 2020: Umesh Sinha, Secretary-General, ECI.
22:15 pm: "We have conducted our work as per protocol. We have never been under pressure. We are in the final stages of counting. We will be conducting a re-count in a few seats," says Umesh Sinha, Secretary General, EC while addressing media in Delhi.
22:12 pm: RJD supporters hold protest against Nitish Kumar outside former CM Rabri Devi's residence
#WATCH Patna: Supporters of Rashtriya Janata Dal (RJD) party hold demonstration outside party leader and former Chief Minister Rabri Devi's residence, against CM Nitish Kumar for allegedly influencing counting of votes. #BiharElectionResults2020 pic.twitter.com/zta962oh0Q

— ANI (@ANI) November 10, 2020
22:10 pm: BJP candidate Shreyasi Singh wins from Jamui State Assembly constituency
22:05 pm: RJD issues list of 119 candidates who they claim have won.
ये उन 119 सीटों की सूची है जहाँ गिनती संपूर्ण होने के बाद महागठबंधन के उम्मीदवार जीत चुके है। रिटर्निंग ऑफ़िसर ने उन्हें जीत की बधाई दी लेकिन अब सर्टिफ़िकेट नहीं दे रहे है कह रहे है कि आप हार गए है। ECI की वेबसाइट पर भी इन्हें जीता हुआ दिखाया गया। जनतंत्र में ऐसी लूट नहीं चलेगी। pic.twitter.com/puUvIagyDz

— Rashtriya Janata Dal (@RJDforIndia) November 10, 2020
21:50 pm: RJD and Congress delegation arrive at the Election Commission office to raise the issue of Chief Minister Nitish Kumar allegedly influencing counting of votes
21:16 pm: With a win in five seats and leads in 11 others, the CPI(ML) is all set for an impressive performance in the Bihar Assembly elections whose results will be declared late on Tuesday.
20:39 pm: Results declared for 74 out of the total 243 seats:
BJP 22, RJD wins 20, JD(U) 13, Congress 7, CPI(M-L) 5, VIP 2 and AIMIM, CPI, CPI(M), HAM(S) & Independent 1.
NDA leading on 126 seats
Mahagathbandhan on 110 seats
AIMIM on 5 seats
BSP on 1 seats
19:53 pm: Tej Pratap Yadav, elder brother of Tejashwi Yadav, wins from Hasanpur constituency by over 21,000 votes.
19:52 pm: Results declared for 31 of the total 243 seats - BJP wins 10, RJD 8, JD(U) 6, Congress & Vikassheel Insaan Party 2 each, and AIMIM, CPI & CPI(M) 1 each.
19:50 pm: Congress candidate Luv Sinha trailing behind BJP's Nitin Nabin from Bankipur assembly constituency, as per Election Commission trends.
19:08 pm: The latest trends are no less than a see-saw battle between the NDA and Grand Alliance, and also between the BJP and RJD for the single largest party.
18:45 pm: The latest trends show that the NDA is now leading on 120 seats and MGB on 115 seats.
18:36 pm: 2.7 crore out of the 4.11 crore votes polled in Bihar counted till 5.30 pm: DEC Chandra Bhushan Kumar
18:25 pm: As far as Bihar is concerned, on the whole 7737 scheduled rounds were there, of which 4858 have been completed. 119 constituencies have done more than half of the work which was there for counting: Deputy Election Commissioner, Ashish Kundra
18:03 pm: Bihar is going to get its own government and nobody can stop it. I request chief minister whose exit is confirmed, to stop calling returning officers to slow down the counting of votes. He can only delay his defeat: Manoj Jha, Rashtriya Janata Dal MP
17:53 pm: Latest EC trends show neck-and-neck fight between BJP and RJD to become single largest party.
17:52 pm: Latest Trends: NDA - 121, MGB - 111, Others - 09
17:07 pm: Bihar Election Results 2020: As RJD trails NDA, here's how Lalu Yadav' sons Tejashwi Yadav and Tej Pratap are performing
17:02 pm: BJP's tact of using Asaduddin Owaisi's party in the Bihar elections has succeeded to an extent. All secular parties should be alert about vote cutter Owaisi Sahab: Congress leader Adhir Ranjan Chowdhury
16:50 pm: EVM system is robust, accurate & dependable. This has always been my view. I stand by it. There have been doubters of the EVM from across political political parties, particularly when the results don't go in their favour. Till now no has demonstrated scientifically their claims: Karti Chidambaram
15:59 pm: BJP Candidate Awdhesh Singh has defeated RJD candidate Dev Kumar Chaurasiya by 5,231 votes in Hajipur constituency.
15:03 pm: Sanjay Saraogi of BJP wins Darbhanga seat by over 10,000 votes.
14:31 pm: Members of BJP Mahila Morcha play dholak, celebrate with 'gulal' as latest trends show NDA leading over Mahagathbandhan.
14:26 pm: Bahubali candidate Anant Singh leading in Mokama by over 14,000 votes against JD(U)'s Rajeev Lochan Narayan Singh
14:24 pm: Counting underway in 23 seats where difference of votes is less than 500
14:04 pm: It has been clarified time & again that EVMs are robust & tamper-proof. Supreme Court upheld integrity of EVMs more than once. EC had also offered EVM challenge in 2017. Integrity of EVMs is without any doubt & merits no further clarification: Dy Election Commissioner Sudeep Jain
13:47 pm: Needless to say that there has been an absolutely glitch-free counting process so far. Slightly more than 1 crore votes have been counted in Bihar which means that there is significant ground to be covered yet, says Election Commission
13:44 pm: EC says the pace of counting is the same as always. However, the results might be slightly delayed due to increase in EVMs. It further reiterated that the EVMs are robust and tamper-proof.
13:43 pm: Election Commission says it hopes to conclude the counting of votes by tonight. Close to 35 rounds of counting will take place on average in each constituency, it adds.
13:12 pm: Bihar minister and BJP leader Nand Kishore Yadav, who was initially trailing Pravin Singh of Congress, now leads by over 3,600 votes.
12:35 pm: If the trends hold, the BJP is on course to become the single largest party for the first time in Bihar.
12:23 pm: As per latest trends, 67 seats have a margin of less than 1,000 votes.
12:15 pm: Latest Trends: NDA - 128, MGB - 99, LJP - 05, Others - 10
12:03 pm: BJP's Parshuram Chaubey leads over Congress rival Sanjay Tiwari by 2,600 votes in Buxar seat.
11:43 am: Tej Pratap and Tejashwi maintain lead in Hasanpur and Rahghopur respectively; Jitan Ram Manjhi still trailing in Imamganj.
11:19 am: Latest Trends: NDA - 123, MGB - 106, Others - 14
11:16 am: Three-time MLA Nitin Nabin leading from Bankipur seat. Congress candidate Luv Sinha, who is the son of Shatrughan Sinha and newly Plurals Party chief Pushpam Priya are trailing behind.
11:02 am: BJP narrows gap with RJD to become the single largest party. BJP leading on 68 seats, RJD on 69 seats.
11:01 am: Sharad Yadav's daughter Subhashini is trailing from Bihariganj seat by 1,271 votes.
11:00 am: Tejashwi maintains leads in Raghopur seat by a margin of 455 votes
10:44 am: Vote Share at 10.30 AM: BJP & JDU gone in Red | LJP, Cong in Green | RJD gained the most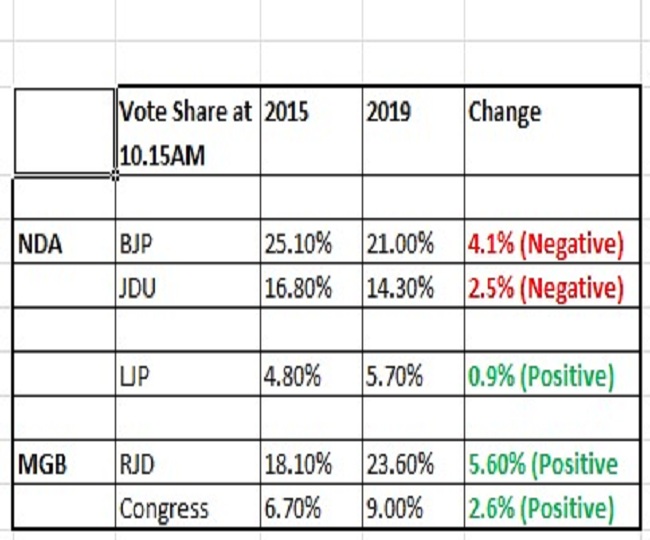 10:34 am: The NDA is currently leading on 122 seats, which is just enough to form the government. However, the Grand Alliance is giving it a close fight and is ahead on 112 seats.
10:24 am: Tej Pratap Yadav is now trailing from Hasanpur constituency. Raj Kumar Ray is leading from the crucial seat.
10:19 am: Latest Trends: NDA - 125, Mahagathbandhan - 109, Others - 09
10:13 am: Latest Trends: NDA - 120, Mahagathbandhan - 114, Others - 09
10:11 am: LJP leading on eight seats. Chirag Paswan could emerge as the kingmaker if no party gets a clear majority.
10:05 am: Road Construction Minister Nand Kishor Yadav is trailing from Patna Sahib seat. He is facing challenge from Congress candidate Praveen Kushwaha.
10:01 am: BJP leader Shreyasi Singh is leading from the Jamui assembly seat. She is a national shooter and the daughter of former Union minister Digvijay Singh.
10:00 am: Latest Trends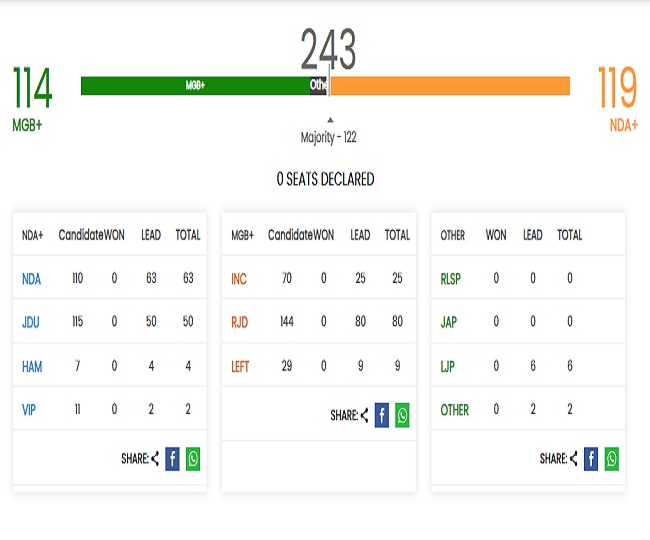 09:55 am: Trends change upside down as BJP-JD(U) is now ahead on 119 seats while the Mahagathbandhan is leading on 114 seats.
09:50 am: State minister Nand Kishore Yadav trailing Congress's Praveen Singh in Patna Sahib.
09:40 am: RJD's Bahubali candidate Anant Singh leading in Mokama, Ritlal Rai trailing in Danapur.
09:36 am: As per the latest trends, the RJD-Congress combine has lost the early lead it got in the initial trends. Meanwhile, the BJP has managed to take its tally close to RJD's.
09:30 am: Latest Trends: NDA - 109, MGB - 125, Others - 05
09:26 am: Maskoor Usmani from Congress is trailing from Jale seat while Pappu Yadav is trailing from Madhepura. JD(U)'s Jai Kumar Singh is trailing from Dinara.
09:19 am: 'Bolo dil se, Nitish phir se,' tweets HAM's Jitan Ram Manjhi amid counting in Bihar.
09:18 am: Latest trends
09:08 am: Latest Trends09:03 am: Early Trends: NDA - 78, Mahagathbandhan - 122, Others - 01
08:58 am: Early Trends: NDA - 73, Mahagathbandhan - 107, Others - 01
08:57 am: Leading Candidates: Madhepura - Nikhil Mandal; Bankipur - Luv Sinha; Raghopur - Tejashwi Yadav; Mokama - Anant Singh; Hasanpur - Tej Pratap Yadav
08:52 am: Early Trends: NDA - 55, MGB - 102
08:48 am: Bihar Election Results 2020 Key Highlights: Early trends show Tejashwi Yadav ahead in Raghopur, Nikhil Mandal ahead in Madhepura.
08:40 am: Latest Early Trends: NDA - 52, MGB - 76
08:29 am: Early trends suggest NDA leading on 28 seats, Mahagathbandhan leading on 52 seats.
08:27 am: Postal Ballot Trends: NDA - 24, MGB - 46
08:24 am: Initial trends: NDA - 20, MGB - 28 (These are the trends as per postal ballot votes.)
08:20 am: Counting of seats underway at Anugrah Narayan College in Patna.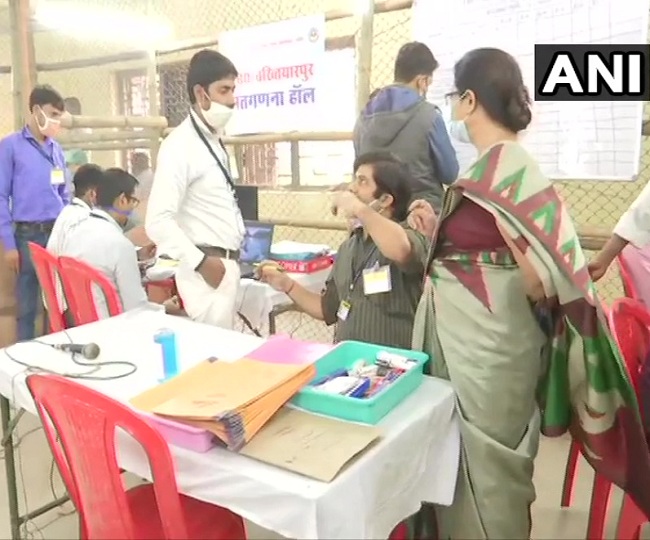 08:14 am: Tejashwi Yadav's elder brother Tej Pratap Yadav tweets.
तेजस्वी भवः बिहार!

— Tej Pratap Yadav (@TejYadav14) November 10, 2020
08:07 am: Postal ballot atre being counted first. The results are likely to be delayed due to the additional polling stations.
08:01 am: Counting of votes begins. Ballot votes to be counted first, followed by EVM votes. It will be interesting to see if exit poll predictions hold true.
07:58 am: Raghopur Election Results 2020 LIVE: Will Tejashwi be able to retain his home turf? Counting to begin shortly
07:55 am: Raghopur, Hasanpur, Madhepura and Bankipur are among the several key seats which will be crucial in today's counting.
07:40 am: Strong room established at Anugrah Narayan College being opened.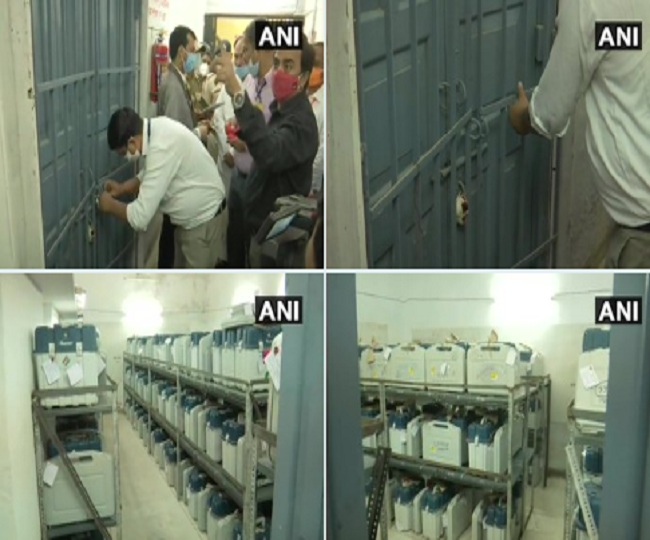 07:30 am: The voting across 243-assembly constituencies in Bihar was held in three phases on October 28, November 3, and November 7 to decide the fate of 3,755 candidates.
07:17 am: A win for the RJD-led coalition will bring a redemption of sorts for Tejashwi Yadav whose leadership abilities were called into question after his party failed to win a single seat in the Lok Sabha elections last year.
06:50 am: Bihar recorded 57.05 percent turnout in the Assembly elections this year, marginally higher than that of 2015 despite the COVID-19 pandemic.
06:45 am: BJP spokesperson Syed Zafar Islam on Sunday said that the BJP and JDU will win enough seats to form the government again in Bihar.
06:38 am: Visuals from a counting centre in Patna.
06:30 am: Shiv Sena has said that the RJD-led Mahagathbandhan will win the assembly polls. An editorial in Sena mouthpiece 'Saamana' claimed that ahead of the polls in Bihar, RJD leader Tejashwi Yadav's rallies received good response, unlike those of his political opponents.
06:15 am: Majority exit polls released after the third and final round of polls suggest that Tejashwi Yadav-led Mahagathbandhan might have an edge over the NDA. But, who will actually get the magic figure of 122 in the house of 243 will be known only after the votes are counted today.
06:10 am: The counting of votes will begin at 8 am. The ballot votes will be counted first, followed by the EVM votes and the initial trends on leading and trailing candidates are expected by 9 am.
A win for the RJD-led coalition will bring a redemption of sorts for Tejashwi Yadav whose leadership abilities were called into question after his party failed to win a single seat in the Lok Sabha elections last year. The NDA had won 39 of the 40 seats and one had gone to the Congress, an RJD ally.
It may also revive the fortunes of the three Left parties--The CPI, CPI-M and CPI-ML--which were consigned to near oblivion over the past two decades. The five-party 'Mahagathbandhan' also comprises these three Left parties, which were a force to reckon with in the past.
Posted By: Abhinav Gupta