Bihar Assembly Election 2020: 'Forget villages, even cities didn't have electricity,' Nitish slams 'Lalu Raj' | Highlights
Bihar Assembly Election 2020 LIVE Updates: Chief Minister Nitish Kumar will hold four rallies in Ballia, Khagaria, Teghra and Vaishali. Follow the latest update on Bihar polls here
Updated: Sat, 24 Oct 2020 04:29 PM IST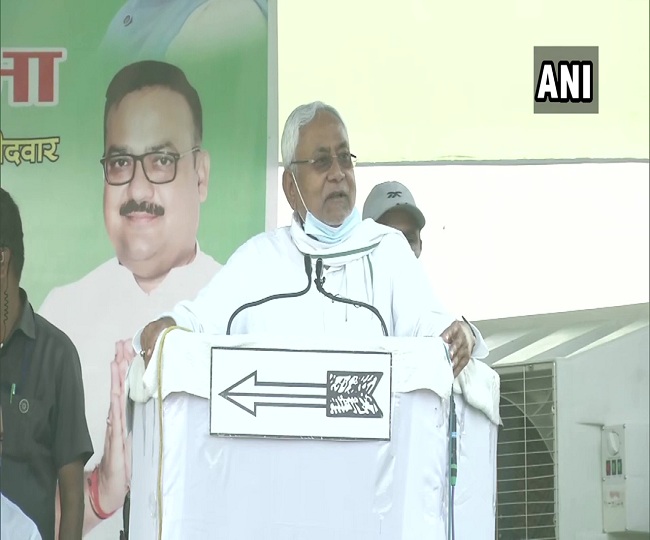 New Delhi | Jagran News Desk: Bihar Assembly Election 2020 LIVE Updates: The electioneering has intensified in Bihar with Prime Minister Narendra Modi and Rahul Gandhi's rallies for their respective coalitions. Both the local parties - Tejashwi Yadav's RJD in alliance with the Congress and Nitish Kumar's JDU in coalition with the BJP - are leaving no stones unturned to woo voters ahead of the first phase of Bihar Assembly Elections 2020 on October 28. On Saturday, BJP chief JP Nadda, Union Minister Smriti Irani and AIMIM chief Asaduddin Owaisi will also hold rallies to convince voters. Chief Minister Nitish Kumar will hold four rallies in Ballia, Khagaria, Teghra and Vaishali.
Below are the highlights on Bihar Assembly polls 2020
04:10 pm: Forget about villages, even cities didn't get proper electricity before we came to power. We made gradual improvements & decided to bring electricity to every house. We had set Dec 2018 as the deadline but we achieved the goal in Nov itself: Bihar CM Nitish Kumar in Vaishali.
02:00 pm: Former Maharashtra chief minister and BJP leader Devendra Fadnavis tests positive for COVID-19. Read full story here
01:15 pm: Not a word from the tweet-friendly leader Shri Rahul Gandhi. No tweets on this (Hoshiarpur rape incident), no outrage on this, & no picnic on this. A woman heads the party. Does this kind of selective outrage suits the stature of their party: Nirmala Sitharaman, BJP
01:10 pm: No rape should be politicised. But because we want our political games to be played, we are selective about voicing horror when it is in some states & remain in absolute silence when it is in states governed by Congress party: Union Minister & BJP leader Nirmala Sitharaman
01:00 pm: A 6-year-old child of a Dalit migrant labourer from Bihar is raped, killed & body half-burnt in Hoshiarpur (Punjab) & it doesn't shake the conscience of the brother & sister who rush to every other place which can help them politically: Union Min & BJP leader Nirmala Sitharaman
10:00 am: BJP must tell who is the face of their Chief Minister. Is it Nitish Kumar? Nitish had asked us how will we give 10 lakhs government jobs (announced by Grand Alliance in their manifesto). So, from where the BJP will give the jobs since Nitish Kumar is their leader: Tejashwi Yadav, RJD
09:35 am: Rashtriya Janata Dal (RJD) leader Tejashwi Yadav releases party's manifesto for Bihar Elections 2020, in Patna. RJD has already released its joint manifesto with the Congress party earlier this month.
Bihar: Rashtriya Janata Dal (RJD) leader Tejashwi Yadav releases party's manifesto for #BiharElections2020, in Patna. pic.twitter.com/zaZl2zwDTp

— ANI (@ANI) October 24, 2020
09:00 am: BJP National President JP Nadda will address two rallies in Nalanda's Biharsharif and Lakhisarai. Union Minister Smriti Irani will also address a public gathering in Munger.
Posted By: Shashikant Sharma