Assembly Elections 2021: BJP will 26 of 30 seats in West Bengal, 37 of 47 in Assam, says Amit Shah | Highlights
Assembly Elections 2021: West Bengal Chief Minister Mamata Banerjee will begin her three-day camp in Nandigram today to gather support for the TMC for the assembly polls in the state.
Updated: Sun, 28 Mar 2021 05:39 PM IST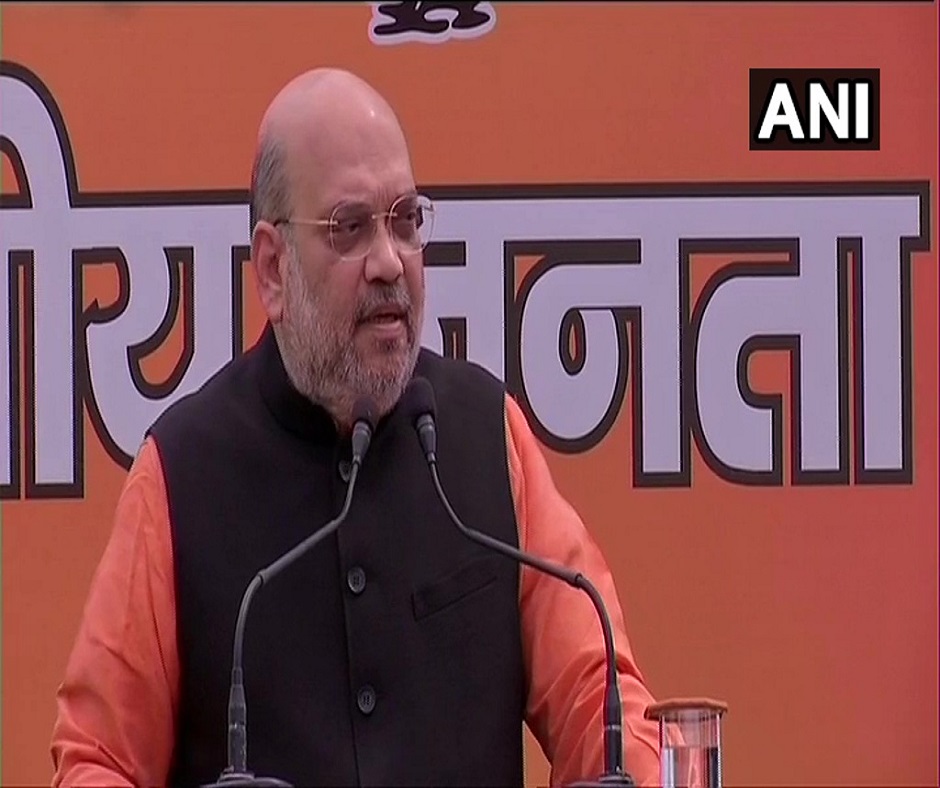 New Delhi | Jagran News Desk: Day after the beginning of eight-phase assembly elections in West Bengal, Trinamool Congress (TMC) supremo Mamata Banerjee will address multiple rallies in the high profile Nandigram seat today. Banerjee, who is seeking her third straight term, will stay in Nandigram till Tuesday and is expected to hold multiple rallies and roadshows there.
The assembly elections 2021 began on Saturday with polling in West Bengal and Assam. While West Bengal and Assam will see polling in multiple phases, elections will be held in a single phase in Tamil Nadu, Kerala and Puducherry on April 6. The counting of votes, on the other hand, will take place on May 2.
Here are the highlights of the day:
16:32 pm: Newly elected US President Joe Biden in 'Quad meeting' had said that India, under PM Modi's leadership is strengthening... I urge you to save Kerala from LDF and UDF and their regressive ideologies and make the state glorious again, says Defence Minister Rajnath Singh in Kerala.
15:08 pm: Two BJP leaders were discussing over a phone call the demands made for transfer (of officers). These demands were made in writing. There is nothing secret in this. The question which needs to be raised is that who tapped the phone call, says Union Home Minister Amit Shah.
15:00 pm: I want to appeal to people of Nandigram, from where CM Mamata Banerjee is contesting polls, to vote for change in West Bengal, says Union Home Minister Amit Shah.
14:49 pm: Everything can't be made public: Union Home Minister Amit Shah on reports of his meeting with NCP leader Sharad Pawar in Ahmedabad
14:48 pm: What else can they (Kerala government) do for face saving? This is their natural reaction: Union Home Minister Amit Shah on Kerala government ordering judicial inquiry against a central agency probing Kerala gold smuggling scam
14:37 pm: Yesterday, after many years, the polling process was held without any incident of violence in West Bengal. I want to thank the women of West Bengal for polling in favour of the BJP. BJP will form government in West Bengal with more than 200 seats, says Union Home Minister Amit Shah.
14:36 pm: After discussions with booth level workers and party leaders, I can say out of 30 seats in West Bengal we will win more than 26 seats. We have got clear indications that BJP will win more than 37 seats out of 47 seats in Assam, says Union Home Minister Amit Shah.
14:33 pm: Polling was held peacefully in both West Bengal and Assam. No one died due to poll violence, says Union Home Minister Amit Shah.
14:28 pm: The first phase of voting for West Bengal and Assam concluded yesterday. I want to thank people of both the States for voting for us. Voter turnout shows enthusiasm in people, says Union Home Minister Amit Shah.
13:49 pm: Our policy is 'justice to all, appeasement of none'. When we come to power, we will make a law against 'love jihad', says Defence Minister Rajnath Singh in Kerala.
13:15 pm: I saw a picture of an elected representative touching the feet of Amit Shah. The only relationship possible in BJP is where you have to touch the feet of the leader of BJP, bow down before Narendra Modi or Amit Shah, says Rahul Gandhi in Chennai.
When I see the Prime Minister controlling Tamil Nadu CM, making him touch his feet silently, I'm not ready to accept it. Tamil Nadu CM doesn't want to bow in front of Amit Shah but he is forced to because of the corruption he has done, he added.
13:05 pm: Tamil Nadu | Case registered against Periyapulla Selvam, Melur MLA and AIADMK candidate, as he campaigned inside a mosque which is a violation of model code of conduct, says Melur DSP.
12:59 pm: Just In: Trinamool Congress replaces candidate for Matigara-Naxalbari Assembly constituency, names Rajen Sundas as its candidate.
12:27 pm: West Bengal | Last night, few men vandalized my car, some papers are missing from the car. It may be that those associated with BJP have done this. The police are investigating the matter, says TMC Yuva Morcha President of Darjeeling district Kuntal Roy.
11:58 am: BREAKING: Congress releases its manifesto for upcoming Puducherry assembly elections.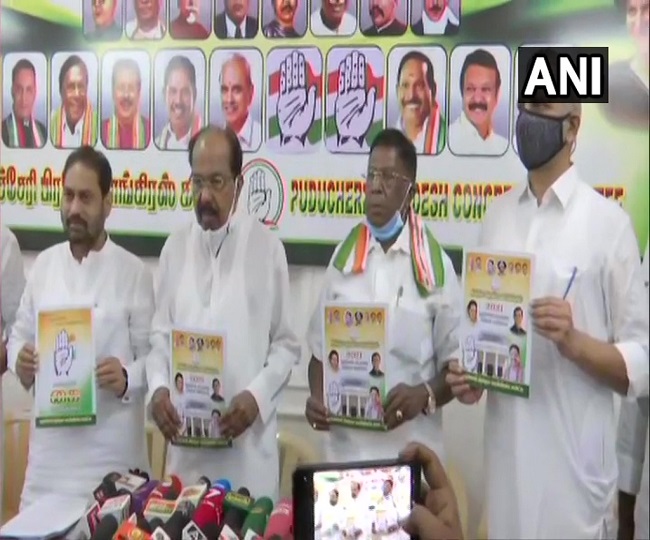 11:16 am: Defence Minister and BJP leader Rajnath Singh holds a roadshow in Kerala's Thiruvananthapuram.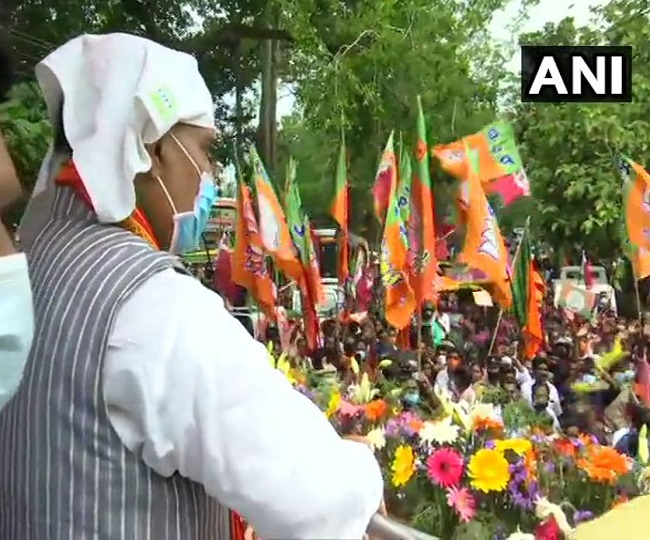 10:41 am: Kerala: Former Kerala CM and Congress leader Oommen Chandy takes part in Palm Sunday prayers being offered at St. George's Church at Puthupalli in Kottayam.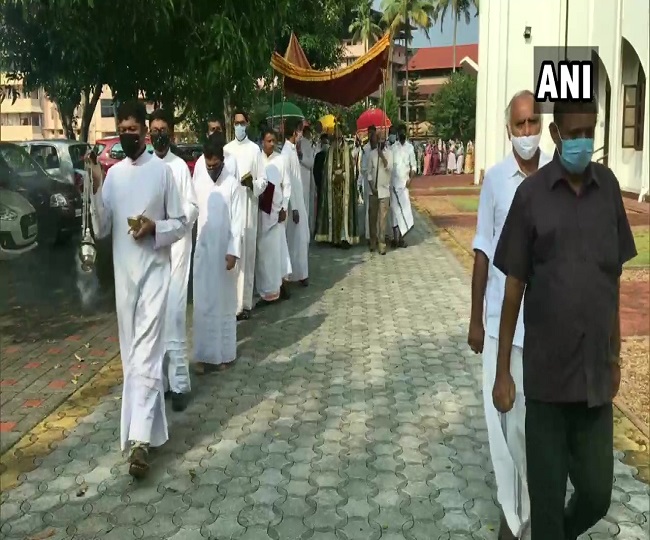 10:00 am: Also Read -- West Bengal Elections: Audio clip war breaks out in Bengal as TMC, BJP release 'leaked tapes'
9:25 am: Kerala believes that it needs a new political alternative, and BJP can provide it. LDF should come out with an 'Action Taken Report' on their promises rather than giving false hopes, says Defence Minister Rajnath Singh in Thiruvananthapuram.
BJP will bring an end to rampant political violence in Kerala. LDF and UDF have lost their credibility among the common masses as there is much difference in their words and deeds, he added.
9:20 am: West Bengal: National Investigation Agency (NIA) has arrested TMC leader Chhatradhar Mahato in connection with 2009 murder case of CPI(M) leader Prabir Mahato. He will be produced before the court today, reports ANI.
9:15 am: Meanwhile, Banerjee will also hold multiple roadshows in Nandigram on Monday and Tuesday.
9:10 am: Media reports suggest that she will also hold a rally in Birulia on Sunday evening where she got herself injured a few days ago.
9:05 am: On Sunday, he will hold a rally at 1.30 pm at Chandipur (Vivekananda Football Ground). Later in the day, she will visit the village fair at Reyapara.
9:00 am: TMC chief Mamata Banerjee to begin her 3-day camp in Nandigram today.
Posted By: Aalok Sensharma