Assembly Elections 2021: TMC lying about NRC, it won't impact Gorkhas, says Amit Shah | Highlights
Assembly Elections 2021: The West Bengal Assembly Elections 2021 has flared up after the Cooch Behar incident that claimed the lives of five people.
Updated: Mon, 12 Apr 2021 06:18 PM IST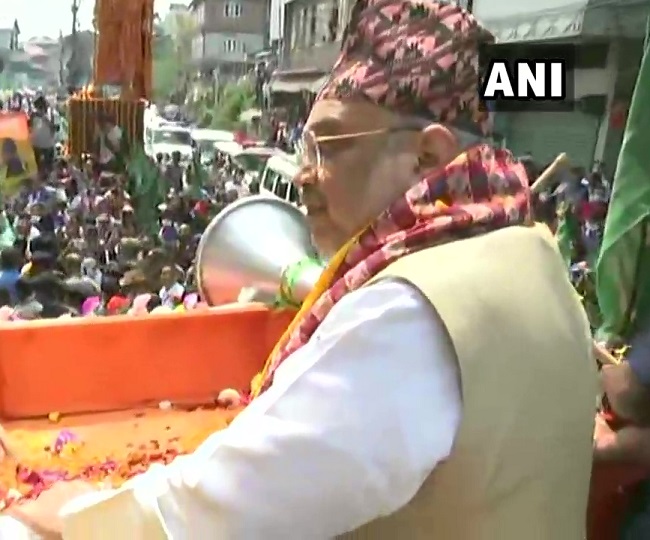 New Delhi | Jagran Politics Desk: Prime Minister Narendra Modi on Monday made a scathing attack at Trinamool Congress (TMC) chief Mamata Banerjee and said that she is abusing Scheduled Castes (SCs), Scheduled Tribes (STs) and Other Backward Classes (OBCs) only because they support Bharatiya Janata Party (BJP). Mocking Banerjee, PM Modi said, "Tormenting 'Ma', looting 'Mati' (motherland) and bloodshed of 'Manush' (people) is its reality".
Union Home Minister Amit Shah also slammed the TMC government in West Bengal and said that not even a single Gorkha will be ousted if the National Register of Citizens (NRC) is brought into action. He also held a roadshow in Kalimpong on Monday that witnessed a huge crowd.
Here are the highlights of the day:
17:55 pm: Also Read -- Kerala Elections Palakkad Constituency: In Palakkad, it's 'Metro Man' E Sreedharan vs 38-year-old Shafi Parambil
16:22 pm: You went to Bangladesh for votes and now there is violence. Why is EC not taking suo moto cognizance? Modi, you went to Trump to play the trump card and now to Bangladesh to play Bengal card, says Mamata Banerjee.
16:18 pm: For today's situation of Didi and her party, it has been said 'vinash kale viprit buddhi'. This is why Didi has picked up a kind of open fight against Modi along with Bengal's SC, ST, OBC communities, says PM Modi.
16:18 pm: The way you switched on flashlight of your mobile and illuminated this place, it looked like May 2 has come today for you. Your love for me bothers Didi a lot. The way you have confirmed BJP's victory after 4 phases of voting, has made her furious, says PM Modi.
16:05 pm: I request Election Commission with folded hands - don't listen only to BJP, listen to all. Don't be partial, says Mamata Banerjee.
15:43 pm: 4th phase polls were held in North Bengal. Didi instigated people, told them to gherao CRPF and loot them. People listened to her, weapons were snatched, bullets were fired, 4 people died. Didi had you not instigated them they wouldn't have died, says Amit Shah.
A fifth person also died. A youth, Anand Burman had gone to cast his vote but TMC goons shot him dead. Didi is speaking about the 4 but nothing on Anand Burman. Why? It's because he belonged to Rajbongshi community that is not a part of her vote bank, he added.
15:30 pm: Didi is abusing BJP unnecessarily. You're mistaken that BJP is contesting against you. It is the mothers, sisters of North Bengal, Rajbongshi community, the Gorkha community, the tea workers, the farmers who are contesting against you, says Amit Shah.
14:20 pm: Perturbed with fear of losing, Didi and her party are crossing all lines. Her people are abusing SCs, STs, OBCs only because they support BJP. Seeing her defeat, Didi has strategised to stop them from voting and facilitate her goons to rig votes, says PM Modi.
14:05 pm: Kalimpong suffered for years. In 1986 CPM oppressed you, over 1200 Gorkhas lost lives. You were not given justice. When Didi came, she took lives of several Gorkhas. You were not given justice. Choose 'Lotus' government, we'll form SIT and send them behind bars, says Amit Shah.
14:00 pm: Misinformation being spread that if NRC will be brought, Gorkhas will be ousted. NRC hasn't been brought yet. But even if it's brought, not even one Gorkha will be ousted. TMC lies. Not even one Gorkha will be affected, says Amit Shah.
13:45 pm: Amit Shah holds a roadshow in Kalimpong.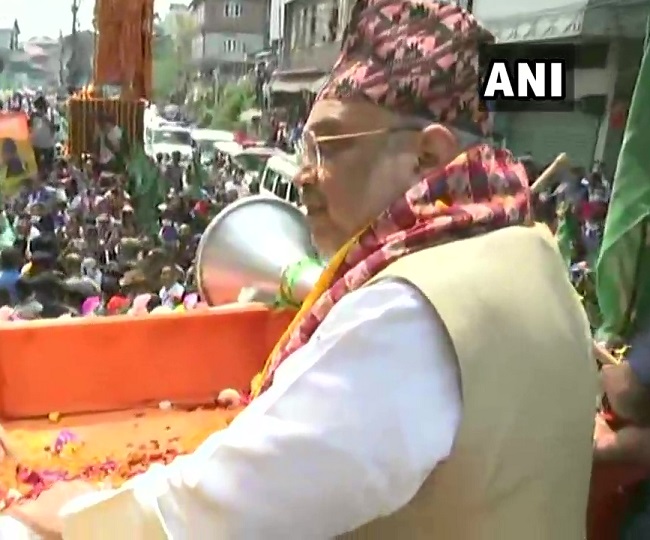 13:11 pm: During these elections, we also lost Shobha Mazumdar. The cruelty with which she was beaten by TMC goons is a picture we can never forget, says PM Modi.
13:10 pm: That brave police officer, who had come to Bengal on duty two days ago, was beaten to death. When his mother saw his body, she also succumbed. Didi, is that officer's mother not a mother for you? No mother in Bengal knew how harsh and ruthless you are, says PM Modi.
12:52 pm: Didi o didi, if you want to unload your anger, I am here. Abuse me all you want. But don't insult Bengal's dignity and tradition. Bengal won't tolerate your arrogance, tolabaaz, cut money syndicate because people want 'asol poribartan' now, says PM Modi.
12:47 pm: Didi calls herself 'Royal Bengal Tiger'. Such comments on SCs cannot be given by any TMC leader without Didi's will, says PM Modi.
12:46 pm: Close associates of Didi has started saying that people who vote for BJP will be thrown out! Do you approve of this sort of language, these lines, this arrogance? Is this democracy?, says PM Modi.
12:44 pm: Didi's people abuse Bengal's SC community and call them beggars. Baba Sahab's soul would be hurt by hearing such bitter words. Didi calls herself 'Royal Bengal Tiger'. Such comments on SCs cannot be given by any TMC leader without Didi's will, says PM Modi.
12:40 pm: Didi's bitterness and anger are increasing daily. You have eliminated TMC in just 4 phases of polls. You have hit so many 4s, 6s that BJP has already scored a century. Those who were thinking of playing khela with you had to face khela themselves. Won't Didi be angry then, says PM Modi.
12:15 pm: PM Modi arrives at Bardhaman where will address a public rally shortly.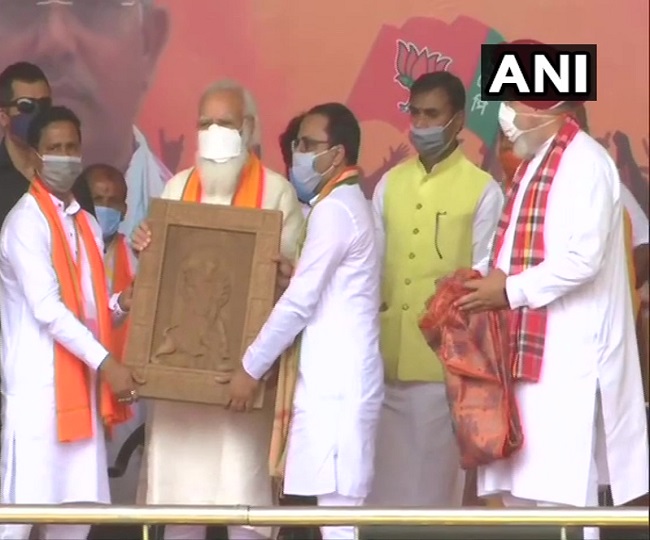 12:12 pm: Just In: A BJP delegation comprising Dushyant Gautam, Sunita Duggal, Lal Singh Arya will meet Chairman, SC Commission today in Delhi.
11:20 am: Bihar: Last rites of both SHO Ashwini Kumar and his mother were performed together yesterday at their village in Purnia district.
SHO of Kishanganj Police Station Ashwini Kumar was beaten to death by a crowd in West Bengal's Uttar Dinajpur on April 10.
11:05 am: Neither booth capturing nor any attack happened in Sitalkuchi. But Amit Shah's police opened fire to scare the minority community. They want to polarise Bengal to win the election but they won't succeed. People of Bengal are intelligent, says West Bengal Minister Firhad Hakim.
10:18 am: Meanwhile, Mamata Banerjee will hold four rallies in West Bengal today. She will address first rally in Nadia at 11.30 am. Then in afternoon, she will address multiple roadshows in North 24 Parganas.
10:00 am: Also Read -- West Bengal Elections 2021 Nandigram Constituency: Will BJP's bet on Suvendu Adhikari work against Mamata Banerjee?
9:45 am: "The naughty boys, who had presumed that the rifles of the central forces were just for a show during election duty, will not dare repeat the same mistake after seeing what happened in Sitalkuchi. This will happen in the whole of Bengal. If anyone dares to take the law into his hands, this will happen to him also," Ghosh had said on Sunday.
"Didi [Mamata Banerjee] is scared of the people's mandate...Those days are gone when people used to be scared. They have stood in line and cast their vote since morning. I am hoping on 17th, you will all go stand in line to cast your votes, Central forces will be at the booth. No one will be able to stare at you wide-eyed, we are there. If they do too much, you have seen what happened in Sitalkuchi. There will be more Sitalkuchis in every place," he added.
9:30 am: The TMC has moved to the election commission against West Bengal BJP chief Dilip Ghosh over his remark on the Cooch Behar incident.
In its complaint, TMC said that Ghosh "justified such murders and threatened Bengal and its people of more such murders".
8:54 am: Former Congress president Rahul Gandhi will address multiple rallies in West Bengal on April 14.
8:18 am: Also Read -- West Bengal Elections Tollygunge Constituency: In battle for Bengal's tinsel town, it's Babul Supriyo vs Aroop Biswas
7:45 am: Nadda will attend an event at Darshan in Swami Balaji at Tirumala at 2 pm. At 6 pm, the BJP chief will address a public meeting at Naidupet.
7:42 am: Apart from PM Modi and Amit Shah, BJP chief JP Nadda will also address multiple events in West Bengal today.
7:35 am: Shah will first conduct a roadshow in Kalimpong at 11.30 am. At 1.40 pm and 3.30 pm, he will roadshows in Dhupguri and Hemtabad respectively. He will hold another roadshow in Siliguri at 5 pm.
7:28 am: Meanwhile, Union Home Minister Amit Shah will also hold multiple roadshows in West Bengal today.
7:21 am: He will first hold a rally in Bardhaman at noon. At 1.45 pm, he will attend an event in Kalyani and later at 3.15 pm the Prime Minister will address in Barasat.
7:18 am: PM Modi will address multiple rallies in poll-bound West Bengal today.
Posted By: Aalok Sensharma