Updated: Thu, 01 Apr 2021 07:26 PM IST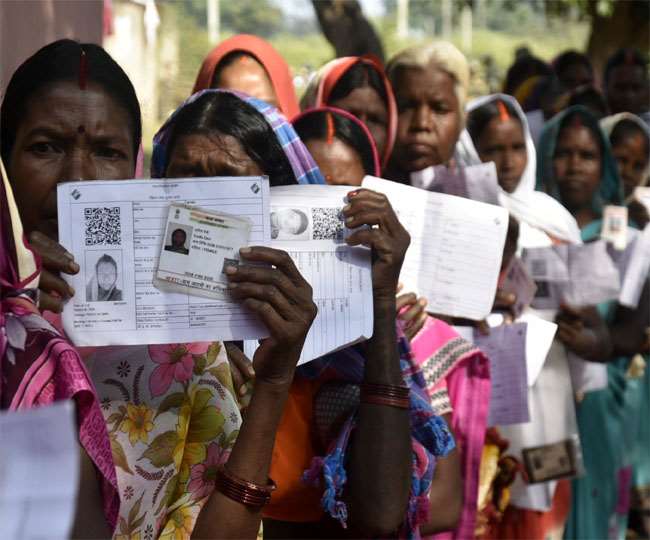 New Delhi | Jagran News Desk: The second phase polling for Assam Assembly Elections 2021 Assam saw a voter turnout of 74.69 per cent on Thursday, said the election commission. The second phase of polling for assembly elections in the states of West Bengal and Assam began at 7 am on Thursday. Voting for the second and penultimate phase of Assam assembly elections was temporarily stopped at polling stations at Silchar and Nagaon due to EVM malfunctions. Over 73.44 lakh voters are eligible to cast their votes in the second phase of the elections. Of them, 37,34,537 are male voters and 36,09,959 are female voters, while 135 are third gender voters.
Here are the highlights of the day:
7:25 pm: Also Read -- Assam Elections: 2nd phase polling ends with 74.69% turnout, EC issues notice to Himanta Sarma
6:12 pm: 73.03% and 80.43% voter turnout recorded till 6 pm in the second phase of polling in Assam and West Bengal, respectively: Election Commission of India
6:00 pm: 72.65% polling in Assam, 79.53% polling in West Bengal, till 5:22 pm: Election Commission
5:30 pm: 67.60 per cent polling in Assam recorded till 5 pm.
3:45 pm: 63.03% polling in Assam till 3:31 pm: Election Commission of India
3:00 pm: Over 55 per cent voters have cast their ballots during the first seven hours (till 2 p.m.) of polling in the second phase of the Assam Assembly elections on Thursday, election officials said.
2;30 pm; The Election Commission of India has sent a notice to Assam Finance Minister and BJP leader Himanta Biswa Sarma on account of violation of model code of conduct, seeking a response before 5 pm, April 2.
2:00 pm: 48.26 per cent of 73.45 lakh voters exercise their franchise till 1 pm in 39 assembly seats where polling is underway in the second phase.
1:45 pm: Congress-led Mahajot candidate from Tamulpur constituency, Rangja Basumatary (Bodoland People's Front ) was made to disappear. Assam govt's & BJP's responsibility to answer where he is. Demand from EC that a probe should be done in this matter: Manish Tewari, Congress in Guwahati
1:20 pm: 33.24 per cent of voter turnout recorded in Assam till 1 pm during the second phase of polling
1:00 pm: EC asks Assam Min Himanta B Sarma for explanation by 2nd April over his statement at a rally regarding which Congress had complained to EC that he "openly threatened Hagrama Mohilary, Bodoland People's Front Chairperson & INC ally of sending him to jail by misuing Central Agency"
12:10 pm: Assam: Congress leader Sushmita Dev casts her vote at a polling station in Silchar. "Mahajoot (grand alliance) is an inclusive alliance. BJP is a communal alliance," she says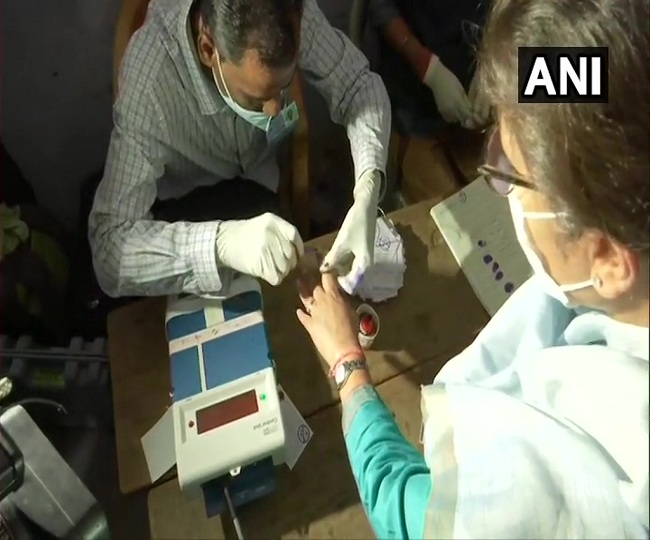 11:45 am: Assam recorded a voter turnout of 22.85 per cent till 11.20 am across 39 constituencies in 13 districts during the second phase of the state assembly polls.
11:35 am: Congress leaders say that the 'lock & key' (AIUDF symbol) people are the identity of Assam. Understand the lies and conspiracy of Congress. It has surrendered before such people to come back to power. Not only Congress but the entire Mahajot will be punished for this insult: PM
11:30 am: Yesterday, the entire state of Assam saw in a video how the identity of Assam, the symbol of the hardwork of the women of Assam 'Gamosa' was insulted publicly. Everyone who loves Assam is hurt and angry after seeing those pictures: PM Modi in Kokrajhar
11:20 am: This is an election between the 'maha jhooth' of Mahajot and 'maha vikas' of Double Engine: PM Narendra Modi in Kokrajhar
11:15 am: Football is very popular among youth here. If I've to speak in their language, I would say that the people have yet again shown a Red Card to Congress and its Mahajot. People of Assam trust NDA for development, peace, security of the state: PM in Kokrajhar
11:10 am: With the mantra of 'sabka saath sabka vikas sabka vishwas', NDA govt is working here for your welfare. People of Assam have given blessings to NDA in 1st phase of polling. In the 1st phase, Assam has put a stamp on grand victory of NDA: PM Modi in Kokrajhar
11:00 am: Assam: Prime Minister Narendra Modi to address a public rally in Kokrajhar, shortly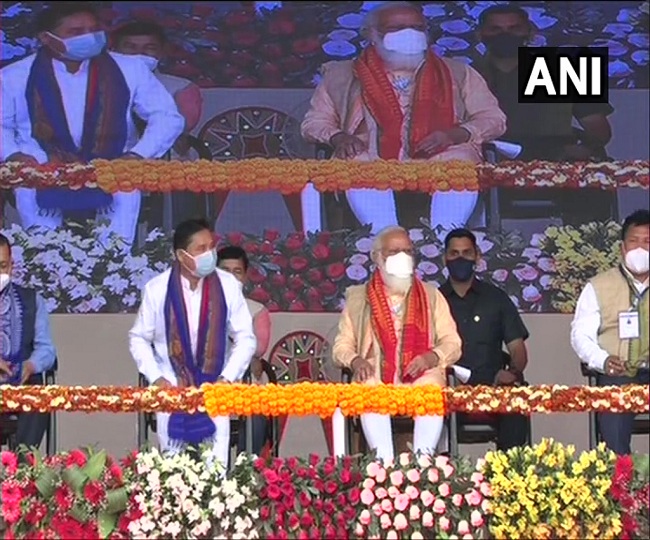 10;45 am; PM Modi & Amit Shah have said they'll send Bangladeshi infiltrators back. I want to ask them how many Bangladeshis sent back till now? I challenge them to tell if even 100 Bangladeshis have been sent back in the last 5 yrs. They are the ones who get them here: Badruddin Ajmal
10:10 am: Assam: All India United Democratic Front President Badruddin Ajmal casts his vote at polling station number 21 in Hojai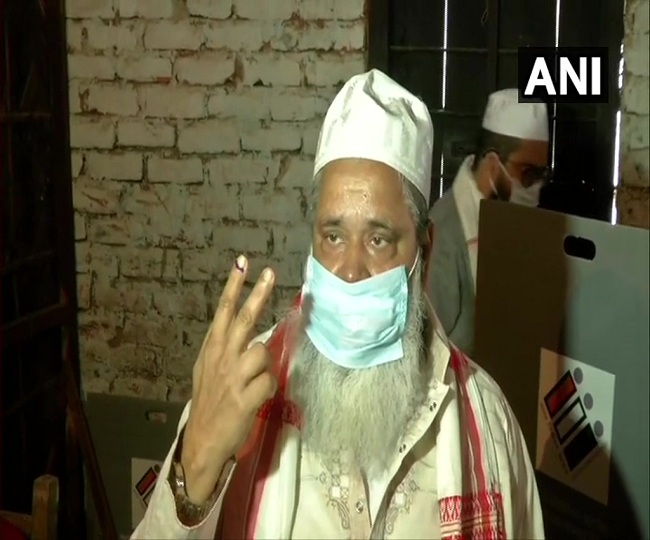 9:30 am: 10.51% voter turnout recorded till 9 am in the second phase of polling in Assam: Election Commission of India
9:20 am: Polling underway at booth number 337 at Surya Kumar High School in Silchar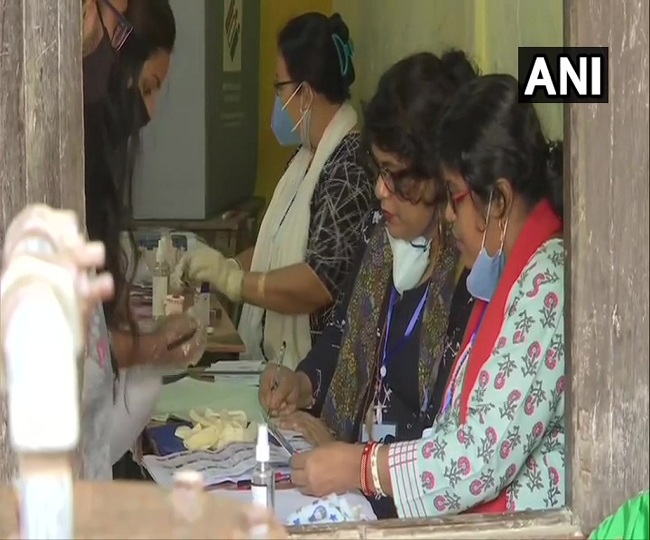 9:10 am: Assam: Former MoS Railways & BJP leader Rajen Gohain casts his vote at a polling booth in Nagaon. He says, "BJP will get over 35 seats out of the total 47 in the 1st phase. In the 2nd phase too, we'll get many seats. BJP will undoubtedly form the govt with more than 75 seats."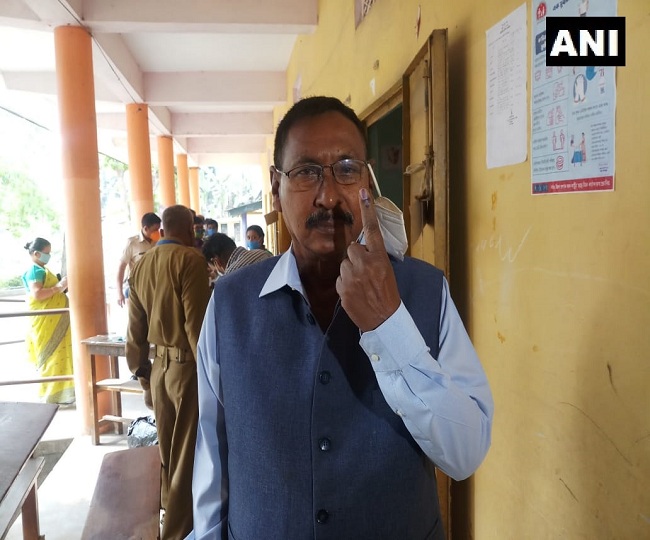 8:45 am: Voters being screened with a temperature gun, given hand sanitiser & hand gloves as they arrive at polling booths for the second phase of #AssamAssemblyPolls. Visuals from a polling booth in Nagaon.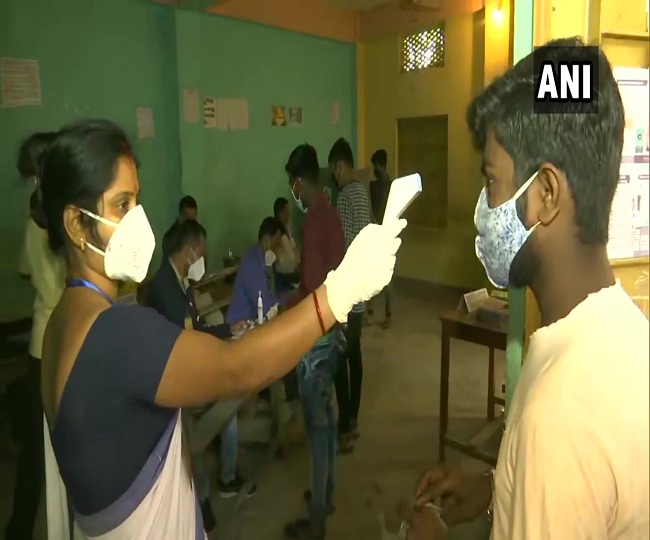 8:00 am: Voting for the second phase of #AssamAssemblyPolls underway at polling station 23-26 at Nowgong Law College in Nagaon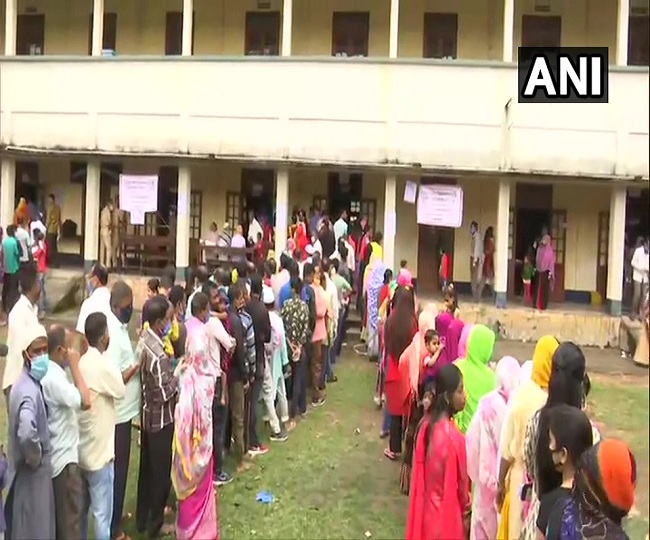 7:45 am: Silchar: Voting temporarily stopped at polling station number 146 at Nirtamoyee Balika Vidyalaya, due to EVM malfunction
7:30 am: Assam: Voting delayed at polling station number 26 at Nowgong Law College in Nagaon, due to EVM malfunction
7:15 am: Voting for the second phase of #AssamAssemblyPolls underway. Visuals from polling station 146-148 in Silchar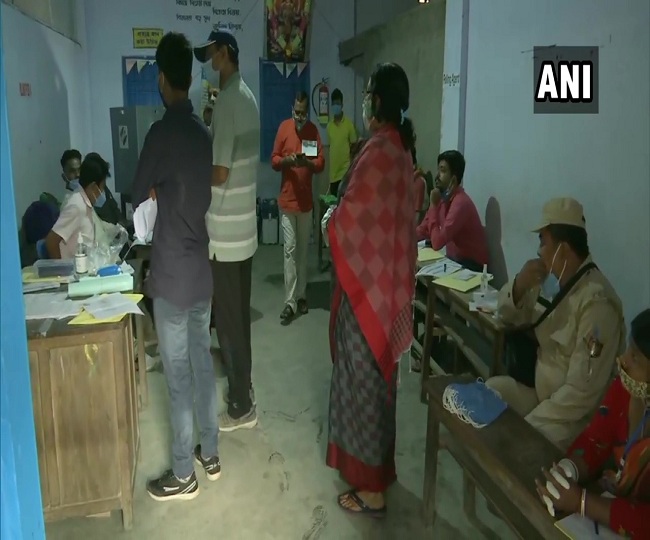 7:00 am: The second phase of voting for Assembly elections in Assam begins
6:30 am: Voting for the second phase of #AssamAssemblyPolls to begin shortly. Visuals from polling station 23-26 at Nowgong Law College in Nagaon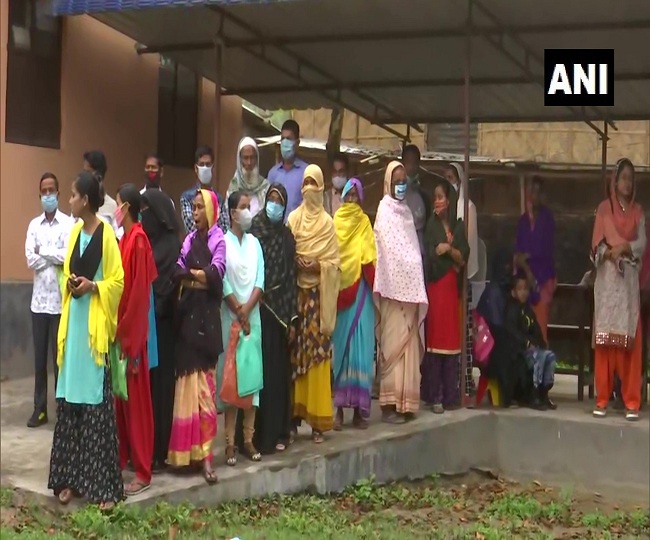 6:00 am: Assam: Voters wait in a queue outside a polling station in Hojai, ahead of voting for the second phase of #AssamAssemblyPolls
Posted By: Talibuddin Khan