By Deeksha Sharma
Updated: Mon, 03 May 2021 08:42 AM IST
Minute Read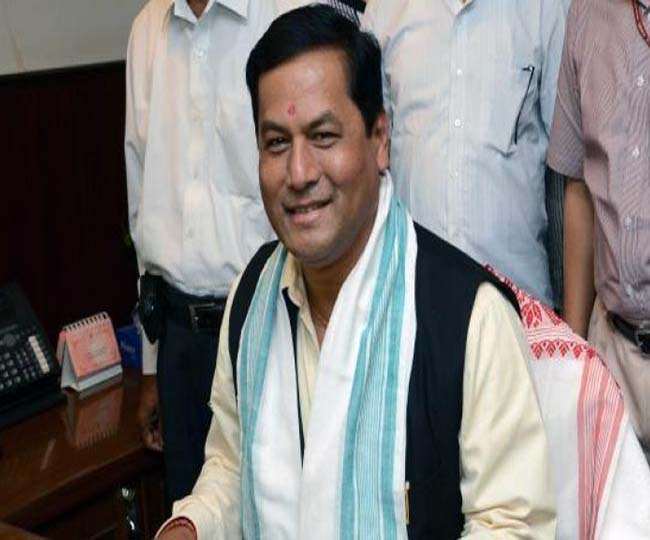 Guwahati | Jagran Politics Desk: In another setback for the Congress after its loss in Kerala, the BJP-led NDA alliance retained power in Assam as it won 75 of the 126 seats in here. The Congress-led Mahajot alliance -- which included AIUDF and eight other parties -- however, only managed to won just 50 seats. The BJP emerged as the single largest party in the state as it won 60 seats while the Congress managed to claim just 29 seats.
Chief Minister Sarbananda Sonowal defeated his nearest Congress rival and former Congress Minister Rajib Lochan Pegu by 43,192 votes to retain his Majuli seat for the second consecutive term.
Among the prominent candidates who won are state minister Himanta Biswa Sarma, who retained his Jalukbari constituency for the fifth consecutive term defeating his Congress opponent Romen Chandra Borthakur by a whopping 1,01,911 votes, improving upon his previous record of 85,935 votes in 2016.
Here is the list complete list of winning and leading candidates in Assam:
| | | |
| --- | --- | --- |
| Constituency | Candidate | Party |
| Abhayapuri North | Abdul Batin Khandakar | Congress |
| Abhayapuri South | Pradip Sarkar | Congress |
| Algapur | Nijam Uddin Choudhury | AIUDF |
| Amguri | Prodip Hazarika | AGP |
| Badarpur | Abdul Aziz | AIUDF |
| Baghbar | Sherman Ali Ahmed | Congress |
| Baithalangso | Rupsing Teron | BJP |
| Barama | Bhupen Baro | UPPL |
| Barchalla | Ganesh Kumar Limbu | BJP |
| Barkhetri | Diganta Barman | Congress |
| Barkhola | Misbahul Islam Laskar | Congress |
| Barpeta | Abdur Rahim Ahmed | Congress |
| Behali | Ranjit Dutta | BJP |
| Bhabanipur | Phanidhar Talukdar | AIUDF |
| Bihpuria | Dr. Amiya Kumar Bhuyan | BJP |
| Bijni | Ajoy Kumar Ray | BJP |
| Bilasipara East | Samsul Huda | AIUDF |
| Bilasipara West | Hafiz Bashir Ahmed | AIUDF |
| Biswanath | Promod Borthakur | BJP |
| Bokajan | Numal Momin | BJP |
| Bokakhat | Atul Bora | AGP |
| Boko | Nandita Das | Congress |
| Bongaigaon | Phani Bhusan Choudhury | AGP |
| Chabua | Ponakan Baruah | AGP |
| Chapaguri | Urkhao Gwra Brahma | UPPL |
| Chaygaon | Rekibuddin Ahmed | Congress |
| Chenga | Ashraful Hussain | AIUDF |
| Dalgaon | Mazibur Rahman | AIUDF |
| Dergaon | Bhabendra Nath Bharali | AGP |
| Dharmapur | Chandra Mohan Patowary | BJP |
| Dhekiajuli | Ashok Singhal | BJP |
| Dhemaji | Ranoj Pegu | BJP |
| Dholai | Parimal Sukla Baidya | BJP |
| Dhubri | Nazrul Hoque | AIUDF |
| Dibrugarh | Prasanta Phukan | BJP |
| Digboi | Suren Phukan | BJP |
| Diphu | Bidya Sing Engleng | BJP |
| Doom Dooma | Rupesh Gowala | BJP |
| Dudhnai | Jadab Swargiary | Congress |
| Duliajan | Terash Gowala | BJP |
| Gauhati West | Ramendra Narayan Kalita | AGP |
| Gauripur | Nizanur Rahman | AIUDF |
| Goalpara East | Abul Kalam Rasheed Alam | Congress |
| Goalpara West | Abdur Rashid Mandal | Congress |
| Gohpur | Sri Utpal Borah | BJP |
| Golaghat | Ajanta Neog | BJP |
| Gossaigaon | Majendra Narzary | BDF |
| Haflong | Nandita Gorlosa | BJP |
| Hailakandi | Zakir Hussain Laskar | AIUDF |
| Hajo | Sri Suman Haripriya | BJP |
| Howraghat | Darsing Ronghang | BJP |
| Jagiroad | Pijush Hazarika | BJP |
| Jaleswar | Aftab Uddin Mollah | Congress |
| Jalukbari | Himanta Biswa Sarma | BJP |
| Jania | Rafiqul Islam | AIUDF |
| Jorhat | Hitendra Nath Goswami | BJP |
| Kalaigaon | Durga Das Boro | BDF |
| Kaliabor | Keshab Mahanta | AGP |
| Kamalpur | Diganta Kalita | BJP |
| Karimganj North | Kamalakhya Dey Purkayastha | Congress |
| Katigora | Khalil Uddin Mazumder | Congress |
| Katlicherra | Suzam Uddin Laskar | AIUDF |
| Khumtai | Mrinal Saikia | BJP |
| Kokrajhar East | Lawrence Islary | UPPL |
| Kokrajhar West | Rabiram Narzary | BDF |
| Laharighat | Dr. Asif Mohammad Nazar | Congress |
| Lahowal | Binod Hazarika | BJP |
| Lakhimpur | Manab Deka | BJP |
| Lakhipur | Kaushik Rai | BJP |
| Lumding | Sibu Misra | BJP |
| Mahmara | Jogen Mohan | BJP |
| Majbat | Charan Boro | BDF |
| Majuli | Sarbananda Sonowal | BJP |
| Mangaldoi | Basanta Das | Congress |
| Margherita | Bhaskar Sharma | BJP |
| Mariani | Rupjyoti Kurmi | Congress |
| Marigaon | Rama Kanta Dewri | BJP |
| Moran | Chakradhar Gogoi | BJP |
| Naharkatia | Taranga Gogoi | BJP |
| Nalbari | Jayanta Malla Baruah | BJP |
| Naoboicha | Bharat Chandra Narah | Congress |
| Nazira | Debabrata Saikia | Congress |
| Nowgong | Rupak Sarmah | BJP |
| Palasbari | Hemanga Thakuria | BJP |
| Panery | Biswajit Daimary | BJP |
| Patacharkuchi | Ranjeet Kumar Dass | BJP |
| Patharkandi | Krishnendu Paul | BJP |
| Raha | Sashi Kanta Das | Congress |
| Rangapara | Krishna Kamal Tanti | BJP |
| Rangia | Bhabesh Kalita | BJP |
| Ratabari | Bijoy Malakar | BJP |
| Rupohihat | Nurul Huda | Congress |
| Sadiya | Bolin Chetia | BJP |
| Samaguri | Rakibul Hussain | Congress |
| Sarukhetri | Jakir Hussain Sikdar | Congress |
| Sarupathar | Biswajit Phukan | BJP |
| Sibsagar | Akhil Gogoi | Independent |
| Sidli | Joyanta Basumatary | UPPL |
| Sipajhar | Paramananda Rajbongshi | BJP |
| Sonai | Karim Uddin Barbhuiya | AIUDF |
| Sonari | Dharmeswar Konwar | BJP |
| Sootea | Padma Hazarika | BJP |
| Sorbhog | Manoranjan Talukdar | CPM |
| Tamulpur | Leho Ram Boro | UPPL |
| Teok | Renupoma Rajkhowa | AGP |
| Tezpur | Prithiraj Rava | AGP |
| Thowra | Sushanta Borgohain | Congress |
| Tingkhong | Bimal Borah | BJP |
| Tinsukia | Sanjoy Kishan | BJP |
| Titabar | Bhaskar Jyoti Baruah | Congress |
| Udalguri | Gobinda Chandra Basumatari | UPPL |
| Udharbond | Mihir Kanti Shome | BJP |
| Barhampur | Jitu Goswami | BJP |
| Batadroba | Sibamoni Bora | Congress |
| Dhakuakhana | Naba Kumar Doley | BJP |
| Dhing | Aminul Islam | AIUDF |
| Dispur | Atul Bora | BJP |
| Gauhati East | Siddhartha Bhattacharya | BJP |
| Golakganj | Abdus Sobahan Ali Sarkar | Congress |
| Hojai | Ramkrishna Ghosh | BJP |
| Jamunamukh | Siraj Uddin Ajmal | AIUDF |
| Jonai | Bhuban Pegu | BJP |
| Karimganj South | Siddeque Ahmed | Congress |
| Mankachar | Md. Aminul Islam | AIUDF |
| Salmara South | Wazed Ali Choudhury | Congress |
| Silchar | Dipayan Chakraborty | BJP |