By Ritesh Kumar
Updated: Wed, 25 Jan 2023 05:17 PM IST
Minute Read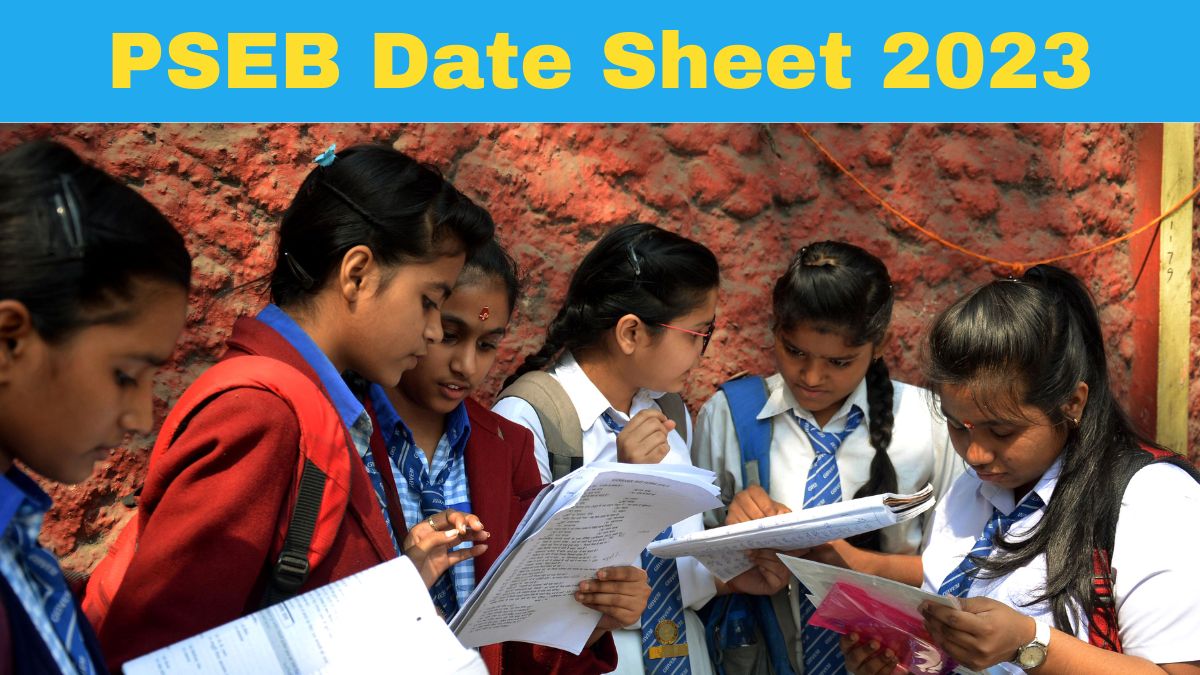 Punjab School Education Board (PSEB) on Wednesday released the exam date sheet for classes 10 and 12. The class 12 exam will be conducted from February 20 while the class 10 exam will be held from March 24. Candidates can check the date sheet at– pseb.ac.in.
"Punjab School Education Board 12th and 10th Class Annual Examination (including Open School, Compartment/Reappear, Additional Subject, Performance Enhancement) from 20.2.2023 to 20.4.2023 and from 24.3.2023 to 20.4.2023 respectively. It has been conducted in the centers. The starting time for class XII examination will be at 2.00 PM and the starting time for class X examination will be at 10.00 AM. Datesheet and more information is available on-Board website www.pseb.ac.in," reads the officail notification.
PSEB Date Sheet 2023: Class 10
24 March– Punjab-A, Punjab History and Culture-A
27 March– English
28 March– Music (Gayan)
29-March– Punjab-B, Punjab History and Culture-B
31-March– Computer Science
1 April– Mechanical Drawing & Paintig
3 April– Mathematics
5 April– Science
6-April– Agriculture
10-April– Social Science
11 April– Welcome Life
12 April– Hindi / Urdu (Alternate Language)
13 April– Home Science
15 April– Health and Physical Education
17 April– Music Tabla
18 April– Physical Education
19 April– Music Vadan
20 April– Tailoring
Languages: Sanskrit/ Urdu/ French/ German
Pre-vocational: Computer Science (pre-vocational)/ Repair and Maintenance of Household Electrical Appliances/ Electronic Technology/ Repair and Maintenance of Agriculture Power Machines/ Knitting (Hand and machine)/ Engineering, Drafting & Duplicating/ Food Preservation/ Manufacturing of Leather Goods
NSQF subjects – Groceries/ Automobiles/ Healthcare/ Information Technology/ Security/ Health & Lifestyle/ Travel & Tourism/ Physical Education and Sports/ Agriculture / Apparel/ Construction/ Plumbing/ Power.
PSEB Date Sheet 2023: Class 12
20 February– General Punjabi and Punjab History & Culture
21 February– Music (Vocal)
22 February– Philosophy, Chemistry, Business Economics and Quantitative Maths- II
23 February– Sociology
24 February– General English
27 February– Media studies, Biology
28 February– History
1 March– Mathematics
2 March– Punjabi Elective, Hindi Elective, English Elective, Urdu
3 March– Sanskrit, French, German
4 March– Political science, Physics
6 March– Environmental Studies
20 March– Geography
21 March– Computer Application
22 March– Business Studies- II
24 March– Gurmat Sangeet
27 March– Physical Education & Sports
28 March– Welcome Life
29 March– Home Science
31 March– Economics
1 April– Dance
3 April– Public Administration
5 April– Religion
6 April– NSQF Subjects
10 April– Psychology
11 April– History and appreciation of arts
12 April– Agriculture
13 April– Accountancy-II