India vs Pakistan, WC 2019 | Highlights: India crush Pakistan by 89 runs in curtailed match
Updated: Mon, 17 Jun 2019 09:45 AM IST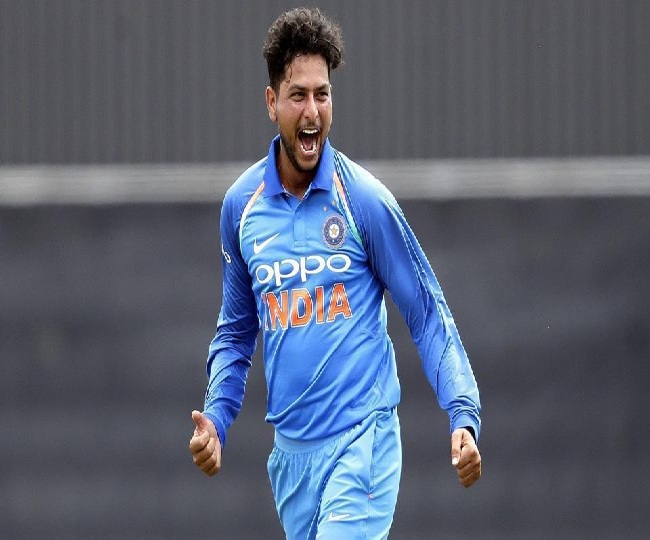 Manchester | Jagran Sports Desk: Rohit Sharma pulverised a pedestrian Pakistan attack with a stylish hundred to lead India to a challenging 336 for five in a marquee World Cup encounter here Sunday.
Despite heavy rains and overcast conditions during past few days, the pitch had very little moisture and turned out to be a batting beauty which Rohit and the other Indian batsmen exploited to the fullest.
The Indian vice-captain scored his 24th ODI hundred - 140 off 113 balls while KL Rahul (57) played the perfect second fiddle in an opening partnership of 137 runs.
Skipper Virat Kohli switched gears effortlessly during his 77 off 65 balls and also became the quickest to 11,000 ODI runs, eclipsing a 17-year record held by iconic Sachin Tendulkar.
Mohammed Amir (3/47) pitched the ball up and maintained discipline despite a couple of official 'warnings' for running onto the pitch while Wahab Riaz (1/71) and Hasan Ali (1/84) bowled short consistently.
Stay tuned to Jagran English to catch all the LIVE updates on the World Cup 2019 clash between India and Pakistan at the Old Trafford Stadium in Manchester:
09:49 pm: Kuldeep Yadav strikes! bowls out Babar Azam. The much-needed break for India.
09:44 pm: Score: Pakistan - 113/1 after 23 overs. Fakhar - 58 (67), Babar Azam - 46 (53)
09:42 pm: Babar hits a six on Chahal's ball in deep mid-wicket.
09:39 pm: Fakhar Zaman hits a crackling boundary off Kuldeep Yadav.
09:37 pm: Pakistan 95/1 after 21 overs.
09:35 pm: Fakhar Zaman smashes his 11th ODI fifty off 59 balls with a massive six on Chahal's delivery.
09:33 pm: Excellent over by Kuldeep Yadava, just one run off it. Pakistan are 87/1 after 20 overs.
09:31 pm: And a big shout by Dhoni as he removes Zaman's bails. Third Umpire calls it Not Out!
09:29 pm: After 19 over, Pakistan are 86/1. Fakhar Zaman nears his 11th ODI fifty.
09:22 pm: Score: Pakistan - 79/1 after 17 overs. Babar Azam - 30 (34), Fakhar Zaman - 40 (50)
09:18 pm: Pakistan are 75/1 after 16 overs, Zaman and babar have steadied Pakistan innings.
09:16 pm: Fakhar Zaman hits boundary in deep mid wicket.
09:09 pm: After 15 overs, Pakistan are 64/1. And it's time for drinks break!
09:06 pm: Zaman smashes a boundary on a short of length delivery by Hardik Pandya.
09:00 pm: Boundary! Fakhar sends Shankar's delivery down the boundary line. Score: Pakistan - 49/1 after 12 overs
08:55 pm: Score: Pakistan - 44/1 after 11 overs. Fakhar Zaman 17 off 27.
08:52 pm: After 10 overs, Pakistan are 38/1.
08:44 pm: Pakistan afre 34/1 after nine overs. The required run rate is now 7.39.
08:41 pm: Fakhar Zaman hits a boundary off Bumrah. After 8 overs, Pakistan are 29/1.
08:26 pm: Score: Pakistan - 14/1 after 5 overs.
08:24 pm: And Imam-ul-Haq is OUT! Shankar comes in to complete Bhuvneshwar's over and removes Haq.
08:23 pm: Bhuvneshwar Kumar goes off the ground, seems like he is suffering from hamstring. Vijay Shankar will be completing his over now.
08:14 pm: Pakistan are 12/0 after three overs
08:12 pm: Boundary! Imam-ul-Haq smashes the ball on the leg side.
08:10 pm: Pakistan are 6/0 after two overs.
08:09 am: Fakhar Zaman hits welcome boundary off Bumrah.
08:04 pm: Imam-ul-Haq and Fakhar Zaman have begun Pakistan innings.
07:55 pm: Drizzle brought back the covers, but the good news is that it has stopped and sun is out.
07:43 pm: Pakistan innings will begin shortly as the break has been reduced to 15 minutes in view of the rain interrupting the play.
07:27 pm: India innings end at 336/5 in 50 overs. Pakistan to chase a target of 337 runs.
07:23 pm: Boundary by Vijay Shankar off Amir.
07:21 pm: After 49 overs, India are 327/5.
07:19 pm: Kedar Jadhav sends the ball to the boundary line. A much-needed four at this time.
07:13 pm: Mohammad Amir dismisses Virat Kohli, he departs for 77 runs.
07:11 pm: And a boundary by Kohli in the third man, India are 311/4 in 47 overs.
07:09 pm: The break time between the innings has been reduced to 15 minutes from 30 minutes.
07:06 pm: Virat Kohli and Vijay Shankar are back on the crease. It will be a complete 50-over match.
07:02 pm: Play is set to resume in eight minutes.. tweets ICC.
06:51 pm: Super soppers and ropes are being used to dry the outfield. Play should resume shortly. We can expect a full 50-over match here.
06:47 pm: Rain has stopped and covers are coming off, match is expected to resume shortly.
06:35 pm: If India doesn't get to bat again, as per Duckworth Lewis, Pakistan will have to chase a target of 327 runs in 46 overs. If rain further delays the match, Pakistan might get a target of 184 runs in 20 overs.
06:13 pm: Rain stops play. India are 305/4 after 46.4 overs
06:10 pm: Score: India - 302/4 after 46 overs
06:06 pm: M S Dhoni departs. Caught by Sarfaraz off Amir.
06:05 pm: India 298/3 after 45 overs, now eye 350 runs.
06:02 pm: Boundary by Kohli and it's 11,000 runs for him in ODI cricket.
05:59 pm: Amir departs Hardik Pandya. Babar Azam takes the catch.
05:58 pm: Hardik Pandya slams a crackling four off Amir to deep extra cover
05:56 pm: And its a fifty for Kohli, 51st in ODI cricket.
05:55 pm: Score: India - 274/2 after 43 overs. Kohli - 48 (50), Pandya - 22 (17)
05:54 pm: And a boundary. Pandya smashes the ball to backward square leg.
05:51 pm: And it's a SIX in the third man. Hardik PandyatTotally missed it but got a maximum.
05:47 pm: Kohli smashes a boundary off Wahab Riaz on the long-off.
05:46 pm: Nine overs to go, India are 254/2. Virat Kohli just nine runs away from his 51st ODI fifty.
05:44 pm: 250 up for India in 41st over.
05:43 pm: India 248/2 after 40 overs. Virat Kohli 39 off 43 balls.
05:40 pm: Virat smashes a crackling century on a short delivery by Shadab.
05:38 pm: Hardik Pandya joins Virat Kohli on the crease. India are 238/2 after 39 overs.
05:35 pm: Rohit Sharma departs. Riaz takes the catch.
05:35 pm: Rohit smashes boundary in deep mid-wicket off Hasan ALi.
05:34 pm: India are 230/1 after 38 overs. Rohit Sharms is just 15 runs away from 150 runs.
05:31 pm: Rohit hits another boundary, his 13th of the inning.
05:28 pm: India are 220/1 after 37 overs. Rohit Sharma is on 128 runs off 107 balls.
05:27 pm: Virat Kohli is yet to open up as he continues to deal in singles and doubles. Just one boundary in his 28 runs.
05:21 pm: India are 215/1 after 36 overs.
05:18 pm: Boundary! Rohit guides the ball to the Third Man
05:16 pm: 200 up for India in just 35th over.
05:15 pm: Rohit punishes Shadab, smashes boundary on the leg side. India are 199/1 after 34 overs
05:07 pm: Fifty-run partnership comes up between Rohit and Kohli. Score: India - 187/1 after 32 overs
05:06 pm: India are 181/1 after 31 overs. Rohit - 102 (87), Kohli - 16 (21)
05:03 pm: Rohit slams a boundary in deep extra cover off Amir.
05:01 pm: Rohit slams 24th ODI ton, his second in this world Cup.
04:56 pm: Mohammad Amir bowls an excellent over, gives away just one run. Score: India - 165/1 after 29 overs
04:54 pm: Score: India - 164/1 after 28 overs, Rohit Sharma just six runs away from his century.
04:53 pm: Sarfaraz made the same mistake what kohli made back in CT17. Won toss and bowl first, tweets Shoiab Akhtar
04:48 pm: Score: India - 160/1 after 27 overs
04:47 pm: And it's a SIX for Rohit. He is surely on a roll, punishes Hasan Ali.
04:45 pm: Rohit Sharms is on 85, just 15 runs away from 24th ODI century. Score: India - 151/1 after 26 overs
04:41 pm: Score - India: 146/1 after 25 overs
04:36 pm: Score: India - 136/1 after 24 overs. Rohit - 75 off 65, Virat Kohli - 0 (1)
04:35 pm: Wahab Riaz dismisses K L Rahul. Babar Azam takes the catch. First wicket down for India.
04:33 pm: Wahab Riaz gets warning from umpire for walking in the danger area, second for Pakistan in this match.
04:29 pm: K L Rahul hits a maximum off Hafeez on the long off.
04:27 pm: Rohit Sharms hits a crackling boundary off Mohammed Hafeez.
04:25 pm: And it's fifty for K L Rahul. What a way to get the 3rd ODI fifty with a smashing six.
04:20 pm: Seven runs off Imad Wasim's over, India are 112/0 after 21 overs
04:16 pm: India are 105/0 after 20 overs. Rohit Sharma - 63 (56), K L Rahul - 39 (64)
04:14 pm: Score: 103/0 after 19 overs
04:07 pm: Score: India - 99/0 after 17 overs, Rohit - 60 (51), Rahul - 36 (51)
04:01 pm: Another boundary by Rohit off Shadab.
03:51 pm: Rohit at his best..!! Maximum off Shadab, followed by smashing boundary. 43rd ODI fifty for him off just 34 balls. Score: India - 79/0 after 12 overs
03:49 pm: Boundary ! K L Rahul sends Shadab's spin to boundary.
03:45 pm: K L Rahul joins Rohit in hard-hitting. Hits four and a three off Imad Wasim.
03:44 pm: Rohit smashes another boundary off Wahab Riaz. Score: 53/0 after 10 overs
03:40 pm: Confusion between Rahul and Rohit. Rohit could have been run out. Close shave though.
03:38 pm: Score - India: 46/0 after 9 overs. Rohit - 32 (25), Rahul - 12 (29)
03:36 pm: Spin comes into action with Imad Wasim.
03:34 pm: Rohit hits a boundary on the last ball of Wahab's over. Score: India - 42/0 after 8 overs
03:28 pm: Rohit steals a risky single off Amir. Rahul on strike now.
03:26 pm: Rohit smashes a maximum off Hasan Ali, paces the run rate. Score: India - 32/0 after 6 overs
03:24 pm: Excellent shot by Rohit, ball races to boundary on the off side.
03:18 pm: Excellent pull shot by Rahul, sends Amir's bounder to boundary on the leg side.
03:17 pm: After four overs, India are 16/0. Rohit - 14 (15), K L Rahul - 2 (9)
03:15: Rohit hits another boundary off hasan Ali, this time on the long-off.
03:11 pm: Excellent good-length bowling by Mohammad Amir, he is putting Indian openers in check. But Rahil and Rohit are managing to steal the singles to keep the scoreboard ticking. Score: India - 11/0 after 3 overs
03:08 pm: Score: India - 9/0 after 2 overs
03:04 pm: Welcome boundary from Rohit off Hasan Ali!! Crowd welcomes first runs for India.
03:01 pm: Four dot balls in a row from Amir, he seems to be getting good swing.
03:00 pm: Mohammad Amir will start the pace attack for Pakistan. K L Rahul set to face him!!
02:54 pm: Rohit Sharma and K L Rahul are soon to enter the ground, Indian fans are already up on their feet for the most-awaited contest!!! This is not just a cricket match for them..!!
02:47 pm: With mositure and little green grass, the pitch is expected to help pacers, at least for the first hours of the match. Mohammad Amir and Wahab Riaz might prove a tough nut to crack for the Indian team.
02:40 pm: Pakistan bring in Imad Wasim and Shadab Khan while Vijay Shankar features for India.
02:37 pm: Here are the Playing XI for India and Pakistan:
India: Rohit Sharma, Lokesh Rahul, Virat Kohli(c), Vijay Shankar, MS Dhoni(w), Kedar Jadhav, Hardik Pandya, Bhuvneshwar Kumar, Kuldeep Yadav, Yuzvendra Chahal, Jasprit Bumrah
Pakistan: Imam-ul-Haq, Fakhar Zaman, Babar Azam, Mohammad Hafeez, Sarfaraz Ahmed(w/c), Shoaib Malik, Imad Wasim, Shadab Khan, Hasan Ali, Wahab Riaz, Mohammad Amir
02:24 pm: Vijay Shankar finds place in the playing XI for the Indian team.
02:32 pm: Pakistan wins toss, elect to ball against India.
Posted By: Abhinav Gupta