'We have lost it': David Warner's dance on Guru Randhawa's this Punjabi hit is taking internet by storm | Watch
Publish Date: Tue, 19 May 2020 06:34 PM IST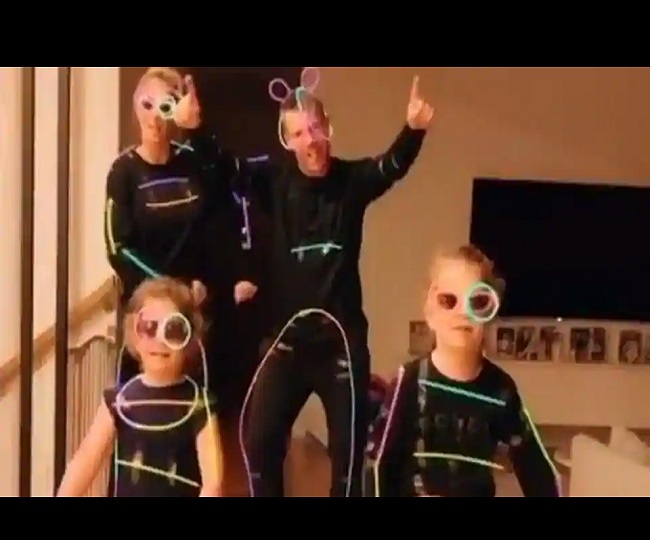 New Delhi | Jagran Sports Desk: Amid the pandemic when most of us are stuck at home, it seems to be quite tiring to restrict self in between the four walls. Likewise, Australian batsman, David Warner, expressing his boredom due the lockdown wrote on social media that he has 'lost it.'
On Tuesday, Warner took to Instagram to post a hilarious Tik-Tok video, in which the whole Warner family can be seen dancing on Punjabi song 'slowly-slowly,' sung by singer Guru Randhawa.
In the video, Warner is seen dancing along with his wife, Candice Warner, and two kids, all of them wearing 'dark-glow suits,' while shaking legs on the Punjabi beat.
In the caption of the post, Warner wrote, "Yes, we have lost it now. Glow in the dark night. #family #fun #love #slowly @candywarner1," telling fans about how difficult it is getting for everyone staying at home, and the conditions are no different for anyone, even he has lost his chill now.
This is not the first time that Warner entertained his fans, dancing on Indian beats; he had posted a similar video a few days back as well.
In that video, Warner was dancing along with his wife Candice on the Hindi song 'Muqabala,' while at the end of the video their daughter joins in. In the caption of the video Warner compared the original cast of the song i.e. Indian Choreographer Prabhudeva and actress Shilpa Shetty with him and his wife and asked who is better? He wrote, "Who was better @candywarner1 and I or @theshilpashetty #theoriginals @prabhudevaofficial."
It seems that the cricketer is quite engrossed in making Tik-Tok videos, as his Instagram timeline is full of various Tik-Tok videos dancing and chilling with family. One of the cream batsman in the Australian cricket team, David Warner has finally found a new passion amid the pandemic and clearly, he is enjoying it to the core.
Posted By: Talib Khan