IND vs NZ 3rd T20I: Rohit's heroics in super over helps Men in Blue win maiden series in New Zealand | Highlights
After winning the second T20I, ruthless India is expected to seal their maiden T20 International series win in New Zealand. (Image Credits: BCCI Twitter)
Updated: Wed, 29 Jan 2020 04:20 PM IST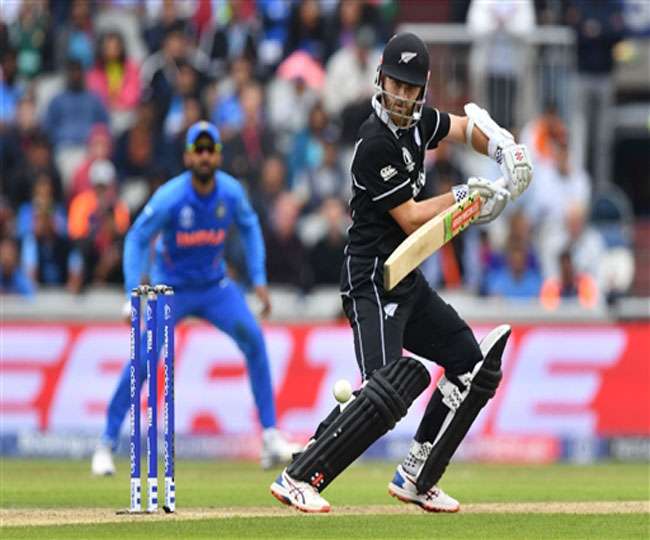 New Delhi | Jagran Sports Desk: After winning the second T20I, ruthless India are expected to seal their maiden T20 International series win in New Zealand and only a special comeback from the struggling hosts in the third game at the Seddon Park in Hamilton, today can delay what seems inevitable.
India won the twin T20 Internationals in Auckland by margins of six and seven wickets respectively to go 2-0 up in the five-match series.
A third successive win at Seddon Park will give them their first-ever T20I series' win on New Zealand soil, a feat they were unable to achieve on two occasions previously. India lost 0-2 under Mahendra Singh Dhoni back in 2008-09, and last year, they went down 1-2.
Here are the LIVE Updates from India vs New Zealand 3rd T20I:
4:22 pm: Southee to Rohit, Rohit, you freakinnn genius. He's done it. India have clinched the Super Over. Cometh the hour, cometh the man.
4:20 pm: Southee to Rohit, 6 runs. Wow! Nailed it.
4:19 pm: Four! Much-needed boudary from Rahul.
4:18 pm: 3 runs from first 2 balls for India
4:16 pm: KL Rahul and Rohit Sharma will bat for India while Tim Southee will bowl for Kiwis.
4:10 pm: India need 18 to win!
4:09 pm: Four! Another boundary from Williamson.
4:08 pm: Six! Williamson continues his good form.
4:04 pm: Jasprit Bumrah will bowl the super over for India. Kane Williamson and Martin Guptill will bat for Kiwis.
3:58 pm: Shami to Ross Taylor, out Bowled!! Ross Taylor b Shami 17(10) Super over to decide the winner of the match!
3:57 pm: New Zealand need 1 run in 1 ball
3:55 pm: Shami to Williamson, out Caught by Rahul!! Is there a twist in this match? Williamson c Rahul b Shami 95(48) [4s-8 6s-6]
3:53 pm: Mohammed Shami to bowl last over.
3:52 pm: New Zealand need 9 runs in 6 balls
3:49 pm: Bumrah to Ross Taylor, Four, to deep mid-wicket
3:48 pm: Jasprit Bumrah to continue.
3:48 pm: Kiwis now need 20 from 12 balls.
3:45 pm: Yuzvendra Chahal is back into the attack
3:40 pm: Three boundaries in a row from Williamson! India not looking in a good situation.
3:39 pm: Four! Another good shot from Williamson. He's looking really dangerous
3:35 pm: Wicket! de Grandhomme's poor form continues as Shardul Thakur removes him for 5
3:31 pm: Shardul Thakur is back into the attack
3:29 pm: Six! A brilliant shot from thw Kiwi skipper, he's looking in superb touch
3:26 pm: 50 up for Williamson.
3:22 pm: Shami replaces Jadeja in the attack as India look for wickets
3:21 pm: New Zealand 100/3 after 13 overs.
3:20 pm: Kane Williamson goes big and clears the field on the leg-side to pick up another six.
3:18 pm: New Zealand need 89 runs off the last eight overs with seven wickets in hand. Colin de Grandhomme and Kane Williamson are out in the middle.
3:17 pm: New Zealand 91/3 after the end of twelfth over.
3:15 pm: The replays confirm that Williamson's foot was behind the line and the New Zealand captain survives.
3:14 pm: Kane Williamson was beaten with the turn by Ravindra Jadeja and KL Rahul whipped the bails off in a flash and the on-field umpire has gone upstairs to check for the dismissal.
3:12 pm: New Zealand 88/3 after 11 overs.
3:11 pm: Yuzvendra Chahal castles Mitchell Santner for nine as New Zealand lose their third wicket.
3:10 pm: Shivam Dube this time the culprit, as he dived but couldn't prevent the ball from going for a boundary. New Zealand are scoring freely at the moment.
3:09 pm: Sweep shot from Kane Williamson and it should've been stopped but Mohammed Shami misses it and the ball goes for a boundary.
3:08 pm: Kane Williamson guides the ball off his stumps towards the third-man region for a boundary.
3:07 pm: Yuzvendra Chahal is back into the attack.
3:06 pm: New Zealand 79/2 after 10 overs. Williamson - 18, Santner - 9.
3:03 pm: Ravindra Jadeja returns the favour as he drops Mitchell Santner on eight. Santner was looking for a big hit and got a top-edge. Jadeja, running backwards, drops a tough chance.
3:00 pm: Jasprit Bumrah comes on to bowl his second over as Virat Kohli looks for another wicket before the halfway stage.
2:59 pm: New Zealand 72/2 after nine overs.
2:58 pm: New Zealand 67/2 after 8 overs.
2:57 pm: Shivam Dube to Williamson, SIX, poor ball and Williamson takes full toll of it. Length ball straying on the pads, Williamson bends his back leg and helps it on its way over fine leg.
2:55 pm: Mitchell Santner pulls away that short delivery from Shivam Dube to pick up his first boundary of the match.
2:54 pm: New Zealand 53/2 after seven overs.
2:52 pm: New Zealand has sent Mitchell Santner as a pinch hitter to tackle Ravindra Jadeja.
2:51 pm: KL Rahul completes a simple stumping chance to send back Colin Munro back to the pavilion and his celebration says it all. Rahul makes up for the error in the previous over as New Zealand lose both their openers. Ravindra Jadeja once again among the wickets
2:49 pm: Ravindra Jadeja has been introduced in the attack after the powerplay.
2:48 pm: New Zealand 51/1 after six overs.
2:46 pm: Sanju Samson, who is in as a substitute fielder, takes a stunning catch in the deep to send back well-set Martin Guptill and Shardul Thakur gets him for the second time in the series.
2:45 pm: Martin Guptill pulls that short one from Shardul Thakur to pick up a boundary.
2:44 pm: Shardul Thakur brought back into the attack for sixth over.
2:42 pm: New Zealand 43/0 after five overs. Guptill - 27, Munro - 14
2:41 pm: Martin Guptill flashed at that one and Yuzvendra Chahal managed to find the outside edge of Guptill's bat but the ball went past Virat Kohli at first slip and away towards the fence.
2:40 pm: Yuzvendra Chahal comes onto bowl and he is greeted with a boundary by Colin Munro
2:37 pm: New Zealand 31/0 after 4 overs.
2:34 pm: Mohammed Shami bowled a bouncer and it has hit Colin Munro straight in the ribs and he is down at the non-striker's end in serious pain. The physio is out to assess the batsman.
2:33 pm: Colin Munro flashed hard at the slower one from Mohammed Shami and the ball raced away towards the fence on the off-side.
2:32 pm: New Zealand 26/0 after the end of three overs.
2:31 pm: Jasprit Bumrah conceded 13 runs off his first over as New Zealand make solid start in chase of 180.
2:30 pm: Jasprit Bumrah bowls it short and Martin Guptill got under the delivery and helped it on its away over the wicketkeeper's head for another maximum.
2:28 pm: Jasprit Bumrah managed to find the outside edge of Martin Guptill's bat but the ball went sailing over Mohammed Shami's head for a maximum.
2:25 pm: Virat Kohli brings in Jasprit Bumrah into the attack as he replaces Shardul Thakur.
2:22 pm: New Zealand 8/0 after 1 over.
2:21 pm: Shardul Thakur despite going for a six off the second ball concedes just eight runs from the opening over.
2:18 pm: Martin Guptill gets off the mark with a straight hit over the bowler's head for a maximum.
2:15 pm: Martin Guptill and Colin Munro are out in the middle, Shardul Thakur starts the proceedings with the ball for India.
2:00 pm: India finished their innings at 179 for five. Late cameos from Virat Kohli, Manish Pandey and Ravindra Jadeja helped the visitors to post a challenging total despite losing wickets at regular intervals.
1:58 pm: Ravindra Jadeja makes them pay with a six over covers.
1:56 pm: Ravindra Jadeja skied that one as he looked to clear the fence, it was an easy chance for Mitchell Santner who dropped the catch. Jadeja survives.
1:55 pm: Manish Pandey gets under that one and clears the ropes with ease. Too full from Southee and Pandey took full advantage of it.
1:53 pm: Ravinder Jadeja is the new man in. India 161/5 after 19 overs.
1:50 pm: Virat Kohli was looking to accelerate but managed to hit that one straight into the hands of Tim Southee. India captain departs for 38 as India lose their fifth wicket
1:48 pm: Manish Pandey got on top of the bounce of the first ball of 19th over and smashed it through the covers to get his first boundary.
1:47 pm: India 151/4 after 18 overs.
1:43 pm: India 142/4 after sixteen overs. Manish Pandey is the new man in.
1:41 pm: Shreyas Iyer was looking for a big hit but he misses the ball and Tim Seifert completes the stumping to send back Iyer for 17.
1:41 pm: Shreyas Iyer gets one out of the middle as he sends the ball straight over Mitchell Santner's head for a maximum.
1:40 pm: Ish Sodhi gave away just four runs in his fourth over as India are 131 for three after 16 overs. 24 balls left in the innings
1:38 pm: Virat Kohli becomes Highest run-scorer in T20Is as Captain.
1:36 pm: Virat Kohli finds the gap on the leg-side to finish the 15th over with a boundary. India are 127 for three with 30 balls left.
1:31 pm: Virat Kohli brings out the sweep shot and played it fine enough to collect his first boundary of the innings.
1:29 pm: India 106/3 after 13 overs. Kohli - 6, Shreyas Iyer - 3.
1:28 pm: Virat Kohli plays a majestic cover drive to pick up two runs as New Zealand look to dry out boundaries.
1:27 pm: 100 up for India in the 13th over as the visitors look to post a big total.
1:26 pm: India 99/3 after 12 overs.
1:25 pm: Shreyas Iyer takes a quick single to get his innings going in Hamilton.
1:24 pm: Shreyas Iyer comes in at crease after Shivam Dubey departs.
1:23 pm: Virat Kohli gets off the mark with a single down the long-on
1:22 pm: Two wickets in an over for Hamish Bennett as Shivam Dube was looking to clear the fence on the off side but manage to find Ish Sodhi in the deep. India are 96 for three.
1:21 pm: Virat Kohli is the new man in.
1:20 pm: Hamish Bennett bowls a knuckle delivery and Rohit Sharma mistimes one as Tim Southee completes a simple catch at long-on. Rohit departs for 65, India is 94 for 2.
1:16 pm: India 92/1 after 10 overs. Rohit Sharma - 64, Shivam Dubey - 0
1:15 pm: Scott Kuggeleijn gave away just three runs in his second over as India are 92 for one at the halfway stage.
1:13 pm: After a flying star, Virat Kohli has sent Shivam Dube at number three to get some quick runs.
1:12 pm: India 89/1 after nine overs.
1:11 pm: Colin de Grandhomme strikes in his first over of the series. KL Rahul was looking to find the gap on the off-side but could only manage to find the point fielder as he departs for 27. India are 89 for one after nine overs.
1:09 pm: Rohit Sharma flashed hard at that wide delivery from Colin de Grandhomme and fortunately for the opener the ball went into the gap and away for a boundary.
1:08 pm: Kiwis bring de Grandhomme into the attack for the ninth over, as the Blackcaps are searching for a wicket.
1:07 pm: India 82/0 after 8 overs.
1:05 pm: Indian openers with 10,000-plus international runs: Virender Sehwag, Sachin Tendulkar, Sunil Gavaskar, Rohit Sharma*
1:04 pm: Rohit Sharma has completed 10,000 runs as an opening batsman in international cricket.
Milestone Alert - Rohit Sharma now has 10K international runs as an opener

HITMAN on the go pic.twitter.com/cVUXdOeWut

— BCCI (@BCCI) January 29, 2020
1:03 pm: India 77/0 after seven overs. (Rohit Sharma - 52, KL Rahul - 25)
1:02 pm: Ish Sodhi bowled a full delivery and KL Rahul smashed it straight over his head for a boundary to complete the 7th over.
1:02 pm: Rohit Sharma finishes the over with a six straight down the ground to bring up his 20th T20I half-century.
1:00 pm: India 69/0 after the end of six overs.
12:59 pm: It is raining boundaries in Hamilton. Rohit Sharma has hit two sixes and two fours from four balls off Hamish Bennett.
12:58 pm: Short and wide from Bennet and Rohit Sharma cuts it over point for a four.
12:56 pm: Full from Bennett this time but Rohit Sharma gets under the delivery and slams it straight back past the bowler for another six. With that shot, India's score goes past 50.
12:55 pm: Length delivery from Hamish Bennett and Rohit Sharma pulled it away towards the square-leg fence for a huge maximum.
12:54 pm: India 42/0 after five overs. (Rohit Sharma 24, KL Rahul (W) 18)
12:53 pm: Mitchell Santner is greeted with a boundary through the off-side by Rohit Sharma as New Zealand's poor fielding continues in the series.
12:51 pm: Mitchel Santner brought into the attack for fifth over.
12:49 pm: India 34/0 after the end of fourth over.
12:47 pm: Scott Kuggeleijn had Rohit Sharma in trouble there with an extra bounce as he managed to find the edge of Rohit Sharma's bat but fortunately for the Indian opener the ball went into the gap and away for a boundary.
12:46 pm: Scott Kuggeleijn replaces Hamish Bennett in the attack for fourth over.
12:44 pm: India 26/0 after three overs.
12:42 pm: Short ball from Tim Southee and KL Rahul gets under it to loft the ball over wicketkeeper's head for a boundary
12:40 pm: Hamish Bennett missed his length in his first over as he bowled too short and the Indian openers collected 13 runs. India are 17 for no loss after the first two overs.
12:38 pm: Too much width provided from Hamish Bennett and KL Rahul takes full advantage of it as he got under the delivery and lofts it behind square to pick up the first six of the match.
12:36 pm: Short and wide from Hamish Bennett and KL Rahul guides it through the third-man region to get off the mark.
12:34 pm: India 4/0 after first over.
12:32 pm: Rohit Sharma gets off the mark with a square drive through the off-side field to get his innings going with a four.
12:30 pm: Rohit Sharma and KL Rahul make their way to the middle, Tim Southee to start the proceedings with the ball for New Zealand. While Rahul had scored fifties in both the previous matches, Rohit failed to impress.
12:18 pm: Kiwi skipper Kane Williamson said: "Hopefully, we will get something from the new surface. Need to follow our plans, we are playing a strong side, a new ground, a new surface, do the job with the ball."
12:13 pm: Speaking at the toss, India skipper Virat Kohli said: "I reckon (we would have bowled). Looks like a nice track, it's pretty hard, nice grass cover, the weather might have a say in the second innings, but toss isn't in our control. Just put a clinical performance, carry forward the momentum and grab the chances that come."
12:08 pm: 3rd T20I. New Zealand XI: M Guptill, C Munro, K Williamson, C de Grandhomme, R Taylor, T Seifert, M Santner, T Southee, S Kuggeleijn, I Sodhi, H Bennett
12:05 pm: 3rd T20I. India XI: R Sharma, KL Rahul, V Kohli, S Iyer, S Dube, M Pandey, R Jadeja, S Thakur, Y Chahal, M Shami, J Bumrah
12:00 pm: New Zealand captain Kane Williamson won the toss and elected to bowl first at Seddon Park in Hamilton. Team India has to score around 200 to give a tough competition to the Blackcaps.
11:50 am: Team India's new training drill ahead of the third T20I.
What's with #TeamIndia's new training drill? #NZvIND pic.twitter.com/HXuGXQjg4O

— BCCI (@BCCI) January 28, 2020
11:45 am: Snapshots from Team India's training session ahead of the 3rd T20I against New Zealand.
Snapshots from #TeamIndia's training session ahead of the 3rd T20I against New Zealand.#NZvIND pic.twitter.com/KHKvrjt2H3

— BCCI (@BCCI) January 28, 2020
11:40 am: We don't want the weather to play spoilsport in such a crucial match and the good news is that while there's the prediction for rain today in Hamilton, skies are expected to clear up in the evening at the time of the match.
11:35 am: If India manages to win the Hamilton T20I, it will be their first-ever series win over the Kiwis. And at this rate, it looks like they will achieve the feat in this match itself.
11:30 am: The Kiwis have been thoroughly outclassed at home in the first two T20Is and the pressure will be on them to deliver the goods.
India: Virat Kohli (capt), Rohit Sharma, KL Rahul (wk), Manish Pandey, Rishabh Pant, Sanju Samson, Shreyas Iyer, Shivam Dube, Ravindra Jadeja, Kuldeep Yadav, Yuzvendra Chahal, Mohammed Shami, Jasprit Bumrah, Shardul Thakur, Navdeep Saini, Washington Sundar.
New Zealand: Kane Williamson (capt), Martin Guptill, Ross Taylor, Scott Kuggeleijn, Colin Munro, Colin de Grandhomme, Tom Bruce, Daryl Mitchell, Mitchell Santner, Tim Seifert (wk), Hamish Bennett, Ish Sodhi, Tim Southee, Blair Tickner.
Posted By: Talib Khan