By JE Sports Desk
Fri, 20 Jan 2023 08:10 PM IST
Minute Read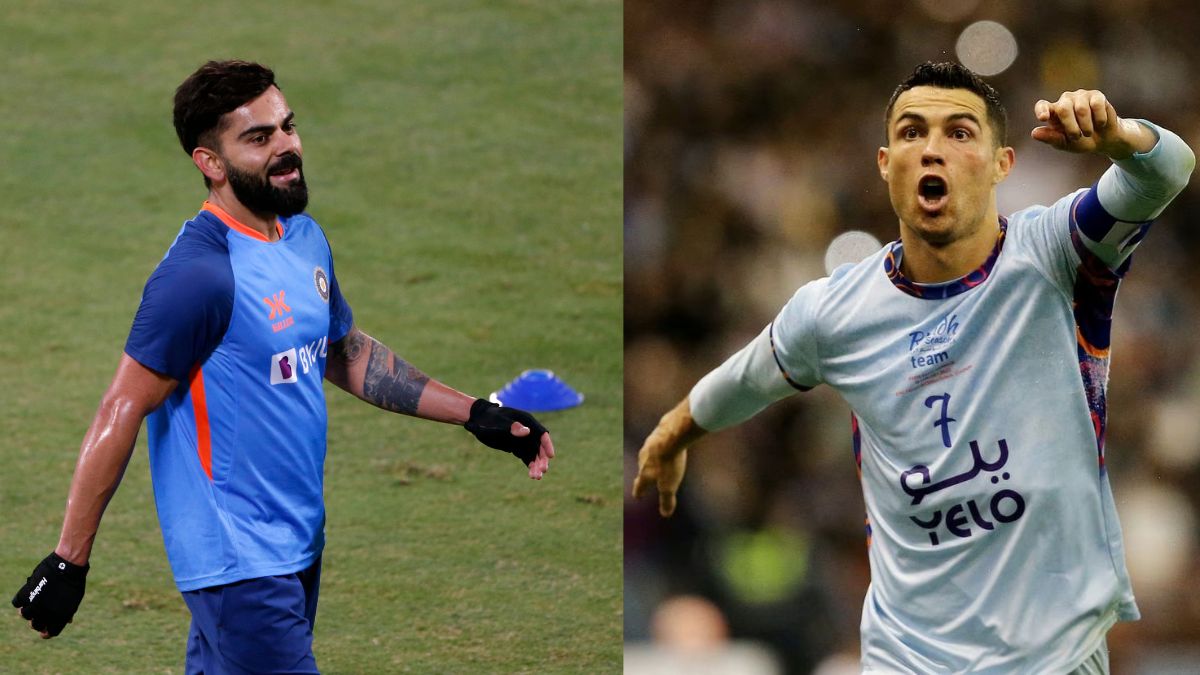 India star batter Virat Kohli heaped praises for his favourite football icon Cristiano Ronaldo who made his debut for Al-Nassr in the friendly match between Paris Saint Germain and Riyadh XI on Thursday. Kohli slammed Ronaldo's critics in the Instagram story he shared and said the legendary striker is 'still doing it at the highest level at 38'.
In his opening match for Saudi club Al-Nassr, Ronaldo scored twice in the first half against the trio of Lionel Messi, Kylian Mbappe and Neymar at King Fahd International Stadium in Riyadh as PSG won the match 5-4.
"Still doing it at the highest level at 38. The football experts sitting and criticising him every week for attention and to be in the news are conveniently quiet now that no he's put in this kind of performance against one of the top clubs in the world. And he was apparently finished," Kohli wrote on his Instagram story on Friday.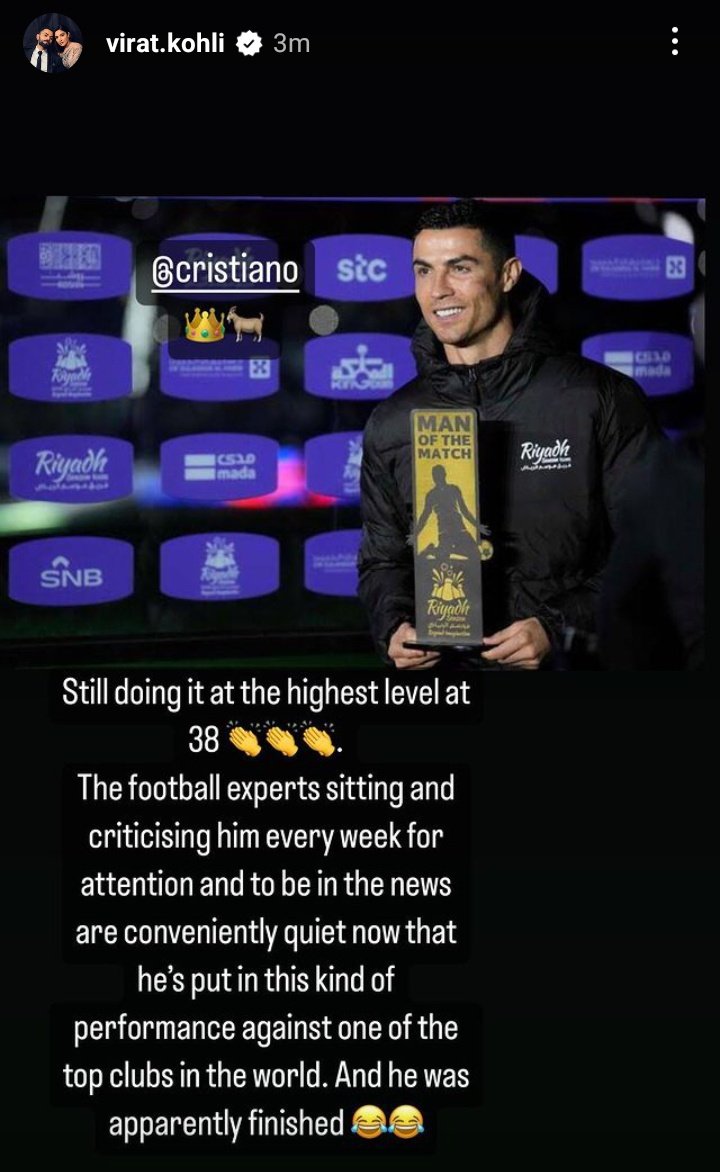 While the match may not have much significance for the teams involved, soccer fans around the world got plenty of bang for their buck as a story that has dominated the sport for over a decade appeared to come to an end in a memorable goalfest.
While Messi has been playing for the Parisians since the 2021-22 season, Ronaldo recently completed a move to Al Nassr following the mutual termination of his Manchester United contract.
Thursday's game was the first match-up between the two football titans since 2020 and the 37th time in their careers. It could be the last time that they meet on the pitch.
It was only fitting that Messi and Ronaldo were the first to score, with the Argentine legend doing so just three minutes in. However, Ronaldo fought back and scored on a penalty kick in the 34th minute.
PSG's Juan Bernat received a red card in the 39th minute before Marquinhos gave them the lead again (44'). Ronaldo managed his second goal (45'+6'), tying the match at halftime.
The back and forth continued in the second half with Sergio Ramos giving PSG a short-lived 3-2 lead (53'). Jang Hyun-Soo levelled it at three all three minutes later.
French superstar Kylian Mbappe pushed PSG ahead - again - with a goal off a penalty kick at 60'. Shortly after, Ronaldo (61') and Messi (62') came off the field.
Hugo Ekitike extended PSG's lead, scoring in the 78th minute to make it 5-3. Al Nassr never gave up with Anderson Talisca giving his side a fourth goal late in the game (90'+4') but it wasn't enough.
Ronaldo and Messi now have each scored 23 goals when facing each other though Messi leads with 17 wins in the series to Ronaldo's 11.
(With Reuters and ANI inputs)