Australian cricketers were too scared to sledge Virat Kohli, 'sucked up' to Team India for IPL deals: Michael Clarke
Updated: Tue, 07 Apr 2020 02:28 PM IST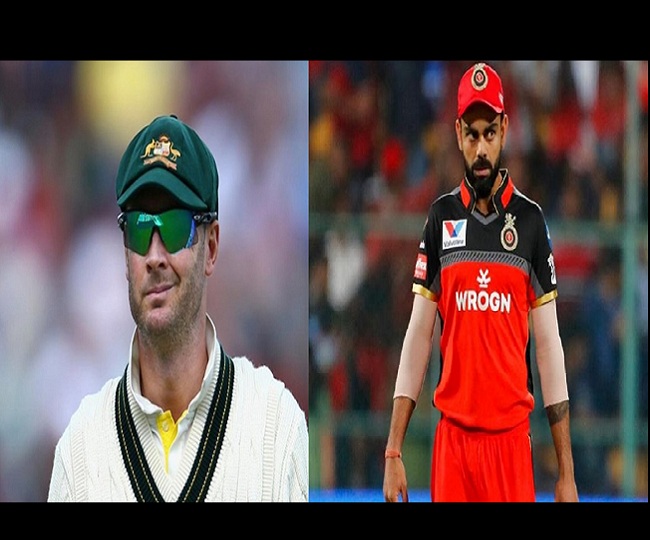 New Delhi | Jagran Sports Desk: Australian cricketers are known to be the best sledgers on-field. Be it Rahul Dravid or Sachin Tendulkar, many cool cricketers have lost their calm to Australian provocations during cricket matches.
However, according to a recent claim made by former Australian Test Captain Michael Clarke, the exceptional keenness of his fellow teammates on protecting their lucrative Cricket price tags for wildly popular Indian Premier League (IPL) led them to feel "scared" of sledging Indian captain Virat Kohli and other Indian cricketers during a particular period – and they felt compelled to "suck up" to their sledging tendencies.
"I feel that Australian cricket, and probably every other team over a little period, went the opposite and actually sucked up to India. They were too scared to sledge Kohli or the other Indian players because they had to play with them in April," Clarke said in an interview to Big Sports Breakfast.
"Everybody knows how powerful India is in regards to the financial part of the game, internationally or domestically with the IPL," Clarke added.
Started in 2008, the Indian Premier League is a professional Twenty20 cricket league in India contested during March or April and May of every year by mostly eight teams representing eight different cities in India.
India and Australia have witnessed multiple on-field sledging brawls in past – not to forget the infamous 'Monkey Gate' episode in 2008 in which Australian All-rounder Andrew Symonds alleged that Indian spinner Harbhajan Singh called him Monkey many times during a test match played between the two countries in Sydney. Harbhajan Singh was charged with a three-match ban by ICC for it.
Clarke said a number of Indian Cricket stars like Virat Kohli and Rohit Sharma were captains of their IPL franchises and therefore part of the bidding process.
"The players were like: "I'm not going to sledge Kohli, I want him to pick me for Bangalore so I can make my $1 million US for my six weeks".
The fiery on-field chemistry between India and Australia has led the Cricket giants to engage in verbal brawls multiple times – from Michael Slater's verbal rant against Sachin Tendulkar and Rahul Dravid in 2001's Border Gavaskar trophy, to David Warner's 'Speak English' jibe to Indian Opener Rohit Sharma in 2015 during the second ODI of the tri-series in January, 2015 – the sledgehammering between Indian and Australian Cricketers and vice versa became the feature of the dual Cricket clashes over the period of time.
According to Clarke, this behaviour eroded the ruthless nature that had characterised Australian cricket teams for decades.
"I feel like that's where Australia went through that little phase where our cricket become a little bit softer or not as hard as we're accustomed to seeing," Clarke concludes.
Posted By: Talib Khan