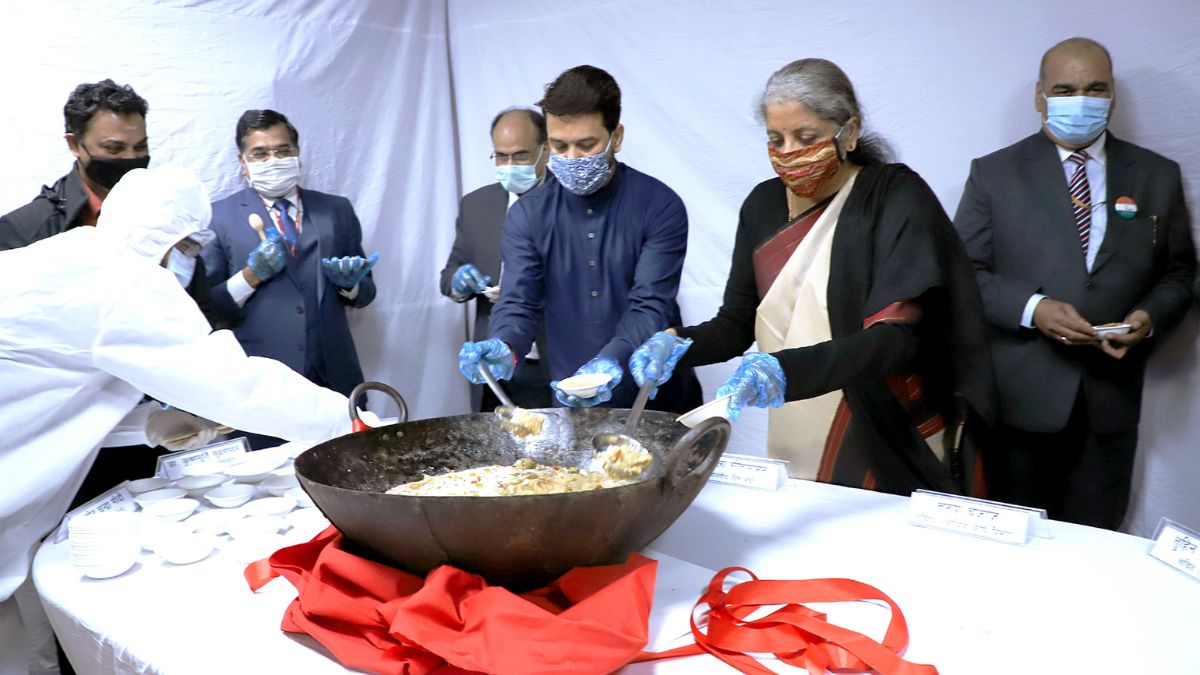 FINANCE Minister Nirmala Sitharaman will announce the Budget for the 2023-2024 financial year on February 1 on the second day of the upcoming Budget Session of the Parliament. Ahead of the Budget presentation, the customary 'Halwa ceremony' is all set to be held tomorrow (January 26). The Halwa ceremony is held every year before the "lock-in" process of officials begins.
Traditionally, officials involved in the preparation of the budget were isolated in the North Block before the budget documents went for printing. However, for the last two years, the Finance Minister has been presenting the budget in a 'paperless' format.
Also Watch:
The Halwa ceremony marks the final stage of printing the Union Budget. The Finance Minister initiates the ceremony by whisking the Halwa into the wok. The Minister then serves the sweet dish to officials at the Finance Ministry's headquarters in New Delhi.
Last year the ceremony could not be held owing to fears arising from the outbreak of the Omicron variant of the Covid-19 virus. In its place, sweets were distributed among the core members of the team that prepared the budget.
"To mark the final stage of the Union Budget making process, sweets were provided to the core staff due to undergo lock-in at their workplaces, instead of a customary Halwa ceremony every year in view of the prevailing pandemic situation and the need to observe health safety protocols," the Ministry had said then.
All you need to know about the Halwa ceremony
Although it is unknown when the tradition first started, it has been held every year (except 2022) for several decades to appreciate the efforts, of every staff of the Finance Ministry, in the making of the annual budget. The Halwa is prepared in a big vessel for every staff involved in the preparation of the budget.
Following the Halwa ceremony, core members of the team that prepares the budget are moved to a basement in the North Block, where they remain until the Finance Minister announces the budget in the Parliament. The rationale for this "locking-in" of officials is that it prevents any leaks of information ahead of schedule.
The annual budget document used to be printed in the Rashtrapati Bhavan initially and later the printing operations were shifted to the North Block before printing was completely shunned in 2021.