Market Highlights | Sensex crashes over 900 points, Nifty ends 373 points lower
Union Budget 2020: Sensex and Nifty traded on a negative zone on Saturday as FM unveiled budget for FY 2020-21.
Updated: Sat, 01 Feb 2020 03:46 PM IST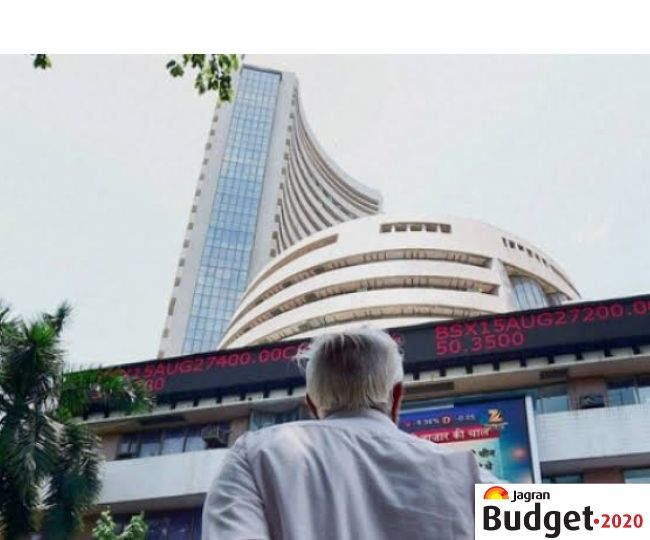 New Delhi | Jagran Business Desk: The benchmark Sensex and Nifty opened on a negative note on Saturday as investors turned cautious ahead of the release of the Union Budget 2020 to be presented by Finance Minister Nirmala Sitharaman later in the day. The BSE Sensex slipped 279 points at 40,444 while Nifty fell 81 points at 11,880 in the opening session.
In the late afternoon session the benchmark Sensex turned flat and then choppy as FM Sitharaman presented the Union Budget 2020-21.
Earlier today, the markets had opened on a positive note amid optimism over the government fulling expectations in several sectors like auto, infrastructure, tax, healthcare, among others in the upcoming budget.
On Friday, the Sensex had settled 190.33 points, or 0.47 per cent, lower at 40,723.49, after the Economic Survey suggested relaxing fiscal deficit target to boost growth from a decade low.
Here are the Highlights:
3:40 pm: Sensex closes 987 points below at 39,735; Nifty ends 373 points lower at 11,661.
3:21 pm: BSE Sensex nosedives over 1000 Points to gives up 40,000 Level in late afternoon trade today, tracking a massive selloff in capital goods and financial stocks after FM's budget speech
2:52 pm: Life insurance cos plunge on fear those forgoing exemptions to move to lower tax regime may not buy insurance
2:32 pm: The Sensex fell 456 points to 40,267 and the Nifty was down 150 points at 11,812.
2:22 pm: FMCG stocks trade higher after Finance Minister announce big income tax relief for the individual tax payer.
2:16 pm: I didn't see any strategic idea that would help our youth get jobs: Rahul gandhi.
2 pm: Nifty around 11,800, Sensex down 400 points post Budget speech
1:47 pm: Sensex extends losses to 725 points at 39,998 while Nifty slips 293 points at 11,742. Top losers in the Sensex pack includes L&T, Tata Steel, ONGC, PowerGrid, IndusInd Bank and SBI.
1:35 pm: Sensex plunges nearly 600 points, Nifty slips 259 points as FM sets fiscal deficit to 3.8 per cent
1:28 pm: Sensex extends losses to over 450 points. Scraps 454 points at 40,269.
1:21 pm: The BSE Sensex has slipped 398 points while Nifty has plunged 200 points.
1:11 pm: Sensex slips 219 points at 40,504; Nifty slips 146 points at 11,889 points.
1:00 pm: Nominal GDP growth for FY21 estimated at 10% : FM Nirmala Sitharaman
12:55 pm: For the next financial year, finance minister proposes fiscal deficit of 3.5 per cent.
12:45 pm: Markets in red; Budget proposes Rs 22k cr to power sector.
12:25 pm: Oil and Natural Gas Corporation Ltd (ONGC) stocks down by over 7 percent.
12:15 pm| To provide Rs 25,600 crore for women-specific programs in FY21: FM Nirmala Sitharaman
12 pm: In the Nifty pack, GAIL gains 2.37 per cent while Hindustan Univeler surges 1.77 per cent. Tata Motos and Tata Steel slip 1.81 and 1.66 per cent.
11:45 am: The share markets turned flat and were trading in a choppy manner. Sensex was up 9 points at 11,971 and the NSE Nifty 50 index was 32 points at 40,755.
11:35 am: Sensex, Nifty flat; auto index leads stock market rally
11:25 am: Gold is up by 0.04 percent, while silver is down by 0.33%
11:20 am: Sensex runs flat. Nifty reclaims 12,000-mark
11:10 am: This Union Budget will boost income and enhance purchasing power of every Individual, says financial minister in her budget speech.
11 am: Shares of Maruti Suzuki climbed 1.84 per cent to Rs 7,038.50 on BSE after the company reported a 1.6 per cent year-on-year rise in sales at Rs 1.54 lakh in January.
10:57 am: BSE Sensex rose over 139 points to 40,854 and the Nifty 50 index climbed 39 points to 11,996 ahead of presentation. Hindustan Unilever gains 3 per cent, Coal India slips 1.9 per cent.
10:53 am: Shares of Indian Railway Catering and Tourism Corporation (IRCTC) surged for seventh day in a row ahead of Union Budget 2020. It gained 108 points (8.93 per cent) ahead of Budget. Other railways stocks too gain.
10:41 am: Sensex rallies 92 points after felling over 250 points in the opening session.
10:30 am: Tech Mahindra share price declined over 3 percent in early trade after the company reported weak set of numbers for the quarter-ending December 2019.
10:18 am: The S&P Sensex extend gains at 40,796; Nifty trades flat at 11,980
10:08 am: Sensex gains 44 points at 40,767; Nifty sheds 65 points at 11,970.
9:44 am: Sensex flat at 40,723 while Nifty continues its downward trend, slipping 69 points at 11,966.
9:25 am: Sensex plunges 279.01 pts to 40,444.48 ahead of Union Budget; Nifty drops 81.45 pts to 11,880.65 as investors remain cautious over Budget 2020.
9:19 am: Sensex slips 177 points below at 40,545; Nifty plunges 120 points below at 11,915.
9:10 am: For complete coverage of Union Budget 2020 click here.
9:04 am: Sensex gains over 30 points at 40,753 in opening session.
8:48 am: Over the past few quarters, gross domestic product (GDP) growth has slowed to a 26-quarter low of 4.5 per cent in quarter ending September 2019. Today's Budget will play a crucial role in bringing back India's economy back on track.
8:35 am: Government is expected to increase spending on infrastructure, offer tax incentives.
8:25 am: In the ongoing week, the domestic equities have crashed 889.70 and 226.15 points respectively amid coronavirus outbreak.
8:10 am: On the eve of Budget Day, the benchmark Sensex slumped 190.33 points at 41,154.49 while Nifty slipped below 12,000 level at 11,962.10 for the second consecutive day.
8:00 am: This is the second time under the Modi government that markets will open a Saturday for trading Session. The markets had last remained opened on Saturday on February 28, 2015 when then Finance Minister Arun Jaitley had presented the budget.
Posted By: James Kuanal