Reliance Forever Plan: This is how you can get free HD 4K TV with set-top box with 100mbps Internet speed
Updated: Mon, 12 Aug 2019 01:05 PM IST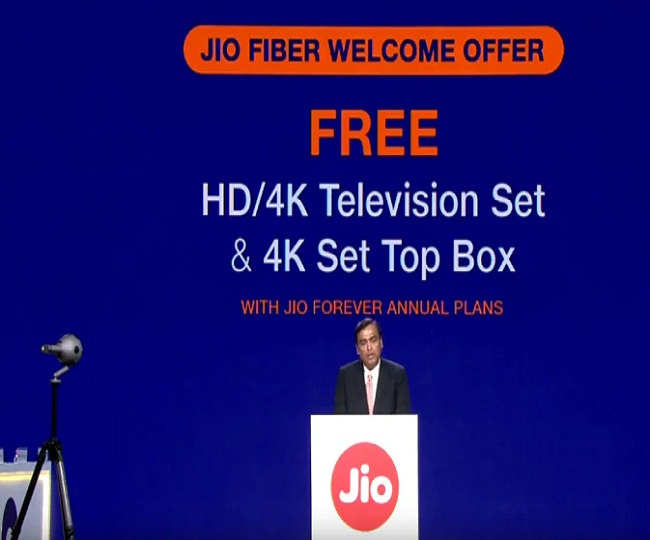 Mumbai | Jagran Business Desk: While the much-awaited Jio GigaFiber broadband service launch date is announced, what may attract more customers to opt for the service is free TV with Jio Fiber connection.
The customers who opt for Jio GigaFiber's Jio Forever Plan will get 4k television and set-top box free along with annual internet plan, as part of the welcome offer, Reliance Chairman Mukesh Ambani said.
This announcement was made by Reliance Chairman Mukesh Ambani at the company's Annual General Meeting (AGM) where he revealed details of the Jio Fiber launch.
While the detailed plans for Jio GigaFiber will be announced on September 5, which is when the commercial rollout begins for customers, the base plan for Jio GigaFiber services has been set at Rs 700 per month. Pricing for the annual plans will also be announced the same day.
The free TVs will be for users who opt for long-term Jio GigaFiber plan, known as "Jio Fiber Welcome plan".
It is not known if the TVs will entirely be free or if there will be a security deposit before customers get it.
Jio Fiber's most basic plans will start at 100 Mbps and go upto 1 Gbps. Voice calls from home will be absolutely free for ever for Jio Fiber subscribers.
"We are pricing our plans at less than one-tenth of global rates. JioFiber will be priced between Rs 700 to Rs 10,000 a month to provide for all budgets. Customers will have to pay either for voice or data. I am pleased to announce that voice calls will be free for home broadband subscribers," said Mukesh Ambani.
"Premium JioFiber customers will be able to watch movies in their living rooms, on the same day of their release. We call this Jio First Day First Show. We plan to launch this service in middle of 2020," he added.
Elaborating on the Jio Forever Plan, Mukesh Ambani said, "Jio Fiber Welcome Offer - Jio Fiber customers opting for annual plan - Jio Forever plan - to get a full HD television or a Home PC and a 4K SET-TOP-BOX absolutely free."
Reliance Jio first officially announced its Jio GigaFiber Fibre-to-the-Home (FTTH) broadband Internet and smart home solutions service at last year's AGM - though, it has been in testing since at least 2016.
At last year's AGM, the company said it would roll out the GigaFiber service to 1,100 cities across the country, with homes, merchants, SMEs, and large enterprises all targeted.
In recent testing, GigaFiber users aren't being charged for consumption, though a refundable security deposit is being charged - varying from Rs 4,500 to Rs 2,500 based on the network terminal offered alongside.
Posted By: Abhinav Gupta