Reliance AGM 2019 Highlights: 'Will soon make many announcements in Jammu, Kashmir and Ladakh'
Updated: Mon, 12 Aug 2019 12:45 PM IST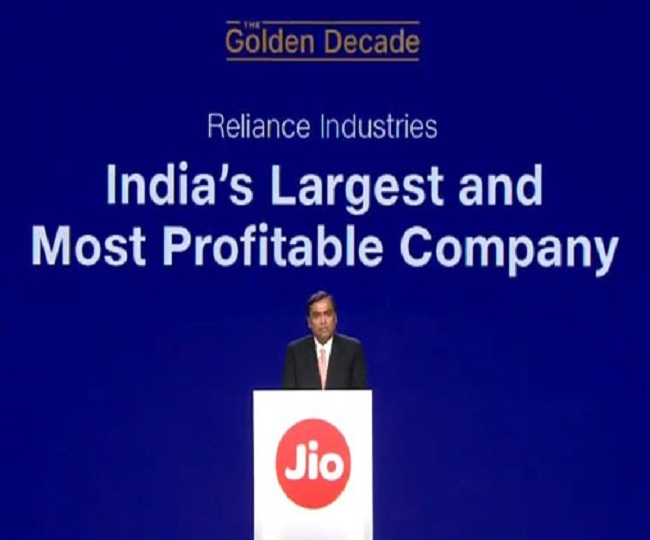 New Delhi | Jagran Business Desk: Reliance Industries Ltd (RIL) is holding its 42nd annual general meeting (AGM), where it is expected to announce the launch date and pricing plans of Jio GigaFiber broadband service.
RIL chairman and managing director Mukesh Ambani is also expected to spell out details of his plans related to Reliance Jio and Reliance Retail's e-commerce venture.
Here are the LIVE updates:
12:36 pm: Responding to Prime Minister Narendra Modi's appeal to entrepreneurs regarding investment in the Union Territoy of Jammu and Kashmir, Mukesh Ambani says, "We stand committed with people of Jammu, Kashmir and Ladakh. We'll create a special task force and you will soon see many announcements in the Valley."
12:18 pm: Jio and Microsoft have entered into a long-term alliance to accelerate the digital transformation of India to launch new cloud data centers, ensuring more organisations can access the tools and platforms they need to build their own digital capability: Mukesh Ambani.
12:01 pm: Reliance Jio Infocomm announces the launch of Jio Fiber Services on a commercial basis on September 5, 2019 - the third anniversary of Reliance Jio's launch.
11:59 am: Jio Fiber's plans will be priced at ₹700- ₹10,000 per month. Voice calls from home will be absolutely free for ever.
11:58 am: Jio Fiber's most basic plans will start at 100 Mbps and go upto 1 Gbps. Reliance JioFiber broadband services are set to launch from September 5.
11:54 am: Jio set-top box supports gaming.
11:54 am: Amount of fibre laid by Jio can circle the Earth 11 times, says Akash Ambani
11:50 am: Jio broadband's speed starts 100 Mbps and goes upto 1 Gbps. Spending thousands for video conferencing is now history: Akash Ambani.
11:49 am: Reliance Jio Infocomm announces the launch of the country's first online multi-player network -- Jio set-top box.
11:42 am: "On September 5 this year, Jio turns three," the Reliance Industries chairman said. "Jio has made India a shining light."
11:41 am: With every JIOFIBER home all our LCO partners will continue to have a steady stream of revenue for their broadcast TV business: Mukesh Ambani
11:40 am: Over the past months we have upgraded our MSO's infrastructure to world-class standards. Now LCO partners can offer the largest bouquet of High-Definition channels to customers with better features, reliability and customer experience than even DTH: Mukesh Ambani
11:35 am: Investment cycle of Reliance Jio is complete; about Rs 3.5 cr invested in high-speed 4G network: Ambani.
11:33 am: Saudi Aramco to supply 500,000 barrels per day of crude oil to Reliance refineries after taking stake: Ambani.
11:25 am: Saudi Aramco to take 20 pc stake in Reliance's oil-to-chemical business for an enterprise value of USD 75 bn: Mukesh Ambani.
11:15 am: Reliance to get Rs 7,000 cr by selling 49 pc stake in its fuel retail business to BP: Mukesh Ambani.
11:05 am: Slowdown in some sectors of economy temporary; see India growing into a USD 10 trillion economy by 2030: Ambani.
11:00 am: Reliance will transform itself into a new Reliance, says Mukesh Ambani at company's 42nd AGM.
Posted By: Abhinav Gupta