Reliance 43rd AGM: 'Will work to promote Made-in-India, Made-for-India and Made-for-the-World products' | Highlights
Reliance 43rd AGM: This was the first time in the company's history that the AGM was conducted virtually due to the coronavirus pandemic.
Updated: Wed, 15 Jul 2020 03:43 PM IST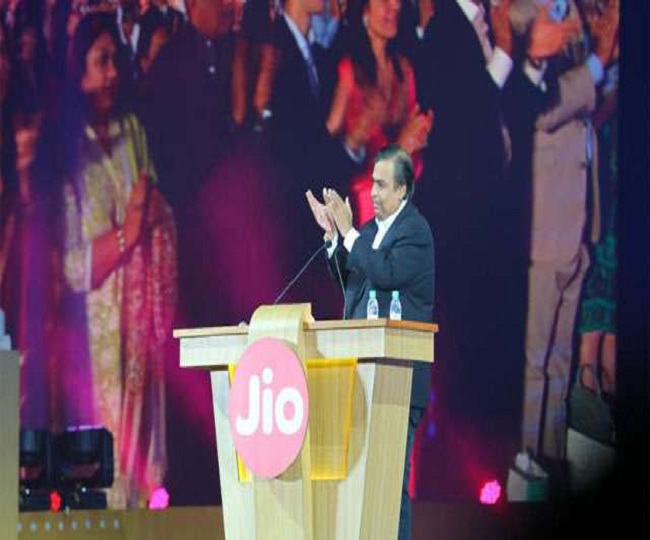 New Delhi | Jagran Business Desk: Billionaire Mukesh Ambani's Reliance Industries Limited (RIL) on Wednesday conducted its 43rd Annual General Meeting. This was the first time in the company's history that the AGM was conducted virtually due to the coronavirus pandemic.
Mukesh Ambani announced a slew of new plans of leveraging recent partnerships with global technology giants like Facebook as well as a vision to maximise oil to chemical conversion at his flagship Reliance Industries' annual shareholder meeting.
Here are the Highlights from Reliance 43rd virtual AGM:
3:45 pm: Reliance Industries' Chairman and Managing Director Mukesh Ambani conclude his AGM address.
3:40 pm: "Reliance is now ranked among the World's 60 largest companies by market capitalization. And when Reliance scales still higher summits of success, our employees and shareholders will surely reap its rewards," says Mukesh Ambani
3:35 pm: Reliance will work with other Indian companies, including start-ups, to vigorously promote "Made-in-India", "Made-for-India" and "Made-for-the-World" products," says RIL Chairman Mukesh Ambani.
3:27 pm: Through Mission Anna Seva, we have provided more than 5 crore meals to marginalised communities, daily-wage earners, and frontline workers across the country," says Nita Ambani at RIL AGM.
3:24 pm: "In record time, we produced 1 lakh PPEs and N95 masks every single day and that too at one-third the price of the imported ones," says Nita Ambani.
3:20 pm: BP has invested into our existing Fuel Retailing business under a new brand of Jio-bp. Jio-bp will provide new age mobility solutions to Indian consumers: Mukesh Amban
3:16 pm: We have commissioned India's first Butyl Rubber plant, which places us amongst the world's top ten producers of Butyl Rubber: Mukesh Ambani
3:13 pm: We have successfully piloted JioMart grocery model with kirana partners. The beta version of JioMart grocery platform is being piloted in 200 cities. Daily orders have crossed 2.5 lakh, and the number is growing each day: Mukesh Ambani
3:10 pm: Connecting farmers and delivering their fresh produce directly to homes is a key part of our grocery strategy. This will significantly improve farmer income and incentivise higher productivity: Mukesh Ambani
3:07 pm: More than two-thirds of Reliance Retails' nearly 12,000 stores are operated in Tier II, Tier III and Tier IV towns. Its sources over 80% of fruits and vegetable directly from farmers: Mukesh Ambani
3:04 pm: "Jio will integrate start-ups into Jio's roadmap and will help them reach their full potential. We are well-positioned to help Indian start-ups in a number of ways—whether it be technology development, product development, distribution market access and even scale-up capital," says RIL Chairman Mukesh Ambani.
3:00 pm: Everyone should have access to the internet. Proud to partner with Reliance Jio to increase access for the hundreds of millions in India who don't own a smartphone with our 1st investment of $4.5B from the Google For India Digitization Fund: Sundar Pichai, Google CEO
2:56 pm: Google and Jio are partnering to build an Operating System that could power a value-engineered, entry-level 4G/5G smartphone. The Jio-Google partnership is determined to make India 2G-mukt: Mukesh Ambani at
2:54 pm: As India is standing at the doorsteps of the 5G era, we should accelerate the migration of 350 million Indians, who currently use a 2G feature phone, to an affordable smart phone: Mukesh Ambani
2:52 pm: "JioMart is built upon two fundamental pillars -- 1. A powerful omnichannel tech-platform to unite customers, kiranas and producers. 2. A widespread physical network of Reliance Retail that takes benefits of new commerce to every corner" says, Isha Ambani.
2:48 pm: "I am proud to share that the entire 5G stack has been made by Jio employees. It is ready for deployment once the spectrum is allocated," says Akash Ambani at 43rd annual general meeting of Reliance Industries Limited.
2:42 pm: Jio unveils JioGlass – weighs only 75g, offers best in class, immersive mixed reality services. Remains connected by a single cable and already has 25 apps that allow augmented reality video meetings and more.
2:38 pm: Isha Ambania and Akash Ambani conduct virtual demonstrations of the new Jio TV+. Jio TV+ will curate OTT platforms such as Netflix, Amazon Prime Video, Hotstar and others, into one app. Besides this, it is also equipped with voice-search
2:35 pm: "Using these technologies, we (Jio) can create compelling solutions that span multiple industry verticals and ecosystems like media, financial services, new commerce, education, healthcare, agriculture, smart cities, smart manufacturing and smart mobility," says RIL Chairman Mukesh Ambani.
2:31 pm: Jio is ready with a world-class 5G solution. Field deployment can happen next year. This 5G product will be available for trials as soon as the spectrum is available. Jio Platforms will be positioned for 5G solution to other telecom operators," says Mukesh Ambani.
2:28 pm: Jio has developed complete 5G solution from scratch that will enable us to launch a world-class 5g service in India," announces RIL Chairman Mukesh Ambani.
2:24 pm: Despite huge surge in data traffic (in recent months due to the COVID-19 pandemic's impact), Jio's network has held firm," says RIL Chairman Mukesh Ambani.
2:18 pm: Google will invest 33,737 crores for 7.7 per cent stake in Jio Platforms, says RIL Chairman Mukesh Ambani.
2:15 pm: We have investments from most admired tech and financial investors - Silver Lake, Vista Equity Partners, General Atlantic, KKR, and TPG. They have a long history of successfully investing in the best tech and growth enterprises: Mukesh Ambani
2:10 pm: Reliance became the first Indian company to exceed market capitalisation of $150 billion. It is also the first Indian company to cross Rs1,00,000 crore in consolidated EBITDA: Mukesh Ambani
2:05 pm: Just five years ago, nearly all of our EBITDA was from our energy and materials business. Since then, our consumer and technology businesses have rapidly achieved scale by their exponential growth: Mukesh Ambani
2:00 pm: Mukesh Ambani's begins address of 43rd annual general meeting of Reliance Industries Limited, India's largest conglomerate.
1:50 pm: Watch Livestream of Reliance AGM here:
1:40 pm: Last year, RIL announced plans to reach 20 million homes and 15 million businesses for its Jio?ber product (timeline were unspecified). As per TRAI data, Jio had less than a million subscribers for this product as of February 2020.
1:30 pm: BofA Securities said of the five key initiatives announced in last AGM, RIL completed the strategic stake sale of Jio, petro-retail, and moved to zero net debt. "We might get an update on the remaining two - stake sale to Aramco and of Reliance Retail."
1:20 pm: Goldman Sachs said it expects management to provide greater insights into the strategic partnership with Saudi Aramco and how that could ?t into their ambition of an industry-leading oil to the chemical platform with over 70 per cent conversion of oil into petrochemicals.
1:10 pm: Goldman Sachs said the focus of the AGM is expected to be largely on product launches around RIL's partnership with Facebook potentially ranging from integration of JioMart with WhatsApp, additional colour on payments business and launch of a large product ecosystem (Super App) where Jio could integrate its services with WhatsApp.
1:00 pm: The AGM is "expected to report on progress on asset monetisation (INViTs and stake sale in O2C business), more details on strategic partnerships in digital business, growth plans on financial vertical, oil to chemical integration progress and new technologies," Morgan Stanley said.
Posted By: Talib Khan