'Rs 45,000 crore liquidity to be infused in NBFCs ': Key highlights from Nirmala Sitharaman's speech
Updated: Wed, 13 May 2020 05:32 PM IST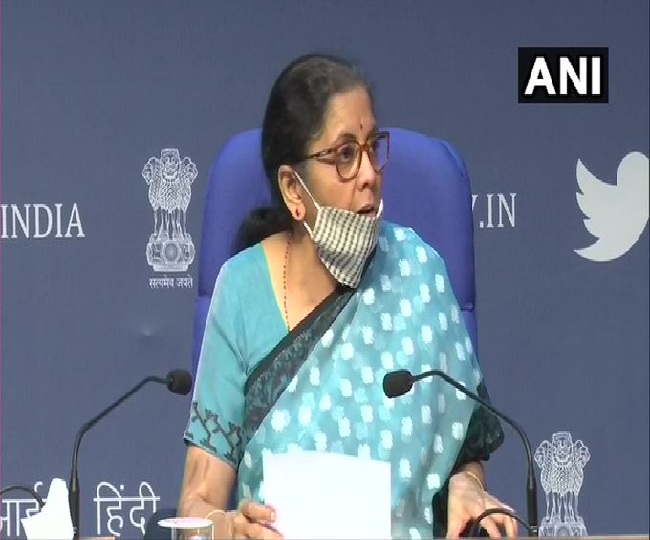 New Delhi | Jagran News Desk: Union Finance Minister Nirmala Sitharaman is addressing a press conference in New Delhi. The press conference comes a day after Prime Minister Narendra Modi announced Rs 20 lakh crore fiscal stimulus-- 10 per cent of India's GDP-- to deal with COVID-19 situation in the country. He had said that details will be unveiled by Finance Minister in next few days. The economic package is aimed at poor, farmers and taxpayers of the country. The package is second largest in Asia after Japan.
"I announce a special economic package today. This will play an important role in the 'Atmanirbhar Bharat Abhiyan.' The announcements made by the government over COVID, decisions of RBI and today's package totals to Rs 20 lakh crore," PM Modi had said on Tuesday.
Here are the highlights of Nirmala Sitharaman's speech:
Package is to spurt growth and to build a very self-reliant India.
Economic package to spur growth, build a self-reliant India.
Self-reliant India does not mean cutting off from rest of the world.
PM laid out a comprehensive vision, and that vision was laid out after wide consultations with several sections of the society.
Five pillars of 'Atmanirbhar Bharat- economy, infrastructure, system, demography and demand: Finance Minister Nirmala Sitharaman.
We shall not forget that we do have a responsibility towards the poor, needy, the migrants workers, divyang, and the aged of the country.
Rs 18,000 cr refunds given to taxpayers; 14 lakh taxpayers benefitted from clearing of refund dues.
Collateral free loan to be provided to SMEs with 12-month moratorium; 45 lakh units to benefit.
Rs 20,000 cr subordinate debt for stressed MSMEs to be provided.
Rs 50,000 cr equity infusion through MSME Fund of Funds; to provide support to growth potential MSMEs
MSME definition to be changed; investment limit defining MSME revised upward; turnover based criteria being introduced
Rs 20,000 cr subordinate debt for stressed MSMEs to be provided; 2 lakh MSMEs to benefit
Govt to pay Rs 2,500 crore as employee, employer contribution to EPF
Statutory PF contribution by employer reduced to 10 pc from 12 pc earlier; to provide Rs 6,750 cr liquidity relief.
FM Sitharaman announces Rs 30,000 cr liquidity facility for NBFCs, housing finance companies and MFIs.
Rs 45,000 crore liquidity to be infused in NBFCs through partial credit guarantee scheme.
Electricity distribution companies facing serious crisis; emergency liquidity infusion of Rs 90,000 cr in discoms.
TDS, TCS rate for non-salaried payments for period up to March 31, 2021 cut by 25 pc; move will release Rs 50,000 cr.
Due date for all income tax returns extended to November 30.
Posted By: James Kuanal