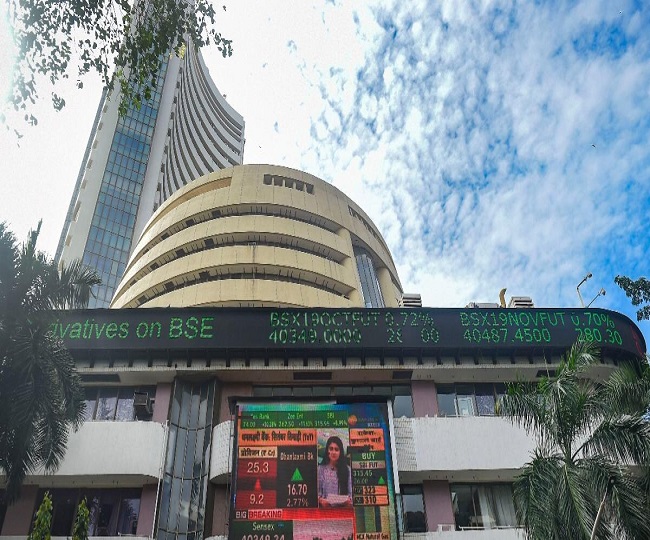 New Delhi | Jagran Business Desk: Continuing with the gains achieved on December 2, the Indian stock market on Friday once again opened in green as investors were buoyed by the gross domestic data (GDP) presented by the government. The BSE Sensex, in the morning session, was up by 262.86 points and was trading at 58,724.15 while the Nifty jumped by 68.45 points to open at 17,470.10.
Larsen & Toubro was up by 2 per cent, becoming the top gainer in the early trade. Besides, Axis Bank and Infosys were also trading in green. On the other hand, NTPC, Dr Reddy's Laboratories, Bharti Airtel and Sun Pharma were trading in red.
Market Thursday, Dec 2 Highlights:
Despite global cues, the Indian market closed in green. While the BSE Sensex surged 776.50 points or 1.35 per cent to close at 58,461.29, the Nifty was up by 234.75 or 1.37 per cent to close at 17,401.65.
HDFC, Infosys, HDFC Bank, Tata Consultancy Services, Reliance Industries and Hindustan Unilever closed in green in the Sensex pack. On the other hand, Cipla Ltd was the biggest loser, along with ICICI Bank and Axis Bank.
Earlier in the day, the Sensex had jumped by 214.43 points or 0.37 per cent to open at 57,899.22. Similarly, the Nifty rose 53.95 points or 0.31 per cent to 17,220.85.
Market Wednesday, Dec 1 Highlights:
The Sensex rallied 620 points while the Nifty reclaimed the 17,100-level on Wednesday as investors piled into recently-battered banking, finance and energy counters amid a recovery in global equities despite lingering concerns over the Omicron coronavirus variant.
IndusInd Bank was the top gainer in the Sensex pack, spurting 5.73 per cent, followed by Axis Bank, SBI, Tech Mahindra, Maruti and Reliance Industries. On the other hand, Dr Reddy's, UltraTech Cement, Sun Pharma, Bharti Airtel, Titan and Kotak Bank were among the laggards, shedding up to 1.58 per cent.
Market Tuesday, Nov 30 Highlights:
Indian shares rose marginally on Tuesday ahead of growth data that is expected to show the country's economic recovery strengthened in the second quarter, buoyed by a pick-up in consumer spending. The blue-chip NSE Nifty 50 index was up 0.75 per cent at 17,180.70, while the benchmark S&P BSE Sensex rose 0.8 per cent to 57,715.49.
India's statistics ministry will announce gross domestic product (GDP) data at 5:30 pm IST. The spread of the new Omicron coronavirus variant, however, continues to weigh on the markets as health authorities tighten testing at airports and review plans to ease travel curbs.
Market Monday, Nov 29 Highlights:
After a tough day, the BSE Sensex on Monday bounced back and jumped by 153.43 points of 0.27 per cent to close at 57,260.58. The Nifty was also up by 27.50 or 0.16 per cent to close at 17,053.95 as stock market recovered from the effects of the Omicron variant of COVID-19 that has forced countries to reimpose travel restrictions.
Reliance Industries was the top gainer in the Sensex pack, followed by Bharti Airtel, Tata Steel, IndusInd Bank, HCL Technologies and Dr Reddy's. On the other hand, Asian Paints, Bajaj Auto, HDFC, ICICI Bank, Infosys, UltraTech Cement and Nestle India were among the laggards.
Earlier in the day, Sensex dropped by 585 points or 1.02 per cent to open at 56,521.93. Similarly, the Nifty was down by 191 points or 1.12 per cent to open at 16,835.05.
Experts blamed the emergence of the Omicron variant which has forced several countries, mostly in Europe to reimpose travel restrictions, behind the recent downfall of the stock market. However, they suggest that investors should not panic amid hopes that the situation might improve soon.