Govt bans stock holding, exports of onions to control price surge | Key Points
Publish Date: Fri, 29 Nov 2019 09:01 AM IST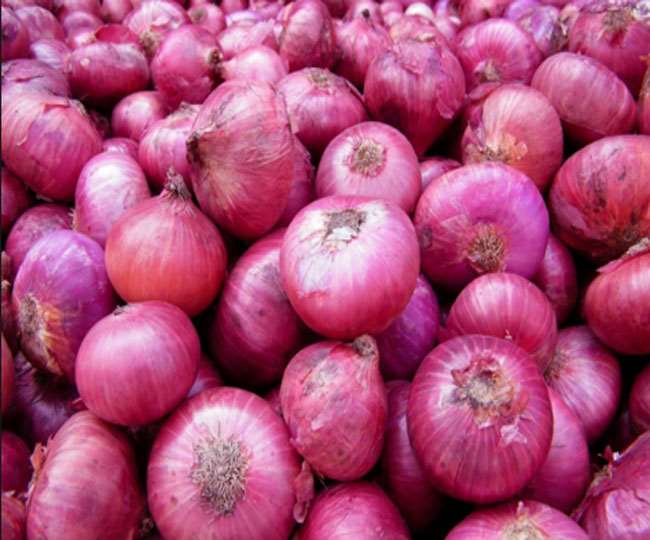 New Delhi | Jagran Business Desk: Amid the rising price of onions, the government has banned the exports and stock holding of onions to control the price surge. Food and Consumer Affairs Minister Ram Vilas Paswan has said that the government is trying its best to control the price of the onions.
He said that the government imposed a limit at stock holding and the retailers can stock onion only up to 100 quintals and wholesale traders are allowed to keep up to 500 quintals.
The government has also banned exports of onion and importing 1.2 lakh tonnes to control prices. "The buffer stock of 57,000 tonnes of onions has been liquidated and therefore the centre, therefore, decided to import," he said
Here are ten things you need to know about the rising price of onions:
* Onion price in the country has been surging and on Thursday, the average selling price ruled at Rs 70 per kg while the maximum rate of Rs 110 per kg was recorded in Panaji, according to an official data. The data showed that the lowest price of Rs 38 per kg of the bulb was reported in Madhya Pradesh's Gwalior.
* In the four metros, onion is being sold at Rs 76 per kg in Delhi, Rs 100 per kg in Kolkata, Rs 80 per kg in Chennai and Rs 92 per kg in Mumbai.
* A team of five union ministers chaired by Home Minister Amit Shah is also monitoring the situation. Finance minister, agriculture minister and road transport minister are also members of the group of ministers, said Paswan.
* The Union Minister on November 19 had said that the onion production in Kharif and late-Kharif seasons of 2019-20 is estimated to fall 26 per cent to 5.2 million tonnes due to a delayed monsoon and then excessive rains in key growing areas.
* Meanwhile, the Delhi government has requested the Centre to resume supplying onion and make it available to Delhi at Rs 15.60 per kg instead of Rs 60 as conveyed to the AAP dispensation.
* In a letter to the central government, the Delhi government said a government should not be seen as making profit motive over an essential commodity.
* The rising price of the onions was also raised at the Lok Sabha on Thursday with DMK MP Kanimozhi asking what the central government was doing to check the prices. Kanimozhi, who was speaking at the Zero Hour, said that onion prices have tripled and are being sold at Rs 100 per kg and as result the budget of the middle-class family is soaring.
* "Trade analysts suggest that the current hike in onion prices is attributed to illegal hoarding of onions, excess rain, and also because of the traditional methods used by the National Agricultural Cooperative Marketing Federation of India. And because of this, most of the onions which they have actually stored have decayed and got spoiled," she said.
(With PTI inputs)
Posted By: Aalok Sensharma