Google buys 7.7 per cent stake in Jio Platforms with Rs 33,737 crore investment
Google will invest Rs 33,737 crore accounting for 7.7 percent stake in Jio Platforms, announced RIL chairman Mukesh Ambani at 43rd Reliance AGM.
Publish Date: Wed, 15 Jul 2020 02:18 PM IST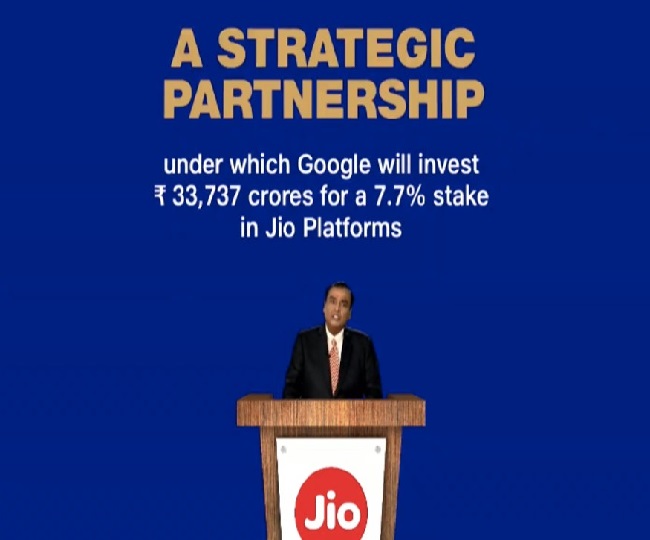 Internet giant Google will invest Rs 33,737 crore accounting for 7.7 percent stake in Jio Platforms, announced Reliance Industries Limited (RIL) chairman Mukesh Ambani at 43rd Reliance AGM on Wednesday. With this, Google has joined the marquee investors, including rival Facebook, Intel, Qualcomm as well as private equity firms General Atlantic and KKR, to back Mukesh Ambani-led RIL's digital arm Jio Platforms Limited in India.
"We are delighted to welcome Google as a strategic investor in Jio Platforms. We have signed a binding partnership and an investment agreement under which Google will invest INR 33,737 crores for a 7.7% stake in Jio Platforms," Ambani said during his keynote address at the first virtual AGM of RIL.
The India's richest man said Jio Platforms has recieved an investment of Rs 152,056 crore and the total money raised by the RIL through rights issue, Jio Platforms and BP stood at Rs 212,809 crore.
"Reliance is now truly a zero Net Debt company, well ahead of my goal of March 2021. It has an extremely strong Balance Sheet that will support growth plans for its three Hyper-Growth Engines — Jio, Retail and O2C," the RIL chairman said.
Since April 22 this year, Jio Platforms Limited has raised a record Rs 1.18 trillion investment (excluding Google) by selling stakes to a dozen of the world's biggest investors, including social media giant Facebook, which holds a 9.9 per cent equity stake in the telecom major.
Laying down his future plans for the Jio, Ambani said that Jio will connect half a billion mobile customers, a billion smart sensors and 50 million home and business establishments over the next three years. He also announced Jio's entry into the 5G network and said that field deployment of the technology may start as early as next year.
"Jio has designed and developed a complete 5G solution from scratch. It will be ready for trials as soon as 5G spectrum is available and can be ready for field deployment next year," he said.
Posted By: Shashikant Sharma