Gold and Petrol prices slashed for fourth consecutive day
Gold and Petrol prices dropped for the fourth consecutive day on October 14.
Publish Date: Sun, 13 Oct 2019 10:44 AM IST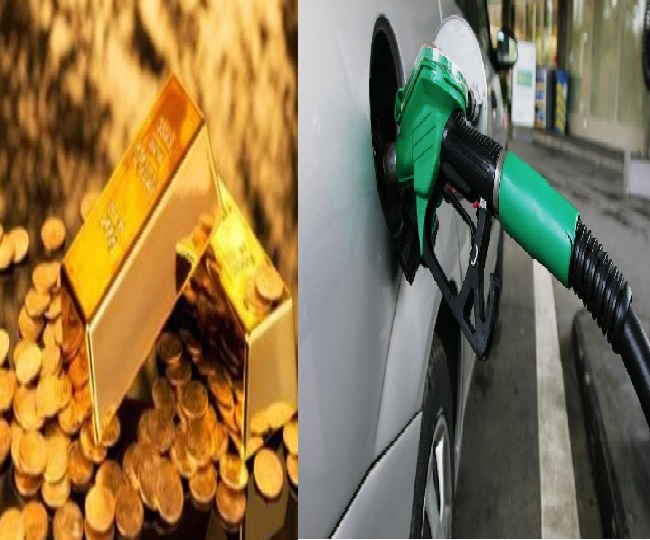 New Delhi | Jagran Biz Desk: The Gold and silver prices dropped by as much as Rs 157 in early trade from the previous close on Sunday. This is the fourth consecutive price drop in prices of gold. Earlier the prices had dipped on Friday and Saturday after Trump's remarks on Sino-US trade, uncertainty over Brexit and US-China trade talks.
Gold: Rs 38002 per 10 grams of pure gold on MCX.
Lower prices and discounts are expected to attract customers ahead of the 'Diwali' festival when buying gold is considered auspicious. Earlier, consumers were struggling to adapt to higher prices as sales dropped nearly 50 per cent as compared to last year during Dussehra, the Economic Times reported.
Though the price has seen a drop of nearly Rs 1800 per 10 grams of pure gold. The prices have surged more than 21 per cent in 2019, the report said.
The report also claimed that gold imports in India have plunged by 68 per cent on a yearly basis in September, its lowest since the last three years, quoting a government source.
Meanwhile, Prices of silver saw a drop of Rs 71 to Rs 45350 per kg in opening trade.
Petrol prices also dropped for the fourth consecutive day on Sunday. It dipped by 6 paise to Rs 73.38 per litre in Delhi. The overall prices have seen a drop of 27 paise in the last four days. The relief comes ahead of assembly polls in states such as Maharashtra, Haryana and Delhi. Earlier, the fuel prices had rose as much as Rs 2 after the immediate aftermath of drone attack on Saudi oil supplies.
Diesel prices, however, rose by 6 paise to Rs 66.52 per litre for the first time in October.
The price of crude oil soared by 1.93 per cent to USD to 60.69 per barrel of Brent crude on Friday.
Petrol:
Rs 76.02 per litre in Kolkata
Rs 76.26 per litre in Chennai
Rs 78.99 per litre in Mumbai
Diesel:
Rs 68.87 per litre in Kolkata
Rs 68.72 per litre in Mumbai
Rs 70.26 per litre in Chennai
Posted By: James Kuanal