Day after Centre's record excise duty hike on fuel, petrol prices in Uttar Pradesh go up by Rs 2, diesel by Re 1
Updated: Wed, 06 May 2020 06:18 PM IST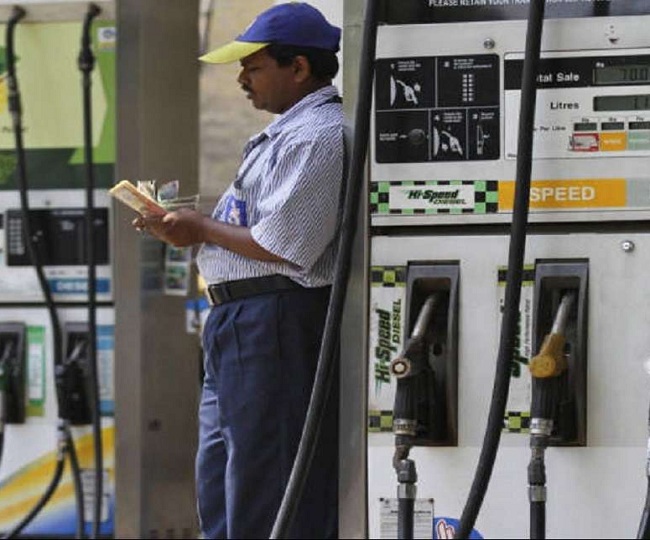 New Delhi | Jagran Business Desk: The Uttar Pradesh government on Wednesday announced hike in VAT on petrol prices by Rs 2 and on diesel by Re 1. The increased fuel rates will come into effect from Wednesday midnight.
The decision comes a day after the Centre hiked excise duty by a record Rs 10 per litre on petrol and Rs 13 per litre on diesel, while asserting that the retail prices of petrol and diesel will not be impacted by the tax changes as state-owned oil firms will adjust them against the recent fall in oil prices.
The increase in fuel prices come as the cash-strapped Centre and state government's attempts to revive the sagging economy, which has been hit badly due to the coronavirus pandemic and the consequenstial lockdown across the country.
On Tuesday, the Delhi government had announced a a hike in VAT on petrol and diesel, thereby increasing the prices in the national capital by Rs 1.67 and Rs 7.10 respectively.
With the ongoing coronavirus leading to massive revenue losses, several states have been increasing VAT on fuels which are currently out of the purview of goods and services tax (GST).
Despite the fuel pumps falling under essential services during the nationwide lockdown, sales have fallen drastically due to closure of industries, offices and restrictions on movement of vehicles.
India's fuel consumption slumped by close to 70 per cent in April as all petroleum products except LPG saw massive demand erosion following a nationwide lockdown halted economic activity and travel.
The Centre will gain close to Rs 1.6 lakh crore in additional revenues this fiscal from a record increase in excise duty on petrol and diesel.
This is the second hike in excise duty in less than two months and will help government garner over Rs 1.6 lakh crore in additional revenues annually at 2019-20 level of consumption, industry officials said.
Considering the slump in consumption due to travel restrictions imposed by coronavirus lockdown, the gains in the remaining 11 months of the current fiscal year (April 2020 to March 2021) will be close to Rs 1.6 lakh crore, they said.
Together with Rs 39,000 crore in annual revenues gained from the March 14 excise duty hike of Rs 3 per litre each on petrol and diesel, the government stands to gain as much as Rs 2 lakh crore.
The government had between November 2014 and January 2016 raised excise duty on petrol and diesel on nine occasions to take away gains arising from plummeting global oil prices.
In all, duty on petrol rate was hiked by Rs 11.77 per litre and that on diesel by 13.47 a litre in those 15 months that helped government's excise mop up more than double to Rs 2,42,000 crore in 2016-17 from Rs 99,000 crore in 2014-15.
It cut excise duty by Rs 2 in October 2017 and by Rs 1.50 a year later. But it raised excise duty by Rs 2 per litre in July 2019.
It again raised excise duty on March 14 by Rs 3 per litre.
In preparation for the excise duty hike, Finance Minister Nirmala Sitharaman had at the fag end of the Budget session of Parliament took the authorisation to raise excise duty on petrol and diesel by Rs 8 per litre each in future.
Sitharaman through an amendment to the Finance Bill, 2020 raised the limit up to which the government can raise special excise duty on petrol and diesel to Rs 18 per litre and Rs 12 per litre, respectively.
The March 14 excise duty hike included Rs 2 a litre increase in special additional excise duty and Re 1 in road and infrastructure cess.
This hike took the special additional excise duty to maximum permissible limit in law — Rs 10 in case of petrol and Rs 4 in case of diesel.
This, through an amendment to the Eighth Schedule of the Finance Act, was increased to Rs 18 per litre in case of petrol and Rs 12 in case of diesel.
Government sources said the Centre has taken this step of increasing duty to raise some revenue in view of a tight fiscal situation. This would help in generating the resources to meet expense of coronavirus fight as well as meet other spending needs such as on infrastructure.
(With inputs from agencies)
Posted By: abhinav gupta