From auto sector to home loans to MSMEs, Sitharaman's big plan to revive economy
Updated: Fri, 23 Aug 2019 07:39 PM IST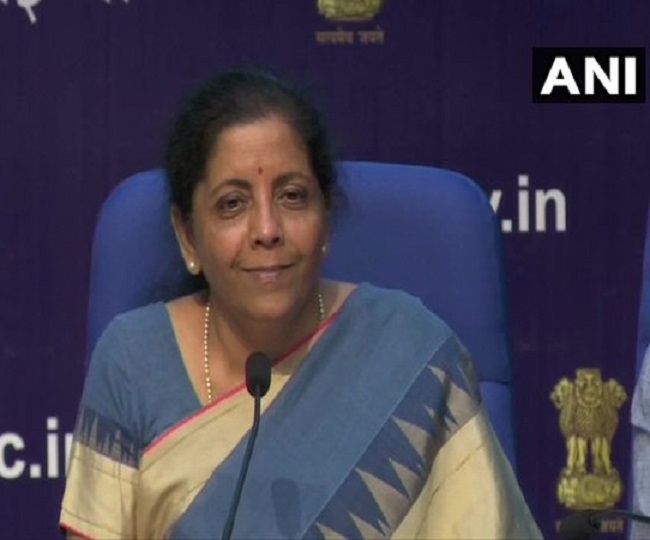 New Delhi | Jagran News Desk: Allaying the rising concerns over the state of the economy and the reported stress in the financial sector, Finance Minister Nirmala Sitharaman on Friday made a slew of major announcements in various sectors, including relaxation in home and auto loans and release of funds to recapitalise public sector banks.
Attributing the stress in the financial sector to global factors, Sitharaman said: "Just to give you briefly a picture of what is happening globally. The current projected global GDP growth is about 3.2 per cent and probably is going to be even revised downwards."
Also Read: 'India still fastest growing economy': Sitharaman outlines road ahead for Indian economy | Highlights
"As a result of the US-China trade war and China's currency devaluation, there is a volatile situation in the market," the Finance Minister added.
Auto Sector
In a bid to address the slowdown in the auto sector, the government announced a slew of measures including lifting the ban on the purchase of vehicles by government departments and allowing an additional 15 per cent depreciation on vehicles acquired from now till March 2020.
Also, BS-IV vehicles purchased up to March 2020 will remain operational for the entire period of registration, Finance Minister Nirmala Sitharaman said.
Besides, both electric vehicles (EVs) and Internal Combustion Vehicles (ICV) will continue to be registered.
Sitharaman said the government's focus will be on setting up infrastructure for the development of ancillaries/components, including batteries for exports.
The government will also allow an additional 15 per cent depreciation, taking it to 30 per cent, on all vehicles acquired from now till March 2020.
Leaders from the Indian auto industry had asked the government for a stimulus package, including GST reduction on vehicles, for the sector which has been hit by an unprecedented slump in sales. The passenger vehicles (PVs) segment has been the worst hit, with sales continuing to decline for almost a year now.
Infrastructure and housing projects
Sitharaman proposed to establish an organisation to provide credit enhancement for infrastructure and housing projects with an aim to enhance fund flows towards such projects.
Announcing steps to prop up the slowing economy, Sitharaman said that in order to improve the domestic bond market, the finance ministry will work with the RBI to make it more conducive for investors and bond issuers, as well as facilitate increased trading for price discovery.
Home, vehicle, other retail loans to become cheaper
The government announced a number of measures to make loans for home, vehicles and consumption goods cheaper and widely available through banking and non-banking finance companies. Sitharaman also said that banks will pass on RBI rate cut benefits to borrowers through MCLR reduction.
The minister also announced additional liquidity support of Rs 20,000 crore to housing finance companies (HFCs) by the National Housing Bank (NHB), thereby increasing the total support to Rs 30,000 crore.
Government to upfront infuse Rs 70,000-cr capital into public sector banks
Sitharaman also announced an upfront capital infusion of Rs 70,000 crore into public sector banks, a move aimed at boosting lending and improving liquidity situation. The move is expected to generate additional lending and liquidity in the financial system to the tune of Rs 5 lakh crore, she said at a press conference.
The finance minister further said that banks have decided to pass on the RBI rate cut benefits to borrowers through MCLR reduction.
Sitharaman said that banks will launch repo rate and external benchmark-linked loan products that will lead to reduced easy monthly installments for housing, vehicle and other retail loans.
MSMEs to get pending GST refunds within 30 days
In a major relief to the MSME sector facing a liquidity shortage, Sitharaman announced that all their pending GST refunds will be paid within 30 days.
Also, in the future, all GST refunds of micro, small and medium enterprises (MSMEs) will be paid within 60 days from the date of application, Finance Minister Nirmala Sitharaman said while announcing a slew of measures to boost growth.
Also Read: 'CSR violation no longer a criminal offence will now be treated as civil': Nirmala Sitharaman
The minister also said the decision on recommendations of the U K Sinha Committee regarding ease of credit, marketing, technology and delayed payments to MSMEs will be taken within 30 days.
The government would also consider an amendment to the MSME Act to move towards a single definition.
The MSME sector, which accounts for about 29 per cent of the gross domestic product (GDP), is one of the largest job creators in the country.
Posted By: Aalok Sensharma