Economic Package Tranche 4: Commercial mining in coal sector, FDI in defence production raised, auction of 6 airports announced
Updated: Sat, 16 May 2020 06:26 PM IST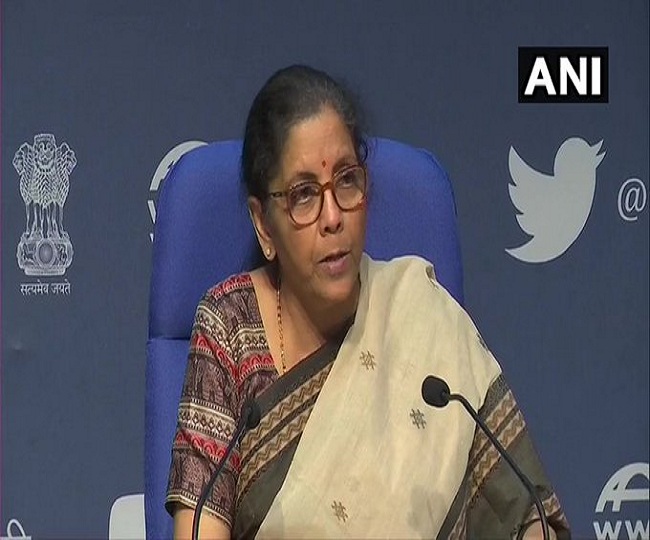 New Delhi | Jagran News Desk: Finance Minister Nirmala Sitharaman on Saturday announced the fourth tranche of the Rs 20 lakh crore economic package announced by Prime Minister Narendra Modi to revive the economy of the country that has taken a hit because of the coronavirus lockdown.
On Saturday, Sitharaman made announcements for eight sectors – coal, minerals, defence production, aviation/airspace management, MRO (maintenance, repair and overhaul), power distribution companies, space, atomic energy.
Coal:
Sitharaman announced that the Centre will allow the commercial mining of coal by the private sector, ending government monopoly on the sector. The Finance Minister further said that the government will invest Rs 50,000 crore for building evacuation infrastructure.
Coal gasification and liquefication will be incentivised through rebate in revenue sharing, she said adding coal bed methane (CBM) production would also be encouraged, Sitharaman said.
Mining:
The Central government announced that a major reform in the mining of minerals through a seamless composite exploration-cum-production regime. It said 500 blocks of minerals will be auctioned in a composite exploration-cum-mining-cum-production regime.
The government said the distinction between captive and non-captive mines will be removed to allow the transfer of mining leases and sale of surplus unused minerals, leading to better efficiency and production.
Defence Production:
The government raised the FDI limit in defence manufacturing will be hiked to 74 per cent from 49 per cent while adding that some weapons and platforms will be banned for imports.
The government further said that there will be indigenisation of some imported spares, she said adding separate budget provisioning for domestic capital procurement will be done.
Aviation:
The Centre said that six more airports will be auctioned for private participation while an additional investment of Rs 13,000 crore will be made by private players in 12 airports auctioned in first and second rounds.
The government further announced the easing of restrictions on utilisation of Indian air space, benefiting civil aviation sector by about Rs 1,000 crore per year, adding that only 60 per cent of Indian airspace is freely available.
MRO (maintenance, repair and overhaul):
The government said that tax regime for the MRO ecosystem has been rationalized to make India a global hub for Aircraft Maintenance, Repair and Overhaul (MRO). Aircraft component repairs and airframe maintenance to increase from Rs 800 crores to Rs 2000 crores in 3 years, Sitharaman said.
Also Read | From raising FDI in defence to announcing auction of 6 airports: Key highlights from govt's economic tranche four
Social infra projects:
Sitharaman announced a hike in viability gap funding (VGF) for development of social infrastructure, saying that Rs 8,100 crore will be provided as viability gap funding for development of social infrastructure.
She said social infrastructure projects suffer from poor viability. Therefore, the government will enhance the quantum of viability gap funding up to 30 per cent each of the total project cost as VGF by central and state/statutory bodies.
Space Sector:
Sitharaman said that Indian private sector will be a co-traveller in India's space sector journey and they will provide a level-playing field for private companies in satellites, launches and space-based services.
She said that private sector will be allowed to use ISRO facilities and other relevant assets to improve their capacities. Future projects for planetary exploration, outer space travel, etc. to be open for the private sector, Sitharaman said.
Atomic Energy:
The government said that it will set up a research reactor in PPP mode for the production of medical isotopes that will produce medical isotopes and make available affordable treatment for cancer and other diseases.
Finance Minister Nirmala Sitharaman said that the research reactor in public-private partnership (PPP) mode would use irradiation technology for food preservation - to compliment agricultural reforms and assist farmers.
Finance Minister Nirmala Sitharaman on Saturday announced the fourth tranche of Rs 20 lakh crore economic package. PM Modi had announced about the massive new financial incentives on top of the previously announced packages for a combined stimulus of Rs 20 lakh crore, saying the coronavirus crisis has provided India an opportunity to become self-reliant and emerge as the best in the world.
PM Modi said that it will be around 10 percent of the GDP and "will play an important role in the 'Atmanirbhar Bharat Abhiyan' (self-reliant India campaign), adding that the "announcements made by the government so far, the decisions of the RBI and today's package totals to Rs 20 lakh crores".
The special economic package will have emphasis on land, labour, liquidity and laws, and will be for "our labourers, farmers, honest tax payers, MSMEs and cottage industry", PM Modi had said.
(With PTI inputs)
Posted By: Aalok Sensharma