Economic Package Tranche 2: MNREGA support, free foodgrains for migrants, Rs 30,000 crore additional credit support for farmers
Updated: Thu, 14 May 2020 07:25 PM IST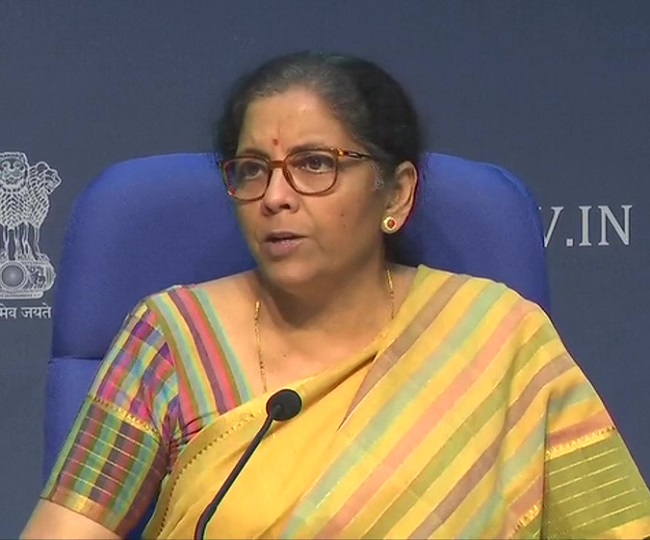 New Delhi | Jagran Business Desk: Finance Minister Nirmala Sitharaman on Thursday unveiled the second tranche of the central government's Rs 20 lakh crore economic stimulus package. Sitharaman said that nine annoucements that were made on Thursday will provide relief to the street venders, migrants, small farmers and tribals who are hit hard by coronavirus pandemic in the country.
"Today's initiatives focuses on migrant workers, street vendors, small traders, the self-employed and small farmers," Sitharaman said.
The nine announcements -- three for migrants, one for street vendors, one for housing sector, one for shishu loan scheme within MUDRA, one for employment generation for farmers and two for farmers -- that were announced on Thursday are part of the Rs 20 lakh crore economic package announced by Prime Minister Narendra Modi to revive the economy of the country.
Migrant workers:
Sitharaman said that the Centre has permitted the state governments to utilise SDRF for setting up shelter for migrants and providing them food and water etc.
Migrants will get free food grain assistance. The government will provide 5 kg wheat/rice per person and 1 kg chana per family/month for 2 months to the non-card holders.
"Public distribution ration cards can be used in any ration shops irrespective of the states. One nation one ration card will be implemented and we assure 100 per cent of national portability of these cards by March 31, 2021," said Sitharaman.
The government said that Rs 3,500 crore will be spent on this intervention for two months.
Sitharaman also announced that the Centre will also launch a scheme for affordable rental housing for migrant workers/urban poor to provide ease of living by converting government-funded housing in cities into Affordable Rental Housing Complexes (ARHC) under PPP mode through concessionaire
Farmers:
The government said that it has decided to extend interest subvention and prompt repayment incentive on crop loans due from March 1 to May 31.
Sitharaman also announced a Rs 30,000 crores additional emergency working capital funding through NABARD which will support around three crore farmers, mostly small and marginal farmers.
Sitharaman also announced that Rs 2 lakh crore concessional credit will be initiated to 2.5 crore farmers through Kisan Credit Cards which will enable farmers to gain access to institutional credit at concessional interest rates.
It also said that three crore marginal farmers have already benefited from four lakh crores and they were also given a moratorium for three months not to pay EMIs.
The Centre also said that liquidity support for farmers and rural economy has been happening for the last two months. "63 lakh loans of 86,000 crore have been approved in agriculture area. NABARD has re-financed 29,500 crore only in march to rural banks only in march, support of 4,200 crore for rural infrastructure," the government said.
Mudra Shishu loan:
Sitharaman said that the interest subvention support of 2 per cent for those who have availed loans under Mudra Shishu loan (Rs 50,000 or less) will be given after three-month moratorium period ends which will benefit over three crore people under the shishu category.
Street Vendors:
Sitharaman said that the government launch a special scheme within a month to facilitate easy access to credit the street vendors. She said that the government will provide liquidity of Rs 50,000 crore which will benefit around 50 lakh to benefit.
Employment generation for tribals:
To create jobs for the tribals and adivasis, the government said that a plan worth Rs 6,000 crore will be approved shortly under Compensatory Afforestation Management and Planning Authority (CAMPA) Funds. It will create job opportunities in urban, semi-urban and rural areas.
Housing sector:
To boost the housing sector, Sitharaman said that the Centre will provide Rs 70,000 crore for it through the extension of Credit Link Subsidy Scheme (CLSS) which was extended to March 31, 2020. The Finance Minister said that the scheme has benefitted 3.3 lakh middle class families so far. "This will create jobs and will stimulate demand for steel, cement and other constructional materials," Sitharaman said.
Economic Package Tranche 1:
Sitharaman on Wednesday announced the first series of measures of the economic package tranche one. In her series of annoucements on Wednesday, Sitharaman said that the Centre has decided to slash TDS/TCS rate for non-salary payments to residents by 25 per cent for the remaining months of the fiscal and extended the due date for filing income tax returns for 2019-20 till November 30, 2020.
Also Read | Economic Package: Deadline for ITR extended till Nov 30, TDS/TCS rates cut by 25%, 6-point strategy for MSMEs
Sitharaman also announced Rs 3 lakh crore collateral free automatic loan for businesses, including MSMEs. This will benefit 45 lakh small businesses, she said detailing parts of the Rs 20 lakh crore economic stimulus package, she said.
The government also announced up to six months extension for completion of obligations under highways, railways and other contracts. The move will provide relief to contractors impacted by the COVID-19 crisis.
What is the economic stimulus package?
Prime Minister Narendra Modi on Tuesday announced massive new financial incentives on top of the previously announced packages for a combined stimulus of Rs 20 lakh crore, saying the coronavirus crisis has provided India an opportunity to become self-reliant and emerge as the best in the world.
Also Read | PM Modi announces 'aatma-nirbhar Bharat' economic package of Rs 20 lakh crore, says 'Lockdown 4.0' will be different
PM Modi said that it will be around 10 percent of the GDP and "will play an important role in the 'Atmanirbhar Bharat Abhiyan' (self-reliant India campaign), adding that the "announcements made by the government so far, the decisions of the RBI and today's package totals to Rs 20 lakh crores".
The special economic package will have emphasis on land, labour, liquidity and laws, and will be for "our labourers, farmers, honest tax payers, MSMEs and cottage industry", PM Modi had said.
Posted By: Aalok Sensharma