Economic Package: Deadline for ITR extended till Nov 30, TDS/TCS rates cut by 25%, 6-point strategy for MSMEs
Updated: Wed, 13 May 2020 07:17 PM IST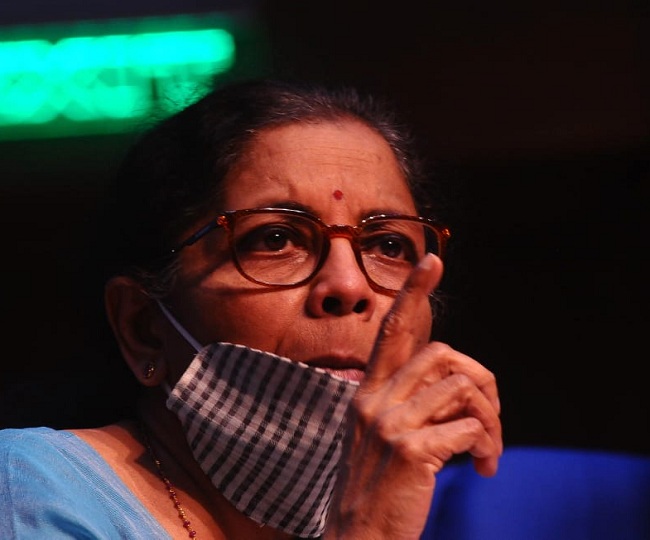 New Delhi | Jagran Business Desk: Finance Minister Nirmala Sitharaman on Wednesday made a host of announcements which come as a major relief for different sectors which are badly hit by the coronavirus pandemic and the consequential lockdown.
The announcements - six of these are for MSMEs, two are for EPF, two for NBFCs and MFIs, one to discoms, one to contractors, one real estate, three tax measures - are part of the huge Rs 20 lakh crore economic package announced by Prime Minister Narendra Modi to revive the pandemic-hit economy.
MSMEs
Sitharaman announced Rs 3 lakh crore collateral free automatic loan for businesses, including MSMEs. This will benefit 45 lakh small businesses, she said detailing parts of the Rs 20 lakh crore economic stimulus package.
The loan - available for borrowers with up to Rs 25 crore outstanding and Rs 100 crore turnover - will have 4 year tenure and will have 12 month moratorium, she said.
Also, Rs 20,000 crore subordinate debt will be provided for stressed MSMEs, she said adding this would benefit 2 lakh such businesses.
The Finance Minister said a fund of funds for MSME is being created, which will infuse Rs 50,000 crore equity in MSMEs with growth potentials.
Also, MSME definition has been changed to allow units with investment up to Rs 1 crore to be called micro units in place of Rs 25 lakh now. Units with turnover up to Rs 5 crore to be called micro units, she said, adding a turnover based criteria is being introduced to define small businesses. The investment and turnover limits for small and medium businesses have likewise been raised to allow them to retain fiscal and other benefits.
Global tenders will be banned for government procurement up to Rs 200 crore, she said, adding this would help MSMEs to compete and supply in government tenders.
EPFO
To ease financial stress as businesses get back to work, Government decides to continue EPF support for business and workers for 3 more months - June, July and August - providing a liquidity relief of Rs 2,500 crore. This will provide liquidity relief of Rs 2,500 crore to 3.67 lakh establishments and 72.22 lakh employees.
In order to provide more take home salary for employees and to give relief to employers in payment of PF, EPF contribution is being reduced for businesses and workers for 3 months, amounting to liquidity support of Rs 6750 crore.
NBFCs/HFCs/MFIs
Government launches a Rs 30,000 crore Special Liquidity Scheme for non-banking financial companies, micro-finance companies, housing finance companies.
The government announces Rs 45,000 crore liquidity infusion through a Partial Credit Guarantee Scheme 2.0 for NBFCs. Existing PCGs scheme to be extended to cover borrowings such as primary issuance of bonds/CPs. First 20 per cent of loss will be borne by the guarantor that is the government of India.
DISCOMs
Electricity distribution companies facing serious crisis; Rs 90,000 crore liquidity infusion for all power distribution companies
Contractors
In a major relief to contractors, all Central agencies to provide an extension of up to 6 months, without cost to contractor, to obligations like completion of work covering construction and goods and services contracts.
Real Estate
Urban Development Ministry to issue advisories to states ans UTs to treat coronavirus pandemic as Force Majeure an Act of God.
This will mean that they will have to extend registration and completion date suo moto by 6months for all registered projects expiring on or after 25 March, 2020 without individual applications.
Direct Taxation
Rates of Tax Deduction at Source (TDS) for non-salaried specific payments made to residents and rates of Tax Collection of Tax Collection at Source (TCS) for specified receipts to be reduced by 25 per cent.
Payment for contract, personal fees, interest, rent, dividend, commission, brokerage, etc shall be eligible for this reduced rate of TDS. This reduction will be applicable for the remaining part of FY 2020-21, i.e. from May 14, 2020 to March 31, 2021.
Due date for Income Tax returns for the year 2019-2020 now being extended from 31st July and 31 Oct to 30 November 2020
Sitharaman sought to clear the air around Prime Minister's self-reliance call, saying it does not mean that India will look only inwards and become an "isolationist" country.
She said that the call talks about a confident India which can rest on its strengths and also contribute to the globe. India has the capability and entrepreneurship to built capabilities and help the world, the minister added.
"Certainly when he (Prime Minister) says 'aatmanirbhar' Bharat, it is not to look inwards and cut India to become an isolationist country.
"It certainly talks about a confident India which can rest on its strengths and also be able to contribute to the globe, the way in which the Prime Minister rightly pointed out the production of PPEs (personal protective equipment), and masks and also ventillators has rapidly grown within these 40 days to an extent," she said, while addressing reporters here about Rs 20 lakh crore economic package.
PM Modi on Tuesday announced a Rs 20 lakh crore economic stimulus package on Tuesday and urged citizens to "buy local" to make India self-reliant. His call was seen as a turn towards protectionism.
Sitharaman also said the Rs 20 lakh crore economic package is to spur growth and build a self-reliant India.
The Rs 20 lakh crore package includes Rs 1.7 lakh crore package of free foodgrains to poor and cash to poor women and elderly, announced in March, as well as the Reserve Bank's liquidity measures and interest rate cuts. While the March stimulus was 0.8 per cent of GDP, RBI's cut in interest rates and liquidity boosting measures totalled to 3.2 per cent of the GDP (about Rs 6.5 lakh crore).
PM Modi had said that the package will focus on land, labour, liquidity and laws. It will cater to various sections, including cottage industry, MSMEs, labourers, middle class, and industries.
Posted By: Abhinav Gupta