Updated: Sat, 01 Feb 2020 08:57 PM IST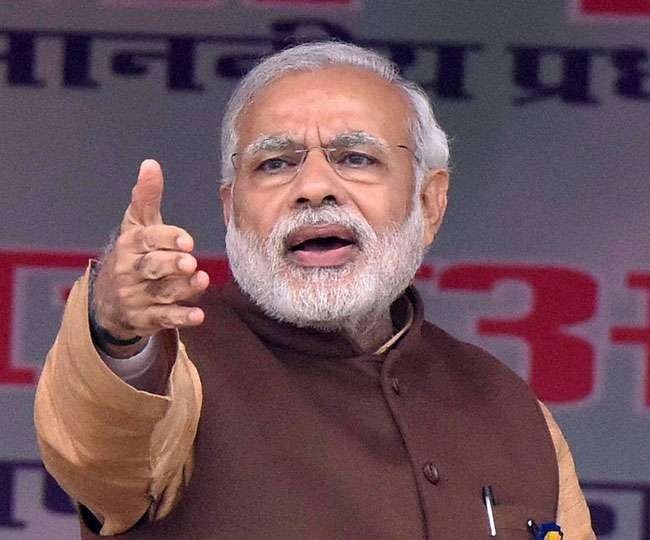 New Delhi | Jagran Business Desk: The second budget of Modi Government 2.0 is being presented by Finance Minister Nirmala Sitharaman. While expectations are high from the common man and different sectors, the main challenge before the government is revival of the sagging economy which has been facing its worst slowdown in more than a decade.
Industry experts have come up with mixed expectations from the budget with some predicting that it will be a 'feel good' budget which will include a cut in personal income tax, sops for rural and agriculture sectors as well as an aggressive push on infrastructure spending.
On the other hand, news agency PTI quotes government sources saying that tax collections in the current fiscal may fall short of targets by as much as Rs 2 trillion on faltering economy, leaving a very little room for Sitharaman to offer any meaningful reduction in personal income tax rates.
Here are the highlights on Union Budget 2020 of Narendra Modi Government 2.0:
17:06 pm: I congratulate finance minister Nirmala Sitharaman and his team for the first budget of this decade, which has a vision: PM
17:05 pm: The new reforms announced in the budget will work to accelerate the economy, financially empower every citizen of the country and strengthen the foundation of the economy in this decade: PM Modi
16:01 pm: Corporate tax cut and benefit derived by new companies, as well as improved GST collections will improve revenue generation & give me the comfort to bring down fiscal deficit next year, with disinvestment too improving: FM
16:01 pm: Introduction of taxpayer charter is a major step, in line with our commitment to ensure honest taxpayers are respected, it is an article of faith for us: FM
16:00 pm: Step to create a tax charter is a very major one announced in this year's Budget: FM
16:00 pm: We wanted to place money in the hands of the people, particularly the middle class and lower middle classes. We also wanted to simplify income tax process and increase compliance: FM Sitharaman
13:37 pm: FM proposes scheme to bring down litigation in direct taxation scheme; 4.83 lakh direct cases pending in various appellate forums
13:36 pm: 'Vivad se Vishwas' scheme for direct tax payers whose appeals are pending at various forum, says FM
13:22 pm: Sensex plunges nearly 600 points
13:22 pm: Concessional tax rate of 15% extended to power generation companies
13:21 pm: Govt proposes 100% tax concession to sovereign wealth funds on investment in infra projects
13:15 pm: Those earning up to Rs 5 lakh in a year will pay no tax: FM
13:06 pm: Propose to bring a simpler income tax regime for individuals. 10% for Rs 5 lakh to 7.5 lakh, 7.5 to 10 lakh - 15%, 10 to 12.5 lakh - 20%, 12.5 lakh to 15 lakh - 25%, above Rs 15 lakh - 30%, those earning up to 5 lakh will pay no tax in any regime. Rs 2.5 to Rs 5 lakh - 5%
13:05 pm: Presently, an individual pays 20% of tax on income between Rs 5-10 lakh and 30% on income beyond Rs 10 lakh
13:03 pm: We estimate a fiscal deficit of 3.8%: FM Sitharaman
12:58 pm: GDP nominal growth has been estimated at 10%: FM Sitharaman
12:54 pm: Govt proposes to sell a part of its holding in LIC for fiscal management. Govt proposes to sell a part of its holding in LIC via IPO: FM
12:52 pm: Mechanism will be made to address liquidity constraints of NBFCs and Hosue finance corporations. Govt to offer support by guaranteeing securities floated to provide liquidity for NBFCs
12:50 pm: Non-residents can invest in certain government securities: FM Sitharaman
12:45 pm: Insurance cover for a depositor will be raised to Rs 5 lakh from Rs 1 lakh: FM
12:44 pm: Robust mechanism is in place to monitor health of all schedule commercial banks and depositors money is absolutely safe.
12:38 pm: India will host G-20 presidency in the year 2022; Rs 100 crores allocated for preparation
12:36 pm: Income Tax
Would like to reassure taxpayers that we remain committed to taking measures to eliminate tax harassment: FM
Taxpayers' charter to be institutionalized
National recruitment agency to recruit non-gazetted officer through an exam
We want to ensure the taxpayers that the government will not let anyone to be harrassed due to taxes: FM
We wish to enshrine in the statue a taxpayers' charter: FM
12:31 pm: National security is top priority of government: Sitharaman
12:29 pm: Rs 4,400 crore allocation for clean air: FM
12:20 pm: FM proposes budget provision of Rs 85,000 crore in 2020-21 for welfare of SC and other backward classes
12:18 pm: Govt provides Rs 53,700 crore for development and welfare of Scheduled Tribes: FM
12:14 pm: FM proposes Rs 8,000 crore outlay over 5 years for National Mission of Quantum Technology and Application
12:11 pm: Rs 1.7 lakh crore provided for transport infrastructure in 2020-21
12:08 am: I propose to provide Rs 22000 crores to power and renewable energy sector in 2020-21: FM
12:03 pm: FM proposes setting up of a large solar-powered capacity alongside rail tracks
12:02 pm: Delhi-Mumbai expressway and two other projects will be completed by 2023: FM
11:59 am: FM proposes Rs 27,300 crore for the development and promotion of industry and commerce in 2020-21
11:55 am: FM proposes a scheme focused on encouraging the manufacturing of mobile phones and electrical equipment
11:53 am: There is a shortage of qualified medical doctors both general practitioners and specialists; it is proposed to attach a medical college to a district hospital in PPP mode; details of the scheme to be worked out soon
11:52 am: We propose Rs 99300 crores for education sector in 2020-21 and Rs 3000 crores for skill developmen: FM
11:50 am: There is a shortage of qualified medical doctors both general practitioners and specialists; it is proposed to attach a medical college to a district hospital in PPP mode; details of the scheme to be worked out soon: FM
11:43 am: Comprehensive measures for 100 water-stressed districts being proposed in this budget; agricultural credit target has been set at Rs 15 lakh crore: FM
11:43 am: We have provided an additional Rs 69,000 crore for the health sector: FM
11:41 am: My Budget 2020 is woven around three themes- aspirational India to boost the standard of living; economic development for all; and building a humane and compassionate society: FM
11:38 am: FM Sitharaman talks about Wellness, Water and Sanitation
11:38 am: Food Corporation of India and Warehousing Corporation of India to build warehousing facility on their land, says FM
11:37 am: Pradhan Mantri Kisan Urja Suraksha avem Utthan Mahabhiyan (PM KUSUM) to be expanded to provide 20 lakh farmers in setting up standalone solar pumps: FM
11:33 am: Govt allocates Rs 15 lakh crore for Krishi Credit scheme
11:30 am: Sitharaman lists 16-point action plan for farmers
11:23 am: FM Sitharaman underscores government's ambition to make farming sector competitive
11:21 am: Our government is committed to doubling farmers income: FM
11:19 am: Union Budget 2020 | 'GST has integrated entire nation, inspector raj has vanished': Sitharaman
11:18 am: Govt's debt has come down to 48.7% in March, 2019 from 52.2% in March, 2014: FM
11:14 am: GST has resulted in efficiency gains in the transport and logistics sector, inspector raj has vanished, it has benefitted Micro, Small & Medium Enterprises(MSME). Consumers have got an annual benefit of 1 lakh crore rupees by GST: FM
11:13 am: 40 crore GST returns were filed in this financial year: FM
11:12 am: GST has integrated the entire nation. We have added 16 lakh new taxpayers: FM
11:11 am: Our people should be gainfully employed, our businesses should be healthy; for all minorities, women and people from SCs and STs, this Budget aims to fulfill their aspirations
11:08 am: We have focused on fundamental and structural reforms: FM
11:07 am: Let our businesses be innovative, healthy and solvent with use of tech: FM
11:06 am: This Budget is to boost the income of people and enhance their purchasing power: FM
11:02 am: Finance Minister Nirmala Sitharaman begins Budget speech.
10:57 am: The people of Delhi are hopeful that the Union Government will protect the interests of Delhi in the budget. Delhi should get more in view of elections. The budget will show how much BJP cares for us Delhiites: Arvind Kejriwal
10:51 am: Budget gets Union Cabinet's approval, to be presented in Parliament shortly.
10:39 am: #BudgetWithJagran Facts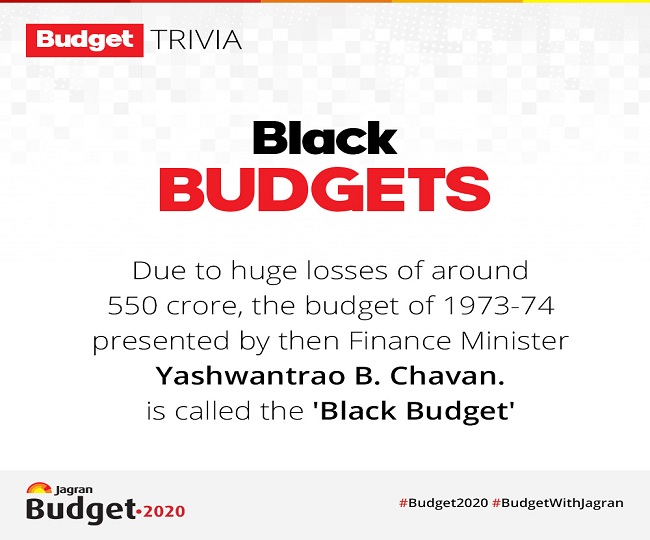 10:36 am: Finance Minister Nirmala Sitharaman's family including her daughter Parakala Vangmayi arrive in Parliament.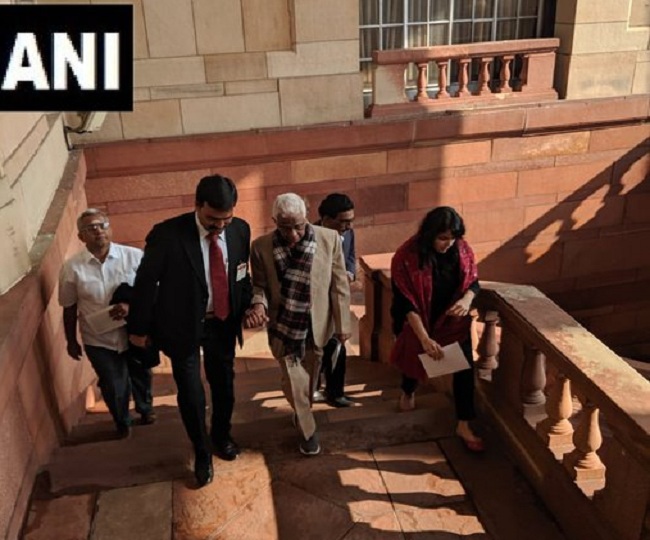 10:30 pm: Prime Minister Narendra Modi and Home Minister Amit Shah arrive at the Parliament, ahead of presentation of Union Budget 2020-21.
10:27 am: Real GDP growth is estimated to fall to an 11-year low of 5 per cent in FY20 from 6.1 per cent in FY19. Estimated nominal growth at 7.5 per cent in FY20 is the lowest since 1975-76 (FY76) as per the FY12-based GDP series.
10:12 am: Watch: Nirmala Sitharaman arrives in Parliament to present the Union Budget 2020 at 11 am.
#WATCH Delhi: Finance Minister Nirmala Sitharaman and MoS Finance Anurag Thakur arrive at the Parliament, to attend Cabinet meeting; Presentation of Union Budget 2020-21 at 11 am pic.twitter.com/J217IqrVUr

— ANI (@ANI) February 1, 2020
10:10 am: Finance Minister Nirmala Sitharaman and MoS Finance Anurag Thakur arrive at the Parliament, to attend Cabinet meeting at 10:15 am.
09:50 am: Finance Minister calls on President Kovind at Rashtrapati Bhavan before presenting the Union Budget.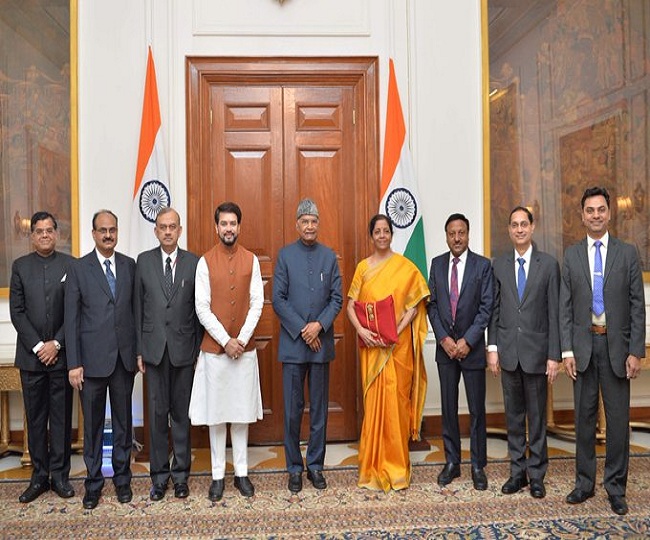 09:45 am: #BudgetWithJagran Facts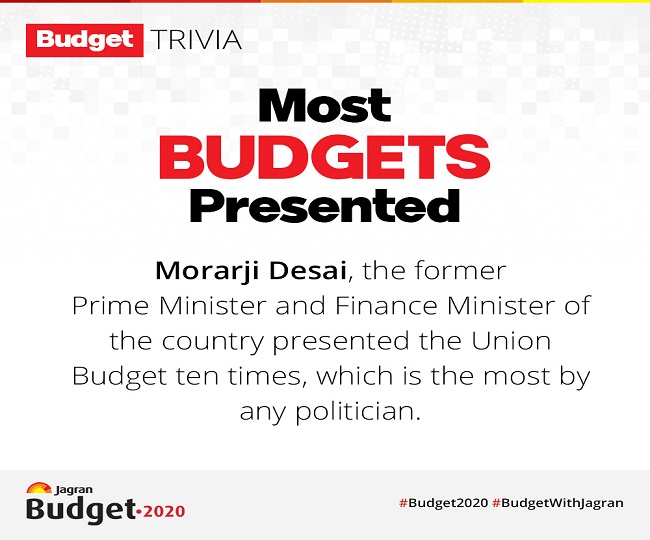 09:44 am: The Economic Survey, which has prejected the GDP to grow at 6-6.5 per cent in next fiscal, has already laid the ground by suggesting to the government to keep the focus on reviving growth and letting go of fiscal discipline a bit.
09:38 am: The gross GST revenue collected in the month of January, 2020 is Rs 1,10,828 crores. The total number of GSTR 3B Returns filed for the month of December up to 31st January, 2020 is 83 lakh.
09:31 am: Sensex at 40,576, down by 140 points ; Nifty at 11,910, down by 126.50 points ahead of Union Budget
09:27 am: #BudgetWithJagran Facts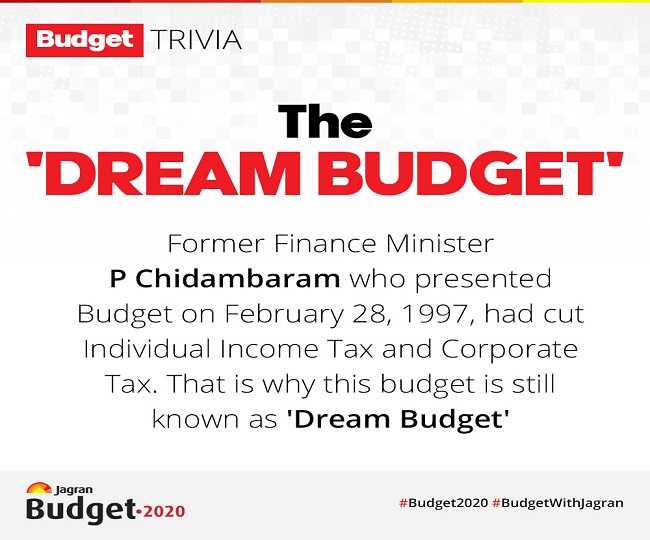 09:17 am: Finance Minister Nirmala Sitharaman and her team to meet President Ram Nath Kovind, ahead of presentation of Budget
09:12 am: Finance Minister Nirmala Sitharaman with 'Bahi-Khata' ahead of presentation of Union Budget 2020-21.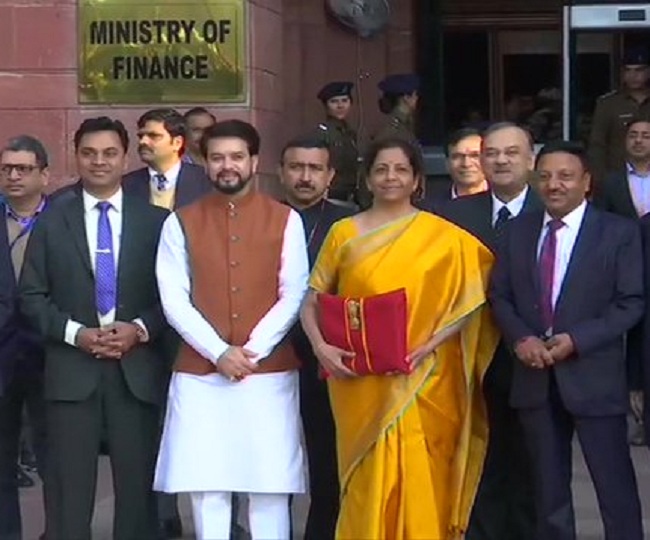 09:03 am: Finance Minister Nirmala Sitharaman to attend Union Cabinet meeting at 10:30 am ahead of Budget announcement.
08:51 am: Markets pin high hopes on Sitharaman's budget speech, remain open in special trading session today
08:50 am: When, where and how to watch live streaming of Nirmala Sitharaman's second budget
08:44 am: Finance Minister Nirmala Sitharaman arrives at Ministry of Finance. She will present the Union Budget 2020 at 11 am.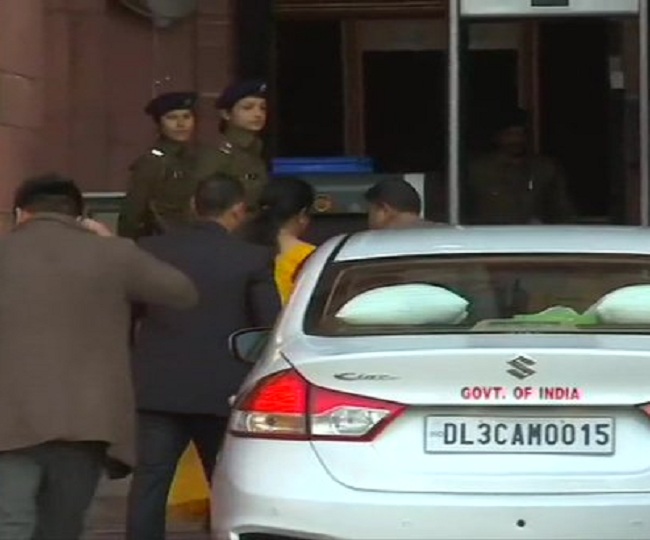 08:40 am: #BudgetWithJagran Facts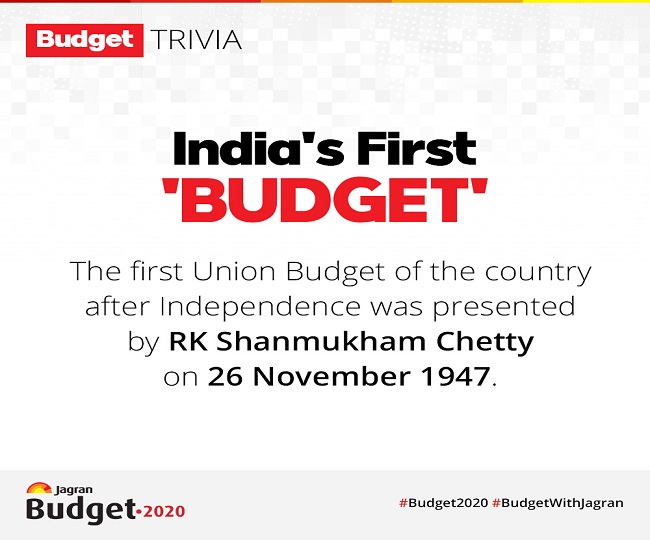 08:36 am: I am expecting that the budget will be on reviving economic growth. I think expenditure on infrastructure might go up and some measures to revive the demand in the rural areas may also happen: Chairman of State Bank of India (SBI) Rajnish Kumar
08:15 am: Indian economy experienced abrupt slowdown in 2019 but it's not in a recession: IMF MD
07:57 am: After corporate tax cuts in September last year, speculation is rife about possible reduction in personal income taxes. A combination of an increase in the basic exemption limit and/or the introduction of a differentiated tax rate structure for higher incomes may be on the cards.
07:53 am: #BudgetWithJagran Facts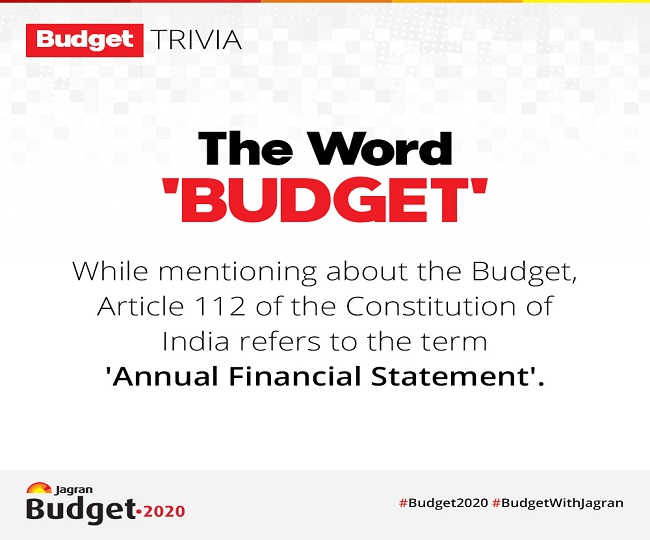 07:44 am: The stock markets which will, which have been volatile ahead of the Budget, will remain open for a special trading session today.
07:42 am: Sitharaman is expected to announce a slew of sops for all - from common man to industry - to spur consumer demand and investment and to set out a clear road map for achieving the ambitious target of USD 5 trillion economy by 2025.
Posted By: Abhinav Gupta