Breaking News, Latest Updates Highlights of July 5
Updated: Fri, 05 Jul 2019 05:02 PM IST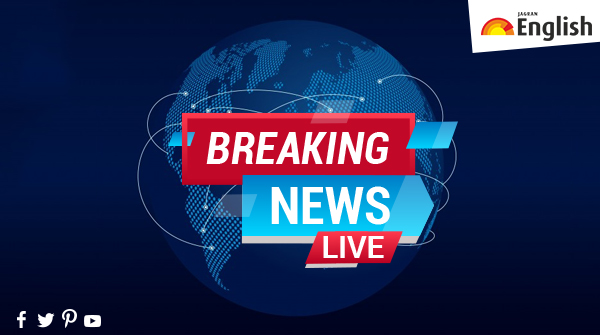 New Delhi | Jagran News Desk: Today, Jagran English has come up with its Breaking News/Latest News format with a special focus and coverage of the Union Budget 2019 -- the first full-fledged Budget of the second term of Narendra Modi government.
Finance Minister Nirmala Sitharaman presented the Budget 2019 in the Parliament today. Obviously, it is not going to be an easy thing for Sitharaman as the nation's economy has been passing through a difficult phase of late and the country is looking to the Budget to present a roadmap to recovery.
Sitharaman has her task cut out, as she prepares to tackle sagging growth, soaring unemployment and slackening consumption. Indeed, she must walk a tightrope — balancing fiscal consolidation with necessary growth stimuli.
Meanwhile, we will keep you updated on all the other developments that take place along the day.
Here are the LIVE updates on Union Budget 2019-20:
04:24 pm: It has given a huge thrust to startup, job creation, Make in India. It has given pension to the traders, large part of the community that was left out of the social security network. It's very reform-oriented. So it's a budget for 130 crore Indians: Piyush Goyal
04:23 pm: It's a budget for all. It has addressed issues which will make 'ease of living' for the poor, the middle class. It has ensured large scale infrastructure development which have made life & living easy for 130 crore Indians, rich or poor: Piyush Goyal
03:33 pm: Rs. 3,18,931.22 Cr. has been allocated for the financial year 2019-20 for the Defence Budget. Rs. 2,10,682.42 Cr. for Revenue expenditure and Rs. 1,08,248.80 Crore for Capital expenditure for modernisation of armed forces.
03:25 pm: This budget is dedicated to the poor people of the country, to the Dalits, to the farmers, to the youth and women of the country. It represents all sections of society. I really congratulate the finance minister: BJP Working President J P Nadda
03:13 pm: The budget has been presented with a 10-year vision in mind. The startups are being given a whole set of tax benefits: Nirmala Sitharaman
01:11 pm: The fiscal deficit this year is 3.3%, brought down from 3.4%. Sitharaman concludes her Budget speech.
01:08 pm: Custom duty on gold increased by 2%: FM
01:07 pm: Propose to increase special additional duty and road and infrastructure cess on diesel and petrol by Re 1: Sitharaman
01:01 pm: Those in highest income bracket need to contribute more to national development. Propose to enhance surcharge on individual income of Rs 2-5 crore and over Rs 5 crore by 3% and 7% respectively: FM
12:58 pm: Those having annual income of Rs 5 lakh exempt from paying taxes: FM
12:56 pm: To discourage practice of making business payments in cash, I propose to levy TDS of 2% on cash withdrawal exceeding Rs 1 crore a year from a bank account: FM
12:55 pm: Interchangeability of PAN and Aadhaar card to be allowed for ease and convenience to taxpayers. ITR can be filed without PAN by quoting Aadhaar: FM
12:52 pm: Propose to allow an additional tax deduction of Rs 1.5 lakh on interest paid on housing loans for self-occupied house owners: FM. This means those purchasing affordable house will get tax relief up to Rs 3.5 lakh on interest paid
12:52 pm: Government has already moved GST council to lower the GST rate on electric vehicles(EV) from 12% to 5%. Also to make EVs affordable for consumers our Govt will provide additional income tax deduction of 1.5 lakh rupees on the interest paid on the loans taken to purchase EVs
12:51 pm: A new series of coins of Re 1, Rs 2, Rs 5, Rs 10, Rs 20 easily identifiable to the visually impaired were released by the PM on 7th March 2019. These coins will be made available for public use shortly: FM
12:50 pm: To resolve angel tax issue, startups who file declarations will not be subjected to scrutiny in valuation: FM
12:42 pm: Currently, the lower rate of 25% is applicable to firms with annual turnover of Rs 250 crore. I propose to widen this to all companies with annual turnover of up to Rs 400 crore. This will cover 99.3% of all companies: FM
12:39 pm: Aim to simplify tax admin and bring greater transparency: FM
12:36 pm: Because of taxpayers, government is able to work for a collective dream of inclusive development. Appreciate honest taxpayers of India: FM
12:26 pm: Sitharaman to make tax-related announcements
12:33 pm: To further encourage women entrepreneurship, Women Self Help Group(SHG) Interest Subvention Programme to be expanded to all districts in India: FM
12:27 pm: NPAs have reduced by one lakh crore in last one year. PSB to be provided Rs 70,000 crore to boost credit: Fm
12:23 pm: To give further impetus to India's growing influence and leadership in the international community, Govt decided to open Indian embassies and high commissions in countries where India doesn't have a resident diplomatic mission as yet: FM
12:21 pm: Record recovery of over Rs 4 lakh crore due to IBC have been effected in the last four years: FM
12:20 pm: Propose to consider issuing Aadhaar to NRIs with Indian passports after their arrival in India without the mandatory wait of 180 days
12:13 pm: 'Nari to Narayani': The government wishes to encourage and facilitate role of women. Contribution of women is significant in every sector. The recent election saw record turnout of women voters, at par with men. We also have a record 78 women MPs in the House: Fm
12:01 pm: India will be soon a hub of higher education. 'Study in India' initiative will be started for the exchange of foreign student: FM
11:56 am: A Gandhipedia is being developed to sensitize youth and society at large on positive Gandhian values: FM Sitharaman
11:55 am: We'll invest widely in agricultural infrastructure. We'll support pvt entrepreneurship in driving value addition to farmers produce & those from allied activities too, like bamboo, timber & also for generating renewable energy. Ann daata ko kyun oorja daata bana nahi sakte?
11:52 am: 9.6 crore toilets have been constructed since 2014. 5 lakh villages are now open-defecation free: FM
11:49 am: Jal ministry to focus on providing adequate drinking water, which is a primary area of concern
11:49 am: Ease of doing business and ease of living should apply to farmers too: FM
11:48 am: We should go back to basics on zero-budget farming. We need to replicate this model across the nation. Steps such as these will help double farmers' income by 2022: FM
11:47 am: Govt will work with states to allow farmers to benefit from National Agriculture Market or eNAM: FM
11:44 am: 1.25 lakh kilometers of roads will be upgraded: FM
11:39 am: By 2022, power and LPG will be provided to all households: FM
11:37 am: Govt will invite suggestions for further opening up of FDI in aviation sector, media, animation AVGC and insurance sectors in consultation with all stakeholders. 100% FDI will be permitted for insurance intermediaries: FM
11:37 am: Gandhi ji said that soul of India lives in its villages. The Gaon (village), Garib (poor) and Kisan (farmers) are at the Centre of all our efforts: FM
11:36 am: Rs 350 cr allocated for 2% interest subvention for all GST-registered MSMEs on fresh or incremental loans. Pension for shopkeepers & retailers with turnover less than Rs. 1.5 crore to be launched under Pradhan Mantri Karma Yogi Maan Dhan Scheme: FM
11:35 am: Pension benefit to be extended to around 3 crore retail traders and shopkeepers with an annual turnover less than 1.5 crores under Pradhan Mantri Karam Yogi Man Dhan Scheme: FM
11:34 am: Sitharaman proposes Social Stock Exchange under SEBI.
11:31 am: 100% FDI will be permitted for insurance intermediary: FM
11:30 am: Launched UDAY in 2015 for financial and operational turnaround of DISCOMs. We're examining performance and it'll be improved. We'll work with state govts to remove barriers, cross subsidy, surcharges, undesirable duties on open access sales, or captive generation for industrial and bulk power consumers: FM
11:29 am: Comprehensive restructuring of National Highways Programme will be done, to ensure the creation of National Highways Grid of desirable capacity. Government envisions using rivers for cargo transport, it will also decongest roads and railways: Nirmala Sitharaman
11:29 am: Government envisions using rivers for cargo transportation, which will also decongest roads and railways: Nirmala Sitharaman
11:27 am: "Current rental laws are archaic as they do not assess the relation between the lessor and lessee in a fair manner. The government will look at improving the laws," Nirmala Sitharaman says.
11:26 am: Govt will create a payment platform for MSMEs to enable filing of bills and payment on the platform itself: Nirmala Sitharaman
11:24 am: It is proposed that several reform measures will be taken up to promote rental housing: Nirmala Sitharaman
11:20 am: Schemes such as 'Bharatmala', 'Sagarmala' and UDAN are bridging the rural and urban divide, improving our transport infrastructure
11:19 am: Railway infra would need an investment of Rs 50 lakh crore between 2018 and 2030: FM
11:18 am: New metro rail projects have been approved during 2018-19. Also, during 2019, 210 km of metro lines have been operationalized
11:17 am: It took us over 55 years to reach $1 trillion dollar economy. But when the hearts are filled with hope, trust & aspiration, we in just 5 years, added $1 trillion: Nirmala Sitharaman
11:13 am: Last mile delivery stood out, citizens in every nook and corner of the country felt the difference; our objective was and continues to be Mazbooth Desh Ke Liye Mazbooth Nagarik: Sitharaman
11:10 am: The first term of PM Narendra Modi-led NDA govt stood out as a performing govt. Between 2014-2019 he provided a rejuvenated centre-state dynamics, cooperative federalism, GST council and strident commitment to fiscal discipline.
11:09 am: India will become a $3 trillion economy this year: Sitharaman
11:08 am: The recent election was charged with brimming home and desire for a bright and stable 'New India'. Voter turnout was highest; every section came to stamp their approval for performing government: Sitharaman
11:07 am: We have shown that the principles - reform, perform and transform - can succeed: FM
11:03 am: Nirmala Sitharaman reads out Budget speech.
11:00 am: Finance Minister Nirmala Sitharaman presents her maiden Budget.
10:52 am: Cabinet meeting concludes. Union Cabinet approves Budget 2019. Finance Minister Nirmala Sitharaman is set to present her maiden Budget in just 10 minutes from now.
10:51 am: Finance Minister Nirmala Sitharaman is about to present her maiden Budget.
10:41 am: The rupee opened on a weak note and declined by 20 paise to 68.70 against the US dollar ahead of Budget presentation.
10:40 am: Parents of Finance Minister Nirmala Sitharaman - Savitri and Narayanan Sitharaman - arrive at the Parliament. She will present her maiden Budget today.
10:36 am: PM Modi chairs pre-Budget Cabinet meeting in Parliament.
10:31 am: Budget copies have been brought to the Parliament. Finance Minister Nirmala Sitharaman will present the Budget in Lok Sabha at 11 am today.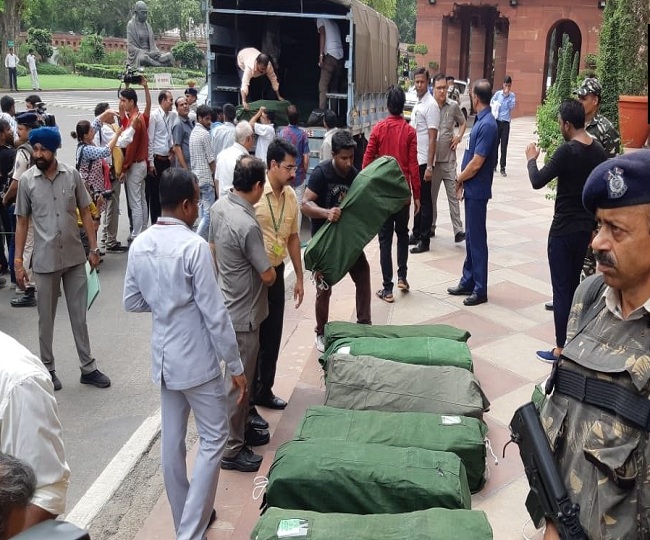 10:25 am: PM Narendra Modi reaches Parliament. Cabinet to hold meeting ahead of budget presentation.
09:48 am: As per tradition, Finance Minister Nirmala Sitharaman calls on President Ramnath Kovind before presenting the Union Budget.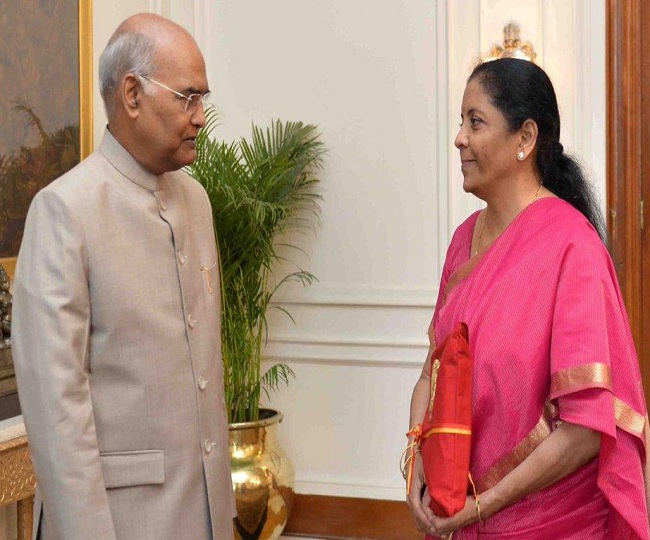 09:38 am: Chief Economic Advisor Krishnamurthy Subramanian on FM Nirmala Sitharaman keeping budget documents in four fold red cloth instead of a briefcase: It is in Indian tradition. It symbolizes our departure from slavery of Western thought. It is not a budget but a 'bahi khata'(ledger)
09:25 am: Finance Minister Nirmala Sitharaman has handed over a copy of the Union Budget to the President. Budget documents have traditionally been carried by Finance Ministers in a briefcase. However, it looks like Nirmala Sitharaman has dumped it in favour of a red cover.
09:20 am: Sensex at 40,027.21, up by 119.15 points. Nifty also increased to 11,984.70 , climbing 37.90 points.
09:05 am: There is expected to be a big push for infrastructure spending including on roads and railways to drive growth which had slowed to a five-year low of 5.8 per cent in the first three months of 2019 -- well below China's 6.4 per cent.
09:00 am: MoS Finance Anurag Thakur offers prayers ahead of Budget 2019 announcement.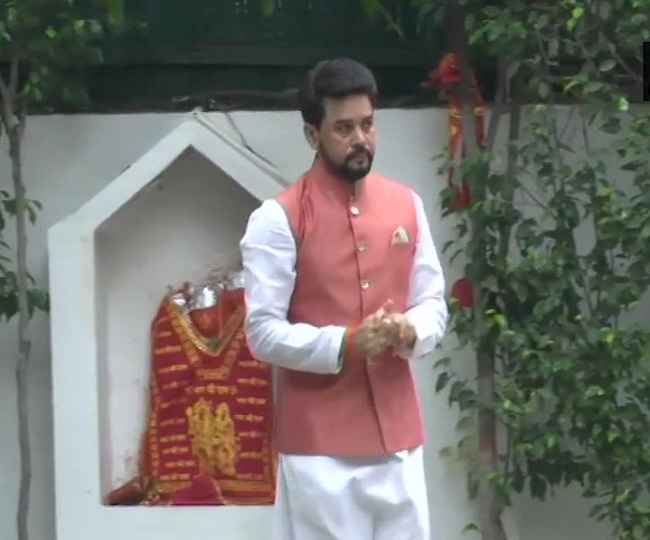 08:57 am: The BJP's promise of allocation of Rs 10,000 crore for providing infrastructure like storage and marketing for small fishermen is likely to be fulfilled.
08:52 am: IANS quoted sources saying that the Budget 2019-20 will take the sops announced in the Interim Budget further by raising the basic tax exemption limit for an individual income tax payee to Rs 3 lakh from Rs 2.50 lakh at present to cover for the inflationary impact over the years.
08:50 am: Finance Minister Nirmala Sitharaman arrives at Ministry of Finance. She will present the Union Budget 2019-20 today.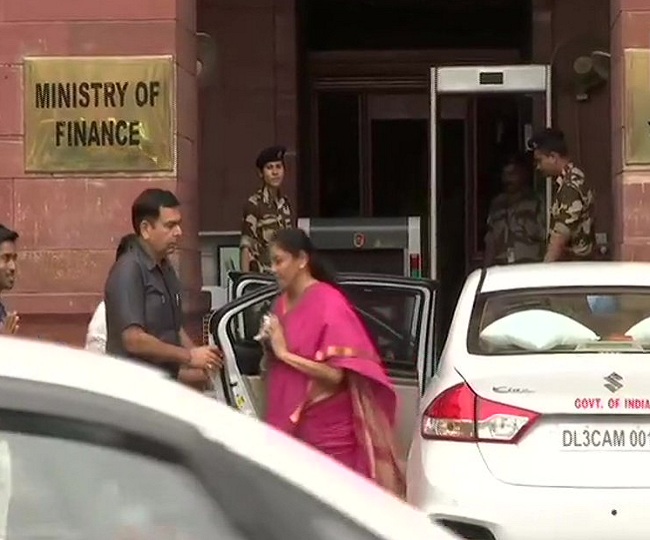 08:46 am: Market indices are expected to open flat before the Union Budget 2019 is presented in the Parliament today.
08:43 am: The Economic Survey presented on Thursday made a strong case for accelerating private investment to create jobs and drive demand. It also identified higher tax compliance and lower interest rates as key areas to boost the economy.
Posted By: Abhinav Gupta