By JE News Desk
Updated: Mon, 23 Jan 2023 06:39 PM IST
Minute Read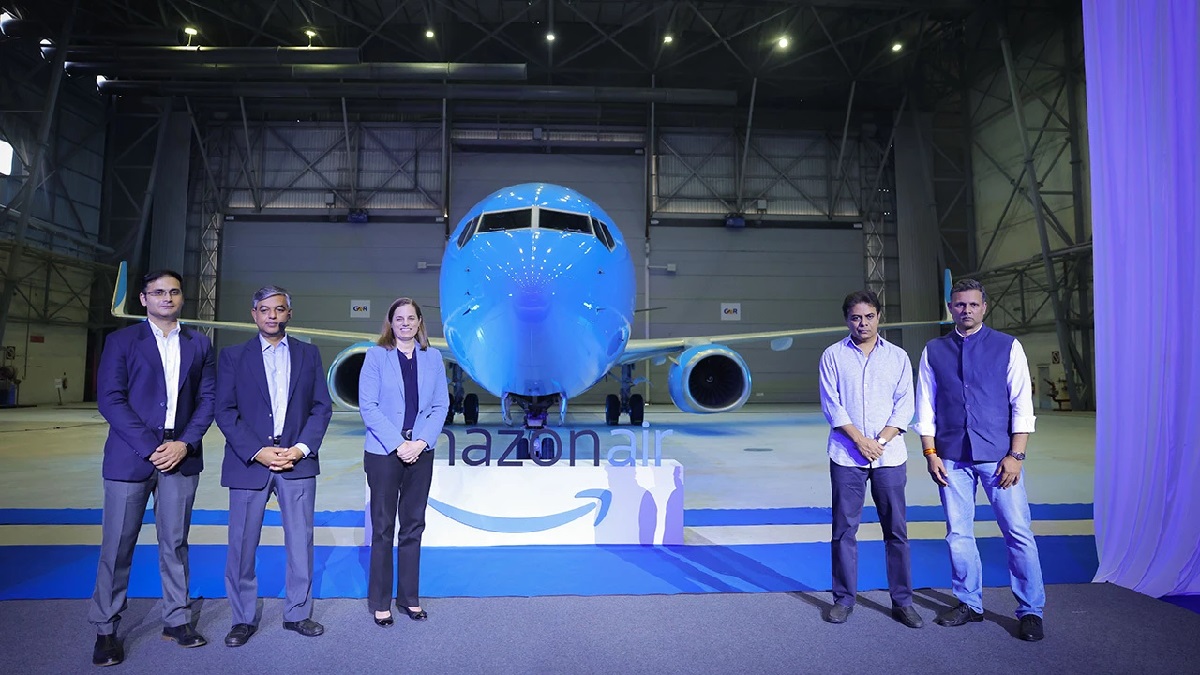 E-commerce giant Amazon on Monday launched Amazon Air in India to enhance its transportation network and enable faster deliveries to customers in the country. Amazon will utilize the complete cargo capacity of a Boeing 737-800 aircraft that will be operated by Quikjet Cargo Airlines Private Limited.
Telangana Industries Minister K T Rama Rao launched the service near the Rajiv Gandhi International Airport here in the presence of senior Amazon officials. He said each plane can carry 20,000 shipments. Rama Rao affirmed the state government's support for Amazon.
"We're thrilled to launch Amazon Air in India to ensure we can provide our growing customer base with great selection, low prices, and faster deliveries," said Sarah Rhoads, Vice President, Amazon Global Air.
Minister @KTRTRS launched @amazonIN's 'Amazon Air', in Hyderabad today.

Amazon is the 1st e-commerce company in India to launch the dedicated air cargo network.

It chose #TriumphantTelangana to launch Amazon Air outside North America and Europe. pic.twitter.com/V5LhiNQhzy

— Minister for IT, Industries, MA & UD, Telangana (@MinisterKTR) January 23, 2023
The announcement reinforces Amazon India's commitment to continue building capacity and will further enhance its transportation network.
Amazon is the first e-commerce company in India to partner with a third-party air carrier to provide a dedicated air cargo network. The company said that this reaffirms its long-term commitment to strengthening its transportation infrastructure in India.
Quikjet will use the aircraft to transport Amazon customer shipments to cities such as Hyderabad, Bangalore, Delhi, and Mumbai. The launch of Amazon Air in India reinforces the company's commitment to continue building capacity to meet the needs of its customers and to grow its transportation network for faster deliveries.
"We have been working towards strengthening the state's air cargo infrastructure, and we welcome the launch of Amazon Air which will further assist in making Hyderabad a cargo hub for the country and will create additional employment opportunities in the state," Rama Rao said.
"Amazon Air comes to India at an important time. Over the last few years, we have taken many positive steps to build our fulfilment, transportation and logistics infrastructure in the country. Our investment in Amazon Air will only further improve the delivery experience for our customers in India. Moreover, the launch will support over 1.1 million sellers in India, enabling growth for ancillary businesses such as transportation and aviation," said Akhil Saxena.
Amazon Air was launched in 2016 in the U.S. and operates an air cargo network that has grown to include more than 110 aircraft and more than 70 destinations worldwide.